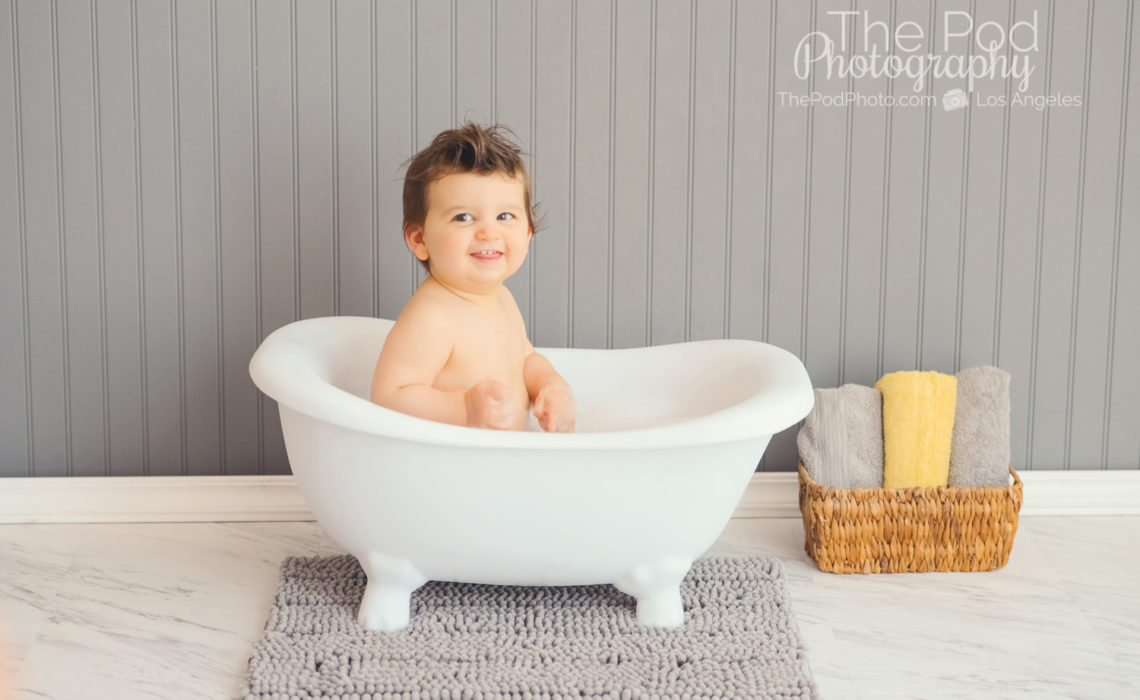 Last month, our West Los Angeles portrait studio introduced "Splash Sessions," and oh man, have they been a hit! People are going nuts-o for this miniature sized bathtub that we ordered from Denny Manufacturing and the custom bathroom set that we created just the perfect size for babies!  The beautiful neutral colors of the gray bead board background and the custom marble floor we built is the perfect combination to show off your little one in style.
Ten month old Grayson's momma called us the moment we launched the set and said,
"I have to have my baby photographed on that set!"
So we began planning the session right away along with some other fun outfits for this handsome little peanut.  At this fun age, we always plan two outfits and different sets for babies to show off all different sides of their personality, but Grayson was a superstar and rocked three looks for us!
Here at our West LA photography studio, we have all of the outfits and props to style your session custom to your taste, so don't worry about bringing a thing! Though, if you do have something particular in mind, we love to mix-and-match and photograph your baby in whatever you'd like to dress them in. Grayson's mom wasn't even planning to photograph him in this darling little romper, but it was so cute on him that we couldn't resist documenting him!
Interested in having your baby documented on our adorable Splash Set or any of our other adorable custom setups? Give us a call at our West Los Angeles Portrait Boutique at 310-391-4500 to speak with your photographer today and be sure to follow us on our Blog, Facebook, Instagram and Google+ to see what we've been up to, or explore out YouTube page for more!