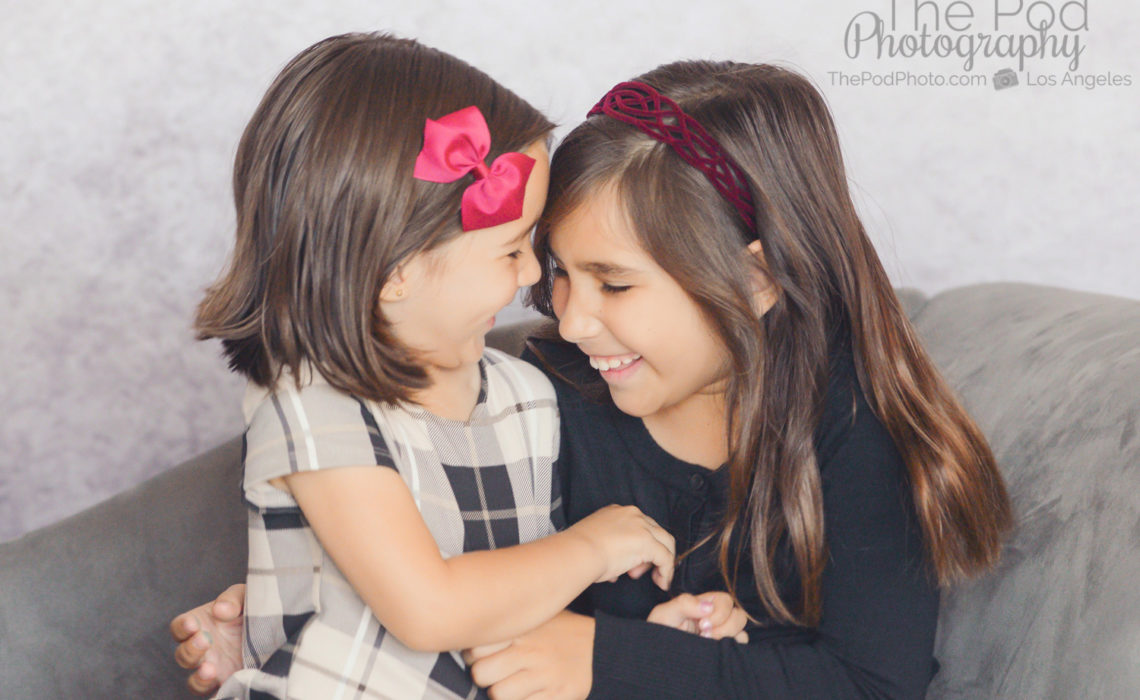 It's always so special when families from the early days of The Pod Photography call us to come back for another photoshoot.  We've known this family since big sister Kyra was only 10 months old back in 2012, and they've come back year after year as their family has grown! Kyra, now 6 years old, and her adorable 4 year old sister, Siena hammed it up during their most recent family photo session with us at our Manhattan Beach photography studio, and we loved the final result! Both girls just made our hearts melt – with Kyra's stunning eyes and Siena's sweet disposition. They even let out a little silly playfulness as we captured amazing candid family portraits as well as some more traditional photography. The combination of the two made for some gorgeous album and wall art options after their session!
But it's not just the girls and this family that have changed over the years – we as a professional photography studio have changed quite a bit as well! And that's what makes it so special to us that this family continues to come back to us as our studio's style, products, and even pricing has evolved. It's clients like this that have us love love love what we do everyday and have us strive to give each and every client the most amazing experience that creates that lifelong connection.
Interested in having your family documented by our rockstar team? Give us a call at 310-391-4500 at our Manhattan Beach studio to set up a consultation with your photographer and be sure to follow us on our Facebook, Instagram and Google+ to see what we've been up to, or explore out YouTube page for more!