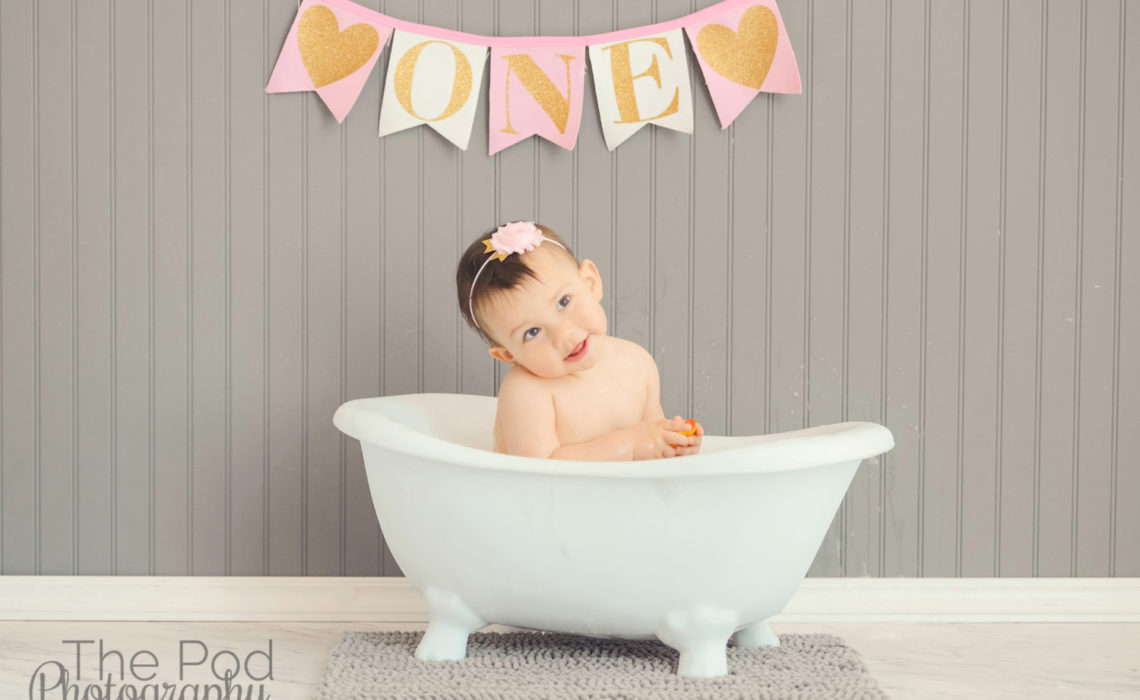 I'm not sure what it is, but for some reason, 90% of one year old babies absolutely HATE first birthday cake smashing sessions.  And for some reason, we here at our Pasadena photography studio, totally LOVE doing it!  Not to torture these little ones of course, but because when we DO get that one amazing shot of your baby smiling up a storm with a little miniature first birthday smash cake next to them, it makes such an incredible piece of artwork for the birthday party!
However, every now and again, we get a baby who is totally into their cake.  And sweet Baby Maya, below, was one of those rare occasions where she couldn't get enough of it!  We did a total of three different setups with this little peanut – which also rarely happens!  I always tell parents that one year old babies tend to let us do a maximum of two different outfits/setups for their first birthday portrait sessions, and then we cross our fingers for a third.
For Maya's first look, we wanted to bring in the colors of her party – soft pink and aqua, with a little sparkle and sequins, this setup was gorgeous for her!
Then we were on to her cake smash setup.  Maya's momma purchased a custom little outfit and matching banner for her, which was the perfect match to our super soft Tea Party Set.  I cannot get over how perfectly this little peanut smashed and ate her cake!
And to top it off, once you are covered in cake, we must rinse off with a bubble bath!  The other matching banner that mom had brought was perfect to add another touch of customization to Maya's one year portraits.
Interested in scheduling a first birthday "smash & splash" session for your little one at our Pasadena portrait studio?  Give us a call at 310-391-4500 to set up a consultation with your photographer and be sure to follow us on our Blog, Facebook, Instagram and Google+ to see what we've been up to, or explore out YouTube page for more!