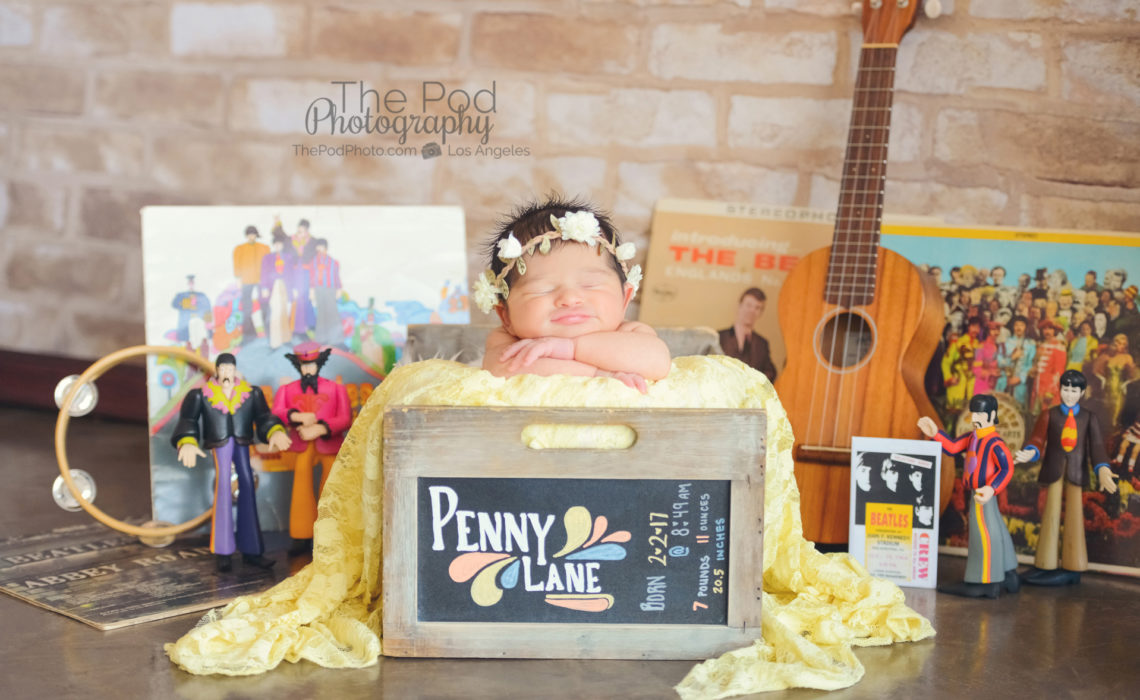 Rarely do I get to photograph a newborn baby with as creative of sets as the ones we created for this little girl! It started with her name – first name "Penelope" middle name "Lane" which of course means her name is Penny Lane! That alone got us super excited with the possibilities of her photo session – but then the parents just kept giving us more ideas to play with!
For the stat box Penny Lane photo – the family brought their own figurines to the studio, but our master creative director Leah was the one who brought in all of the rest of the props as well as designed her awesome chalkboard name box. As much as we planned, though – there was no way to know that she would smile and make this picture even more special than it already was.  Of course, that photo ended up being the front image of this baby girl's newborn birth announcement.
Mom loves mermaids, and the next set we designed at our photography studio servicing the Hermosa Beach area – was a beachy set to complement the mermaid tail and prop outfit we have at the studio. We always have unique props for photo shoots, and so we used a prop piece of driftwood and some live succulents to accessorize with.  Balancing this little lady's head and body perfectly was a challenge, and that is why it is so important to have the best professional newborn photographer capturing your pictures. We also always have an assistant sitting a few inches away from the baby  to ensure her safety.
The next set was inspired by the parent's bedroom. The color scheme in their room is whites and teals – and they wanted a piece of arwork from their daughter's newborn photo shoot to hang on the wall. They also liked our moon set, and so we thought it would be perfect to tie in a little of the boho, hippy vibe we had going with the stat box set to accent the background with a teal dream catcher. Her little lace pants just set it over the edge though – how cute is she?!
The last two sets – in addition to family pictures – was a very minimalist fabric set with Penny swaddled in purple as well as a vintage Winnie the Pooh bear setup. The bear was mom's from her childhood and seeing her daughter cuddling her cherished toy just about set her to tears 🙂 We love it when we can create images that are truly meaningful to clients and ones their family will cherish for generations!
Interested in having our professional newborn photographers in Hermosa Beach document your infant's newborn pictures? We can capture those photos either at your home or at our Los Angeles baby studio. Visit our website  and give us a call at 310-39-4500!