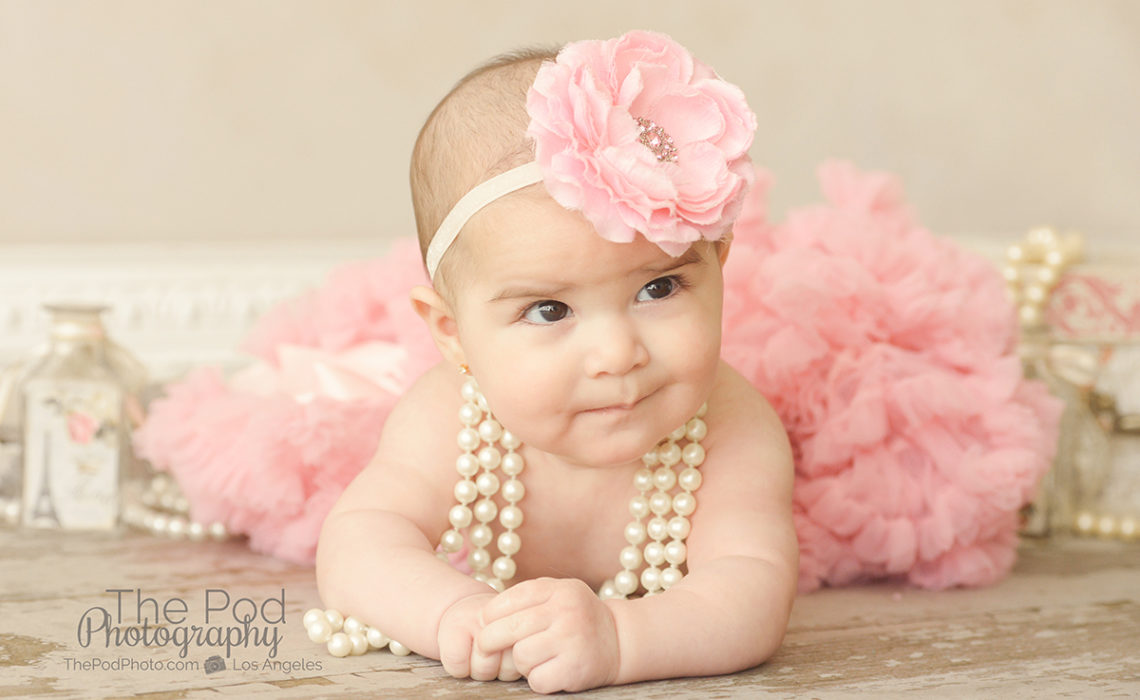 As many people know – there are four main development phases in a baby's life during their first year. Photographing these special milestones for a family are what we do best!
The first developmental phase that we love to capture is the newborn baby phase. These photos are taken wen the infant is between 5-10 days of age. At this time, the baby is super sleepy and malleable and we can put her in cute little buckets, baskets and all snuggled up in sweet poses. Our newborn photographer Erika – has been capturing these priceless images for a decade now, and along with the team that assists her – we are pro's at capturing your baby as art. Generally clients will come to our Westwood photography studio since we have all of the props and outfits there.
The next best time to document a baby is between three and four months of age. This is when babies are starting to smile really big and can hold their heads up nice and strong. The images of the little girl in this post are of a 4 month old girl – and you can see that her arms are strong and she's able to do those cute baby push ups and hold her head high!
Next up, is the seven month phase. Babies generally start to sit up on their own between six and eight months – and so when we schedule a "sitter session" we plan for seven months so that we split the difference. This is one of our favorite phases because babies at this age smile at just about everything! They are so curious and love to hear all of our funny sounds and goofy faces. Little ones at this age are generally cute and chunky and with their teeth just now coming in they are at that amazingly cute drooly phase. Another reason that we love them so much is because they can't quite crawl off our sets yet – and that makes them our captive audience!
The culmination of the baby's first year is – of course – their first birthday cake smash photos session! At this age babies have turned into walking toddlers who just want to go, run and explore! For that reason – plus because most people want to have framed artwork at their child's first birthday party – we generally photograph a baby's cake smash photo session when he is between ten and a half and eleven months of age. Kids love to smash their cakes at this age and then we clean then up with our awesome "Splash" set with our mini bathtub, lots of hot water and bubbles and of course a rubber ducky – waiting!
Interested in having us document your baby's milestone first year? Give us a call at 310-391-4500 and come visit us at our Westwood, California studio. We also have lots of cute behind the scenes videos and baby pictures for you to see on our website www.ThePodPhoto.com