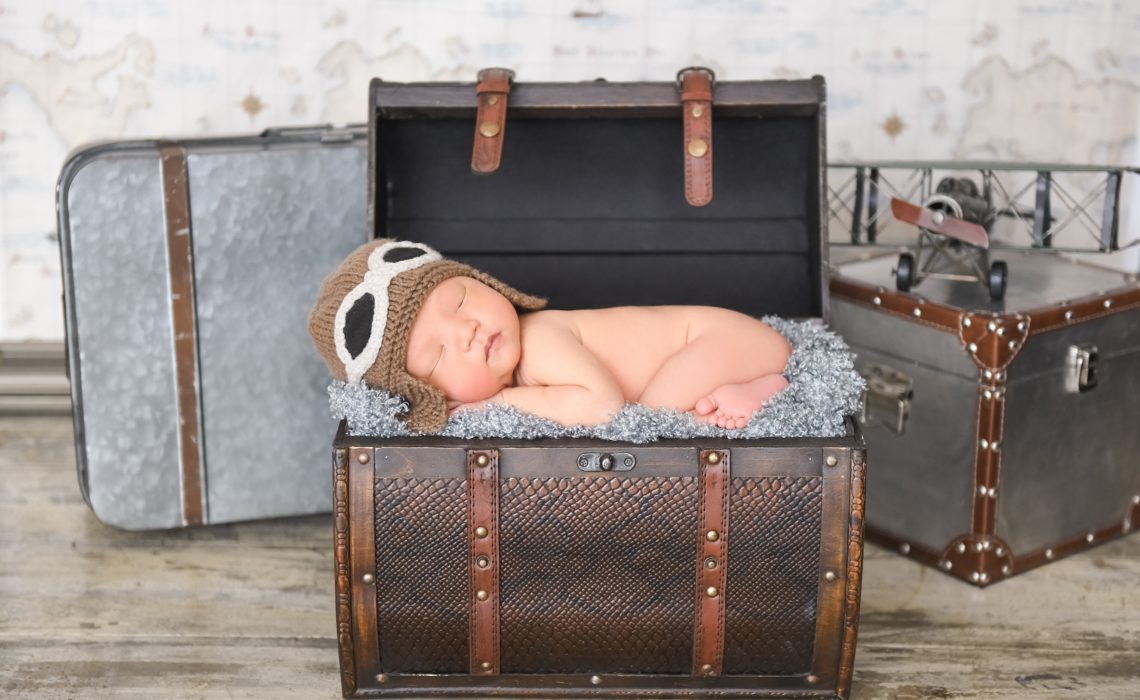 One of my favorite things about being a newborn photographer in Torrance, California is getting to know the parents. I love finding out about their hobbies, style, culture and other things that are important to them so that I can incorporate those things into their baby's first photo shoot. One of our most requested newborn photo themes is our Traveler Set.
I came up with the Traveler Set at least eight years ago. It started with the map background fabric that I purchased. I originally bought it for a Kids Seasonal Set that I created with a travel theme. However, people liked that set so much that I decided it would be fun to document an infant's pictures on that set as well. But of course, I had had big kid suitcases and trunks, not tiny ones for a baby!
My favorite places to shop for newborn posing props are ebay, Homegoods, antique stores and then just about any store that has an eclectic offering. All of the sets we build for our newborn baby clientele are a mix of store bought, hand crafted and found objects so that they are truly unique. For the Traveler photo Set I've accumulated many different baby size trunks and suitcases of varying styles that we use on the set. The one constant is, of course, the map background that everyone loves.
I think that the reason so many of our clients want to have their baby photographed on our Traveler Set is because everyone's fondest memories are of their travels. Plus, we all aspire for our children to be wordly, traveled people with a sense of adventure.
Travel signifies possibility. Possibility is what drives us. I sure hope that all of the hundreds of newborn babies who have been photographed on our Traveler Set have been inspired to fulfill on life's possibility and all the joy it can hold for them.
We service Torrance, CA and the surrounding Los Angeles area.