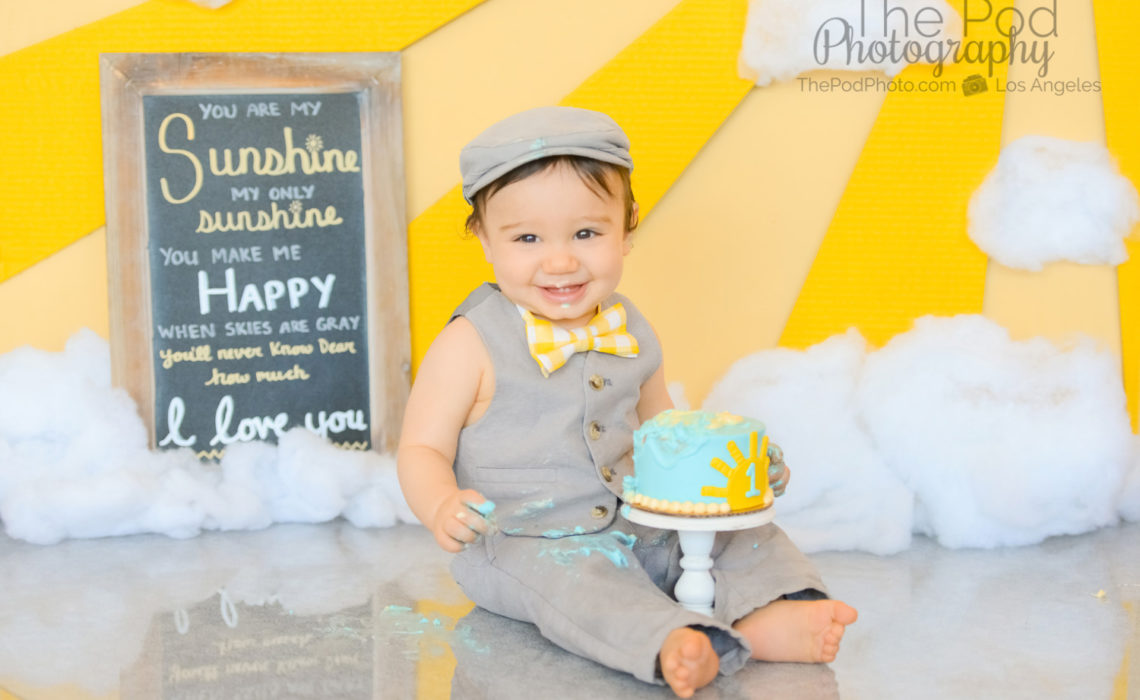 Here at our Brentwood, CA portrait studio, we see a LOT of happy babies (some fussy ones too, but mostly happy!)  But I don't think we have ever met a little boy at this age who was so darn happy!  And not just smiley, but also gave us such a huge range of emotion and expressions.  Baby Jude not only rocked his super-excited smiles, but his sweet, somber looks just melted our hearts.
To celebrate Spring, Jude's first look was a fun and whimsical setup on our Bohemian Teepee Set.  He was so adorable rocking a little Jason Mraz look with his suspenders, fedora and ukulele!
For Jude's big cake smash, we tied in the theme of his first birthday party, which was "You Are My Sunshine."  It was perfect, because when Jude came to our Brentwood photo studio last year for his newborn session, we had him sleeping on a big moon, so the sunshine theme brought us full circle documenting this little guy's first year of portraits!
And of course, we couldn't send Jude home covered in cake, so we put together a little bubble bath for him.  Seriously, is there anything cuter than a little naked baby in a miniature bathtub?  You rocked it, Jude!!
Interested in learning more and planning a session for your little one?  Our Brentwood, Los Angeles professional photographers will work with you to customize your baby's photo session to exactly your taste and style.  Give us a call at 310-391-4500 to speak with your First Birthday Photographer and begin planning your session today!
In the meantime, be sure to follow us on our Blog, Facebook, Instagram and Google+ to see what we've been up to, or explore our YouTube and Pinterest Boards for more!