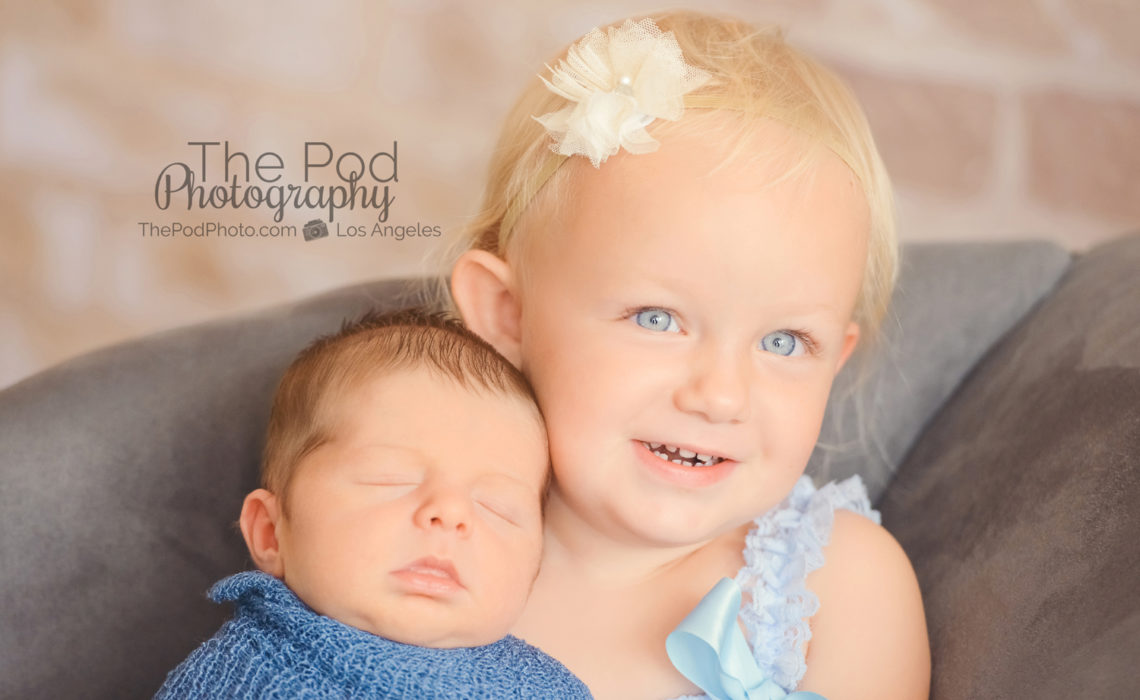 Capturing a great photo of the new baby and older sibling is a very requested picture – at our Redondo Beach photo studio – and one that we know is very meaningful to our clients. Whenever we get the request during a newborn photo session we work really hard to be able to deliver a fantastic image that the family will treasure.
However, it is not always easy to get a great sibling photo, especially when the older sibling is under three years of age. With children of any age, the first week with their new baby brother or sister is filled with a lot of emotion and adjustment as their lives change to accommodate the needs of this newborn baby who has joined the family. Some children dote on their new sibling and want to help their parents with every task. Others ignore the baby, white others throw tantrums to get the attention of their parents. Either way, each of these is a normal reaction and a phase that generally evens itself out within a few weeks. But, put all that emotion into a toddler who already has their own strong personality and, well – that's when our team at the studio really earns our weight! Toddlers do not like to sit still, do not like to be told where to sit, how long to sit, what to hold, when to smile – none of it! That is when our team gets into action and distracts the toddler, tickles them to get them to smile, and just keeps on picking them up and putting them back into position when they run off set – just so that we can capture an amazing picture.
The little girl in these pictures we so smiley and sweet. But, in typical toddler fashion, she only wanted to to what she wanted to. We bribed her with everything that we could think of so that she would sit still long enough to have her baby close for a picture. The top secret way we actually got this shot? Well, what you don't see is one of our hands holding the baby close to his sister from down below while another one of us interacted with her so that she would smile.
We have specialized in newborn baby pictures since 2008 and our professional newborn photographer would love to get to know you so that we can document your baby's pictures once they arrive.  Visit our website and give us a call at 310-391-4500 to take a tour of our Redondo Beach photo studio.