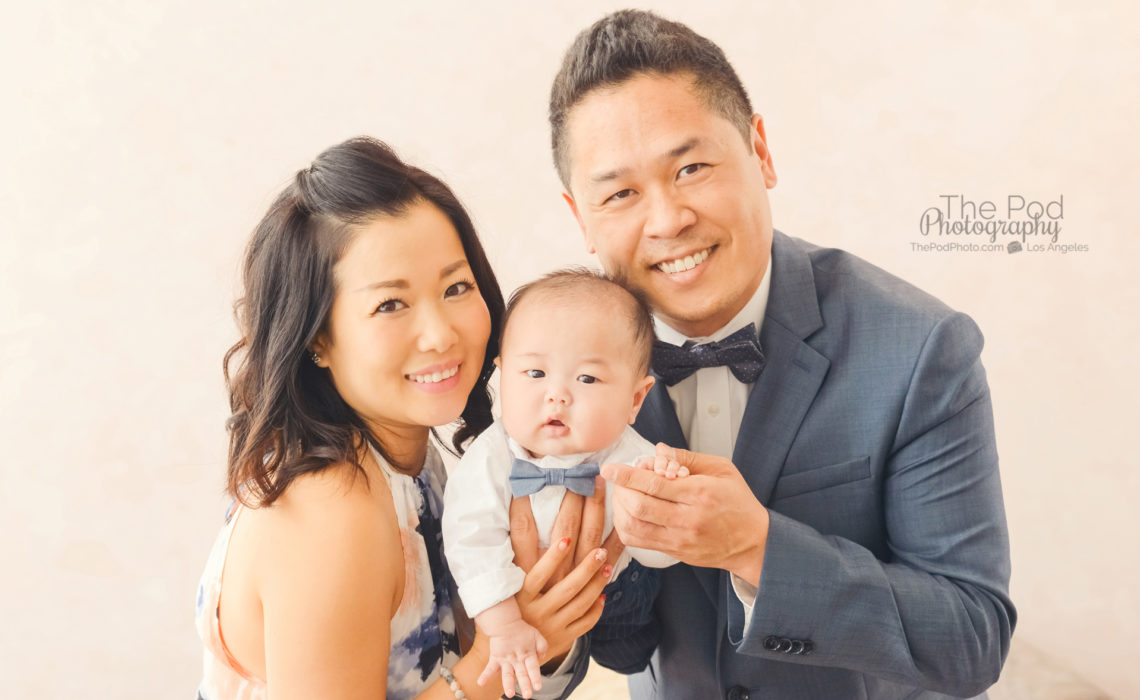 There is a milestone age of a baby's development during their first year that is often overlooked – it's the 3-4 month age range! For us at the studio, this is one of our favorite ages to photograph a baby! Kiddos at this age are just starting to discover their independence, but still love to smile at whoever is close up interacting with them. Those big gummy smiles that we are able to capture at this age are priceless! This Pasadena family came to our photo studio to document just that – their baby's 4 month portraits.
This little boy did wonderfully at his photo session with our baby photographer Erika – but even more than his cute photos, we loved the outfits mom and dad dressed in. When we coach parents on what to wear at the photo shoot, we always suggest that everyone dresses in two to three colors maximum. This way, everyone's outfits feel harmonious and well thought out. Also, it is the best practice when hiring a professional family photographer and selecting your outfits that only one person wears a pattern and everyone else is in solids. If there are too many patterns going on, then the photo tends to look busy and the attention goes to the outfits rather than the lovely smiling faces in your photograph. Layering is also a great idea when preparing for your photo session. We loved that dad wore a simple white shirt with a jacket on top to add a little style and match the blues in his wife's dress. Of course our baby boy couldn't be forgotten – and this dapper dude showcased his style with a bow tie that matches dad's!
We absolutely love capturing baby and family photos at our photo studio that services Pasadena. Interested in learning more? Give us a call at 310-391-4500 or visit our website to get started on the planning of your professional photo shoot!