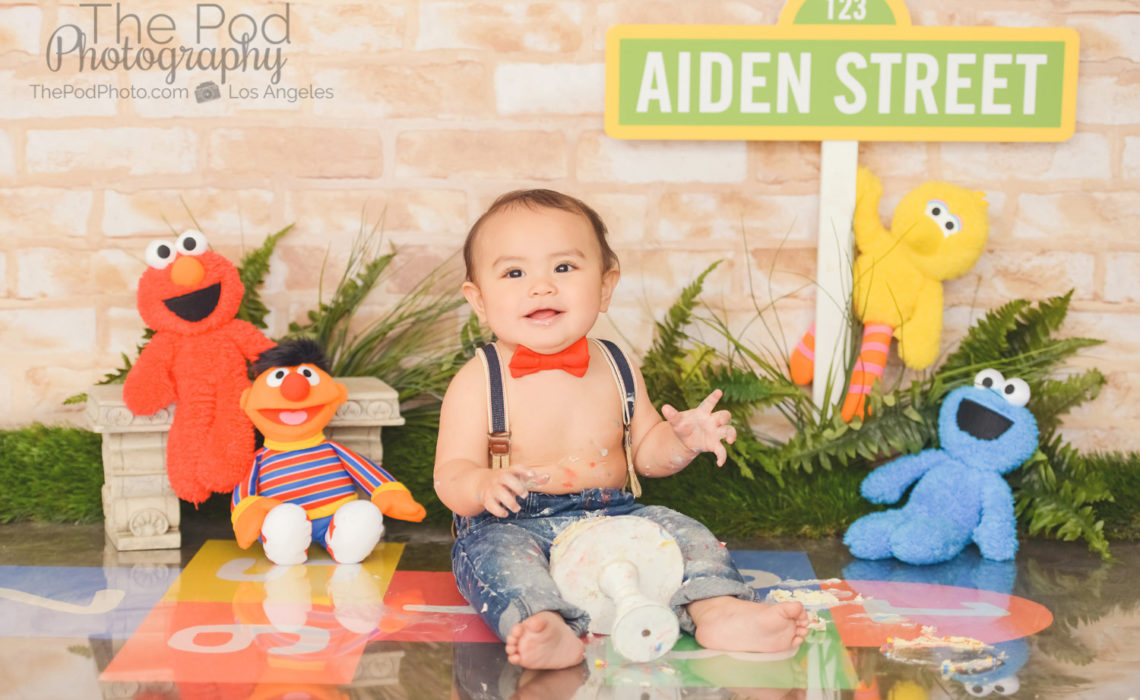 It's so much fun to customize first birthday photoshoots to truly tell the story of each family that comes to visit us and our West LA photo studio.  As portrait photographers, it's our job not to just send you home with great photos, but with a memory.  I mean, these are the photos that this little guy is going to grow up with and look back to see who in the world he was when he was only one-year-old!  From the moment we met Aiden and his mom and dad, they were so excited about incorporating all of Aiden's favorite things into the photoshoot, and so what we landed on was a personalized set inspired by Sesame Street, so Aiden now had his very own "Aiden Street" set designed at our West Los Angeles photography studio.
Even for the "splash" portion of the photoshoot, we swapped out our classic bathtub set with their rubber ducky tub which went perfect with the Sesame Street song that Ernie sings 🙂
Needless to say, this smiley little dude made his mommy and daddy so happy with their final results:
My family and I love The Pod Photography! They are an amazing group of girls! They were very helpful through out the whole experience for our son's first birthday shoot. They made us feel very welcomed and catered to us during the shoot, which is great for dealing with a baby. My son definitely had a great time shooting and playing with the girls.
Interested in capturing your little one's portraits at our West Los Angeles photo studio?  Give us a call at 310-391-4500 to set up a consultation with your photographer and be sure to follow us on our Blog, Facebook, Instagram and Google+ to see what we've been up to, or explore our YouTube page for more!