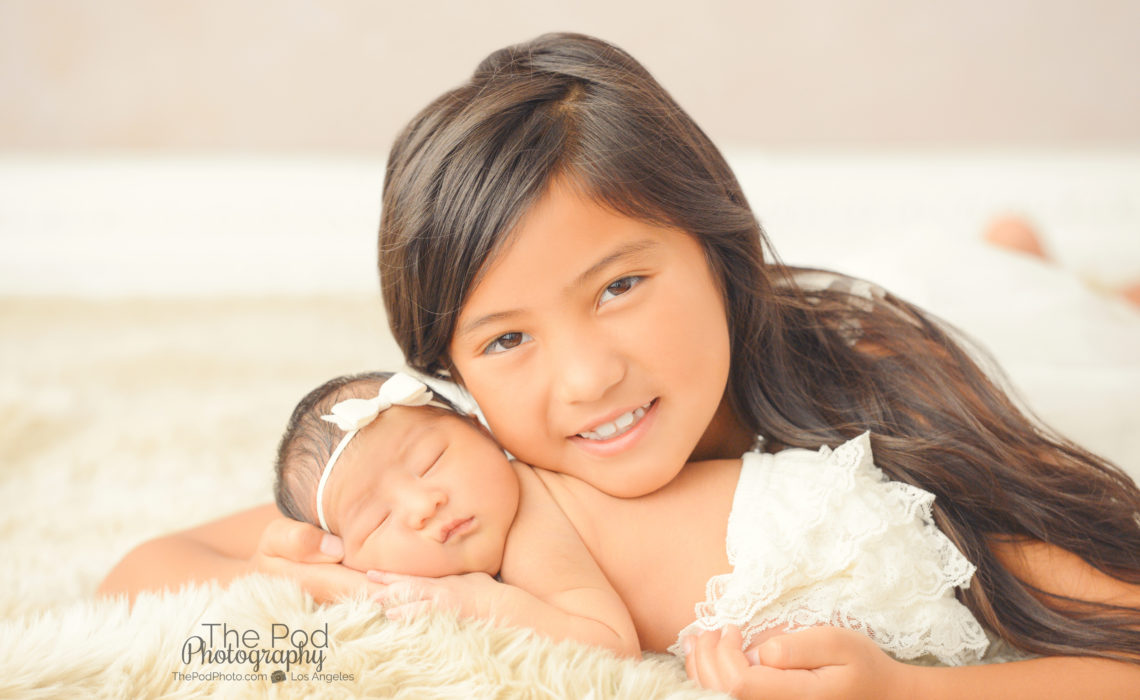 We love it so much when there is an older sibling at a newborn photo session. It is so fun when the kids are old enough to sit still, be entrusted to hold their delicate baby sibling and when they actually have fun taking pictures. As one can imagine, we have ton of two year old siblings at our Pasadena Photo Studio and they are not the biggest fans of sitting still and posing for our pics.
Therefore, when this gorgeous big sister arrived to the studio for the baby photo shoot, we knew it was going to be a fun session! She was first of all so excited to be a helper, and she was passing us headbands, holding the fabrics and sitting close watching our every move.  However, when it came time to take the pictures, she turned her charm up even another notch. For the sibling pictures, She patiently held her baby sister in position while we tucked the baby's feet just right and then gave us the greatest smiles and gentle expressions. She was so inspiring that we could not help but doing different setups with these two gorgeous girls!
For this infant girl's portraits – mom really wanted us to girly up the photos and she selected a pink and purple color scheme for the pictures. Our Pasadena newborn photographer, Erika, is a pro at styling beautiful sets and creating a cohesive theme throughout all of the images. The resulting images are just the right amount of girly with a timeless an whimsical feel.
Would you like us to photograph your baby's newborn photos? We'd love to! Give us a call at 310-391-4500 and visit us online at www.thepodphoto.com for all of the information!