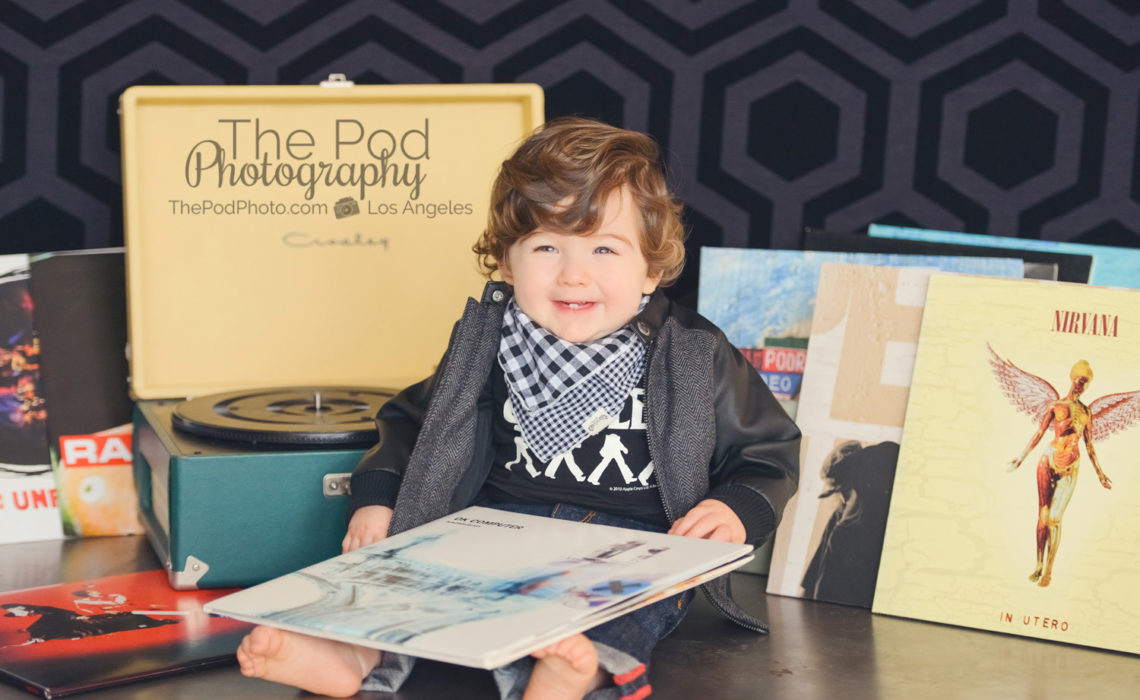 One thing that we are really well known for here at our El Segundo Photography Studio is customizing photo sets to tell your family's personal story.  Because really, anyone can put a cute baby in front of a background, sit them down, have then smile, and take a picture.  And it would be great!  But what we love to do here is really tell the story of who these little babies are at this amazing time in their lives – where did they come from?  Who are their mom and dad?  What really represents them?
For this little dude, it's no surprise that his mom and dad are very into music!  But not just any music – we're talking the classics like The Beatles and of course some of the great rock bands of the 90s  like Radiohead, Nirvana and The White Stripes.  We loved that they brought in their favorite records and even a turntable to really emphasize the story and style.  We even happened to have a little Beatles t-shirt here at our El Segundo studio with some cool jeans and a faux leather jacket to punk him up even more!  It was perfect!  Plus, we loved the checkered bandanna that mom and dad brought in for the extra pop of punk!
Give us a call at our El Segundo photography studio at 310-391-4500 to set up a consultation with your photographer and be sure to follow us on our Blog, Facebook, Instagram and Google+ to see what we've been up to, or explore our YouTube page for more!