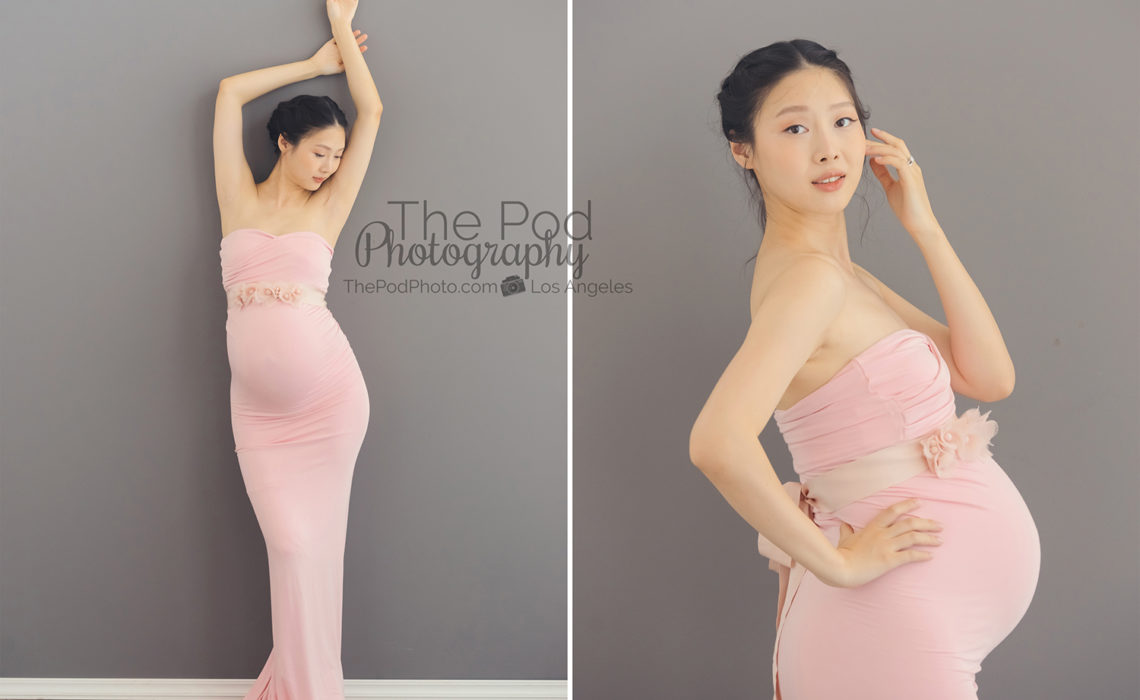 At our professional pregnancy photo studio in Los Angeles, we are always brainstorming on new outfits, styling and lighting to keep our photos fresh and current. The latest trend we are seeing for Los Angeles maternity photography is "sophisticated minimalism," with a decline in requests for the bohemian style.
Bohemian vs. Modern Minimalist Pregnancy Photography
We used to get a lot of requests for bohemian maternity photography, and still do on occasion. That style of big flower crowns paired with flowy maternity gowns has been popular for many years for both in studio and on location photography sessions. Many of our pregnancy clients like to dress in that boho style when on-location in a pretty field on location. There are lots of awesome locations in Los Angeles that suit that bohemian style such as Temescal Canyon and the beach. For those who like the boho style we have lots of beautiful gowns and floral wreath headbands at the studio that you can style your outfit with.
The newer, more minimalist style that we are getting requests for these days has much simpler outfits and is almost always photographed in-studio. We still can absolutely use headbands – as we did with this maternity shoot – and pretty dresses. Our Los Angeles pregnancy photo studio has many simple dresses and the lovely lace robe pictured here that suit the more modern maternity photo style. With this style – our professional maternity photographer focuses on the shape of the woman's body and emphasizes the contours of the belly for the pictures. Our backgrounds are generally very simple so that the mama-to-be is the focal point with few distractions. The resulting images look a little more timeless and allow us to concentrate on the relationship between the couple – that is why I think it is so popular!
We would love to custom design the perfect pregnancy photo shoot for you and your growing family. You can visit our website to see lots of beautiful expecting photography. We would also love to set up a time for you to tour our Los Angeles portrait studio and see all of our fabulous maternity gowns – give us a call at 310-391-4500!