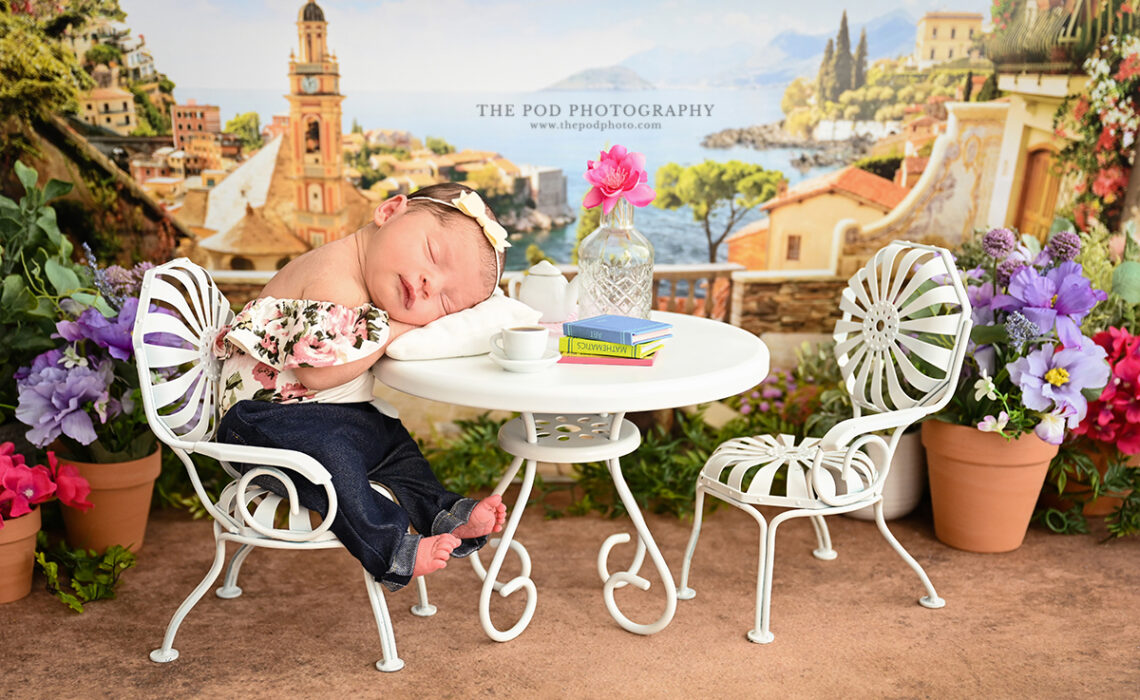 The art of designing custom sets for newborn photography has become increasingly popular in recent years as more parents look for unique and personalized ways to capture their baby's first moments. Unique Custom Set Design Photography for newborn babies is one of our favorite portrait sessions to create.
Our professional photographers created several custom set designs for this newborn portrait session in our Beverly Hills studios.  Each set showed a unique, personalized touch and was hand-made and put together by one of Pod Photography's photographers. 
We designed four very different custom set designs for this client's newborn baby girl.  
Beach Custom Set Design
For the first set, it was all about a beach day! Baby napped in her beach chair with her favorite Starbucks drink close by. How adorable is she in her baby bikini and sunglasses? And, of course, you can't be on the beach without plenty of sunscreen.
Airplane Travel Custom Set Design
The second set was designed to look like baby was traveling on an airplane. Our airplane set is very popular with those clients who love to travel or work in the aircraft travel industry. The set shows baby napping in her airplane seat and enjoying a cookie. You can also see she had a bird's eye view of her flight status!
Attending School Abroad
The third set shows baby attending school abroad. How exciting to travel to a different country to attend school. However, studying abroad can be exhausting! Why not grab a nap after a nice cup of tea? Isn't she the cutest in her baby blue jeans?
Simple Yet Stunning
For the fourth set, it was all about simplicity.  We laid the sleeping baby on a shaggy white rug and covered her with a beautiful scarf.  Look at the smile our photographers captured while baby slept.  Simply stunning! 
Here at the Pod Photography, Beverly Hills, California location, we offer a variety of products to display your beautiful portraits throughout your home. These products include albums, wall art, digital prints (sold separately), and canvas frames.
If you're ready to book your newborn portrait session, call us at 310-391-4500 or visit our website! We are looking forward to having you in our studios.
And for more portrait inspiration, please follow us on our Facebook and Instagram pages, where we share images from our portrait sessions.  You can also find us on Pinterest and  YouTube for more portrait inspiration.  Visit our website at ThePodPhoto.com for scheduling information and portrait inspiration. 
You can also read more about our Unique Custom Set Design Photography and browse ideas for inspiration.