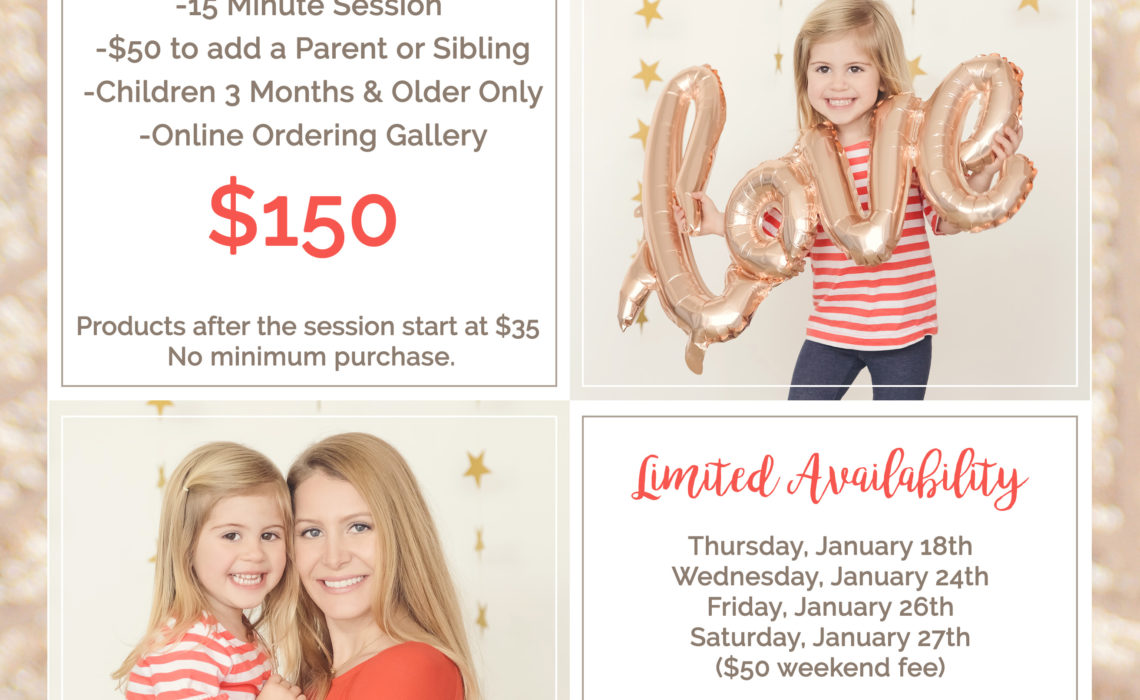 Love is in the air and Valentine's Mini Sessions are here!
The exclusive Valentine's Mini Sessions are available for a limited time only and is the perfect opportunity to capture amazing photos of your little one in Los Angeles!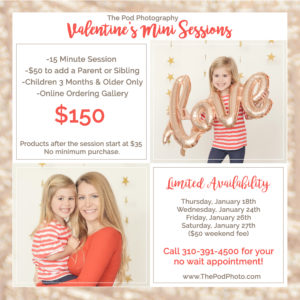 To celebrate this special offer, we have discounted our session fees by over 50% off and removed our $995 purchase minimum!  Products after the session fee start at just $35, so take advantage of this amazing offer today!  Call us at 310-391-4500 to speak with your photographer and begin planning your Valentine's Mini Sessions in Los Angeles today!
How does it work?  Check out the DETAILS PAGE HERE with all of the juicy info and product options and pricing available.
See how our clients rave about us on Yelp – you'll start to get an idea of how your Valentine's Mini Sessions will go!
"I had a great experience at The Pod!! The ladies were so amazing and they handled my baby with such patience and care. Most importantly, the photos came out great!! I'm amazed how professional they are. I'll definitely come back for another shoot!"
-Mia Z.

"The Pod is absolutely the best! All the ladies are amazing and talented. We have done three photo shoots so far and they are super accommodating, open to all of our suggestions and just know how to put the finishing touches on so everything looks perfect for your baby and family photos. Their studio is just gorgeous. I would 100% recommend them to anyone and I think we'll be using The Pod for years to come to capture all of our special family milestones. Love, love, love them and cannot say enough good things about these beautiful and creative women!"
-Jenn S.

"We had the best experience at The Pod! The studio is beautiful and super clean, everyone on the staff is amazing and I couldn't have felt more comfortable. They are truly professionals and their work speaks for itself. I am so glad we went to The Pod. We now have memories to last a lifetime and we will definitely be back for more shoots! Thank you, Ladies!"
-Sammi R.
We would love to see you and your family and document your special memories with our limited time only Valentine's Mini Sessions!  Call us today at 310-391-4500 to book your no-wait appointment!  Be sure to follow us on our Blog, Facebook, Instagram and Google+ to see what we've been up to, or explore our YouTube page for more!