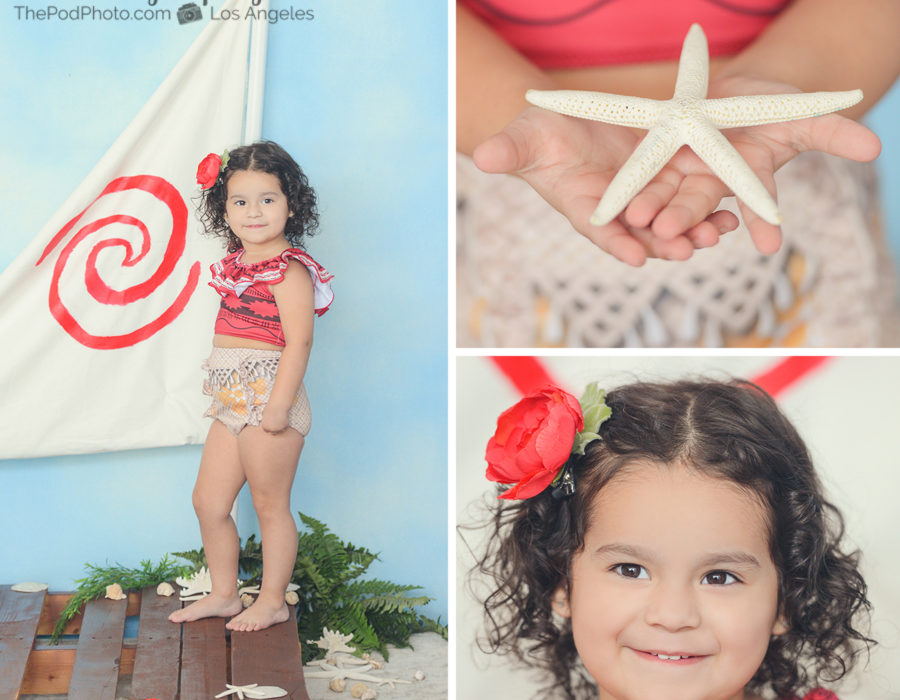 Kids Photography Custom Set Design
If you're familiar with our work here at The Pod Photography, then you know that we absolutely love designing custom photo sets for kids photography.  At our Encino portrait studio, we find it so much more interesting to create beautiful works of art in addition to taking a pretty picture.  And through our kids photography, we love telling the story of who these kiddos are at this time.  For little Penelope, pictured below, Disney's Moana is her favorite movie.  So, with the right outfit, and life-size, hand-built boat, we brought her dream to life!  Here at our Encino kids photography studio, we give children the space to imagine, play and have fun!  She was such a little ham posing for us, and her favorite part was standing up on her boat singing "How Far I'll Go."  It was so much fun, and we even had the Moana movie playing during the shoot in our cozy client lounge.  Kids photography is seriously a blast at this age!
Classic Kids Photography
In addition to fun, creative set design, we love giving our Encino clients some classic kids photography options as well.  After Penelope's super-fun Moana photoshoot, we dressed her up like a little ballerina.  This kids photography session was scheduled to celebrate her third birthday. so we incorporated some of her other favorite things.  Like unicorns!  Our fun, pink and purple unicorn background was perfect with her ballerina outfit!  We also used pink and white balloons and even gave Penelope some confetti to throw around!  At age three, she didn't quite understand the concept of blowing confetti toward the camera.  But the process was hilarious and the final result was adorable, seeing her figuring out what the heck we were talking about.  Take a look at some of our favorites from this Encino kids photography session below:
Give us a call at Encino kids photography studio at 310-391-4500 to set up a consultation with your photographer.  Be sure to follow us on our Blog, Facebook, Instagram and Google+ to see what we've been up to, or explore our YouTube page for more!