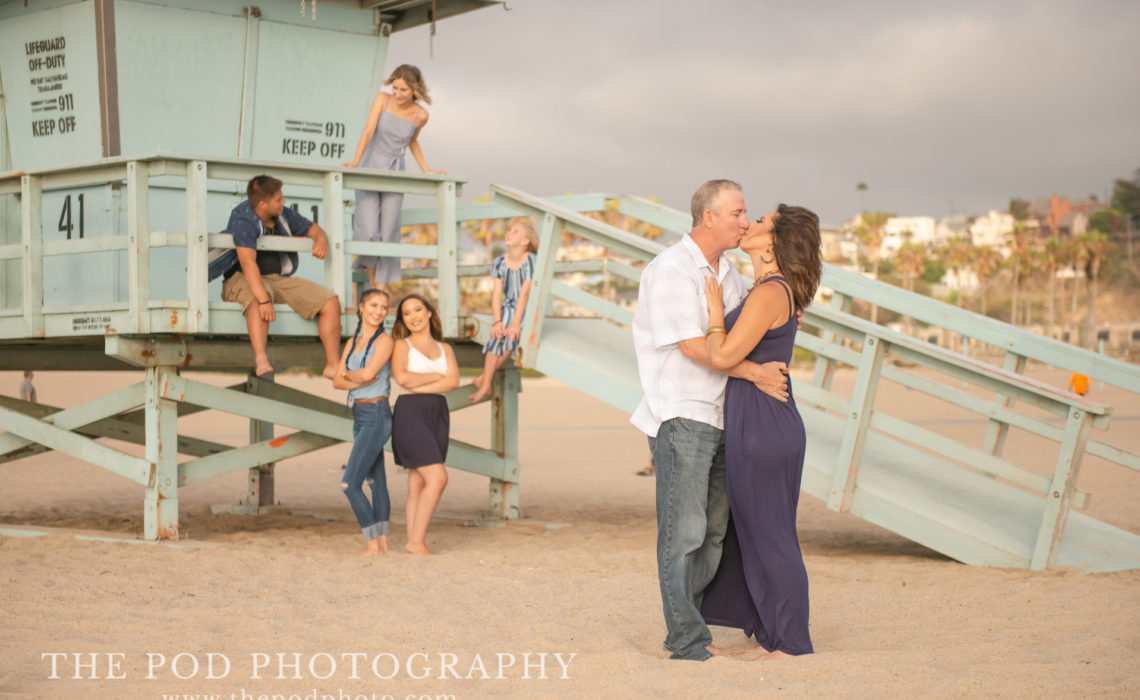 Los Angeles Family and Kids Photography
When you're visiting Los Angeles for the first time, there are several things on the To Do List!  From going to Disneyland, to hiking The Hollywood Sign and checking out Griffith Observatory, to shopping on Rodeo Drive.  Then of course there's Venice Beach and The Santa Monica Pier, along with many other things to see and explore! But one thing that makes a family vacation so special is documenting your time here.  In this day and age, we can take selfies all day long of our adventures.  But how often is it that you go out west on vacation and make a Los Angeles Family and Kids Photography Session a part of your trip?
Planning this particular Los Angeles Family and Kids Photography Session was a blast!  We had been talking with the mom for months prior to their trip and she was so excited!  And when we met at Playa Del Rey Beach, everyone looked great!  The coordinating blues were the perfect color scheme – especially for all the pretty blue eyes in the family!  We always recommend this particular beach for a few reasons:
It's a less-known beach, so there aren't as many people in the background of your portraits
Parking is free
There's a lot of pretty greenery at the park across from the beach, so it's like getting a double-whammy for locations!
Here's a few of our favorites from this Los Angeles Family and Kids Photography Session at the park:
This beautiful, blended family has a fun mix of ages in the bunch.  Two High School Seniors, two older sisters in their twenties, as well as a spunky nine-year-old.  Each one of these "kids" had the coolest and nicest personalities too, so it was such a blast to photograph them!  I bet you can tell below which of the five of them had the biggest personality!  🙂
After we finished at the park, it was time to head on down to the beach!  We couldn't pass up doing something "super California" for them.  And since this lifeguard stand is one of our favorite places to shoot at the beach, we took advantage of it.  While we were setting them up, we couldn't help but think that this looked like a cover photo from "The OC." We love that everyone was kind of doing their own thing, showing off each of their individual personalities.
Then, finally, we got in the water!  Most Los Angeles Family and Kids Photography sessions remain on the sand.  Perhaps when you're a native to Los Angeles, "getting in the water" is not a big deal.  So it was fun for these out-of-towners and made for such great (and funny!) photos!  The expressions on their faces as the waves crashed up on them was priceless!
Not only does this family now have gorgeous images to take home with them, but they also had such a great time!  The following week, Mom had even sent us an email saying how much fun everyone had and how they couldn't stop talking about their Los Angeles Family and Kids Photography Session!  It was the highlight of their vacation!
So, if you are looking for something to add to your LA Bucket List –  put The Pod Photography on that list!  Whether we shoot out at the beach, at another location, or in our full-service portrait studio, you are guaranteed to have an amazing time!
Give us a call at 310-391-4500 to set up a consultation with your photographer and be sure to follow us on our Blog, Facebook, Instagram and Google+ to see what we've been up to, or explore our YouTube page for more!