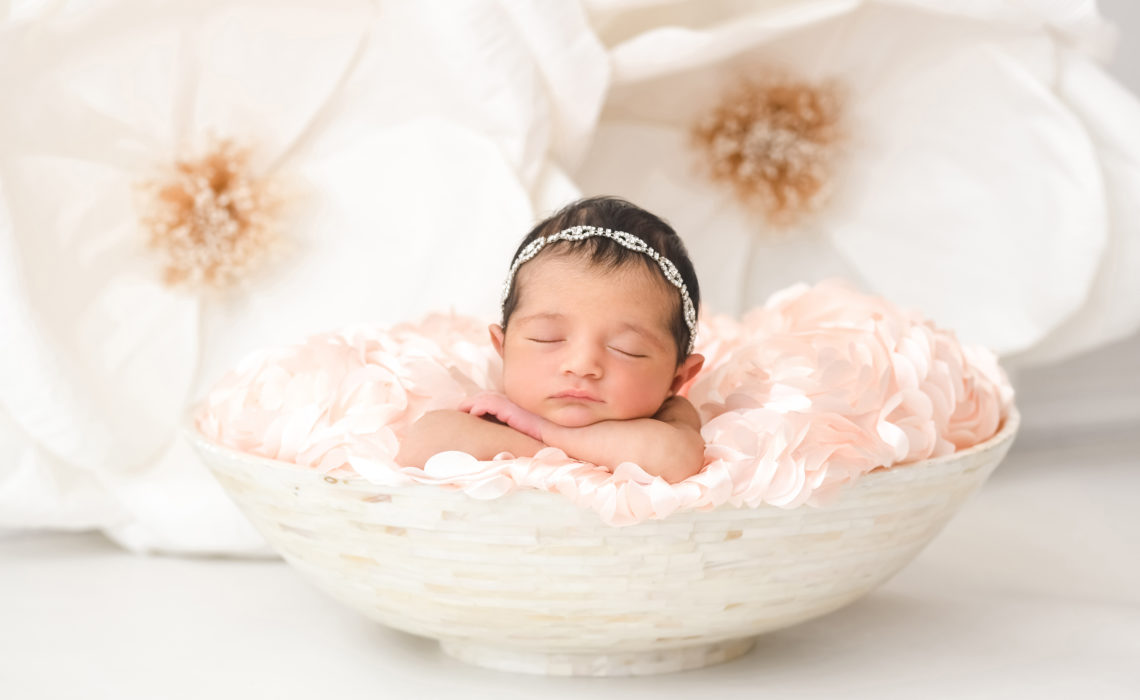 As a newborn baby photographer servicing Santa Monica for the pas ten years – we've seen and don it all! We've balanced a baby on a guitar, scale, and swing. I've floated a newborn (this time she happened to be my own baby) in a pool and in a milk bath. I've dressed up a baby as an ewok, Snow White, a security guard and an architect. Over the years I have had many requests from my baby clients for all kinds of fun, weird and exciting photos. However, can you guess the number one request I get? You've guessed it: pretty and pink!
Even though we have fun creating unique sets for infants at our studio, simple and timeless is just as much of a thrill. Many of our clients want white, pink and maybe a little sparkle with some gold or silver. Simple and pretty will never go out of style, and that is why so many people are drawn to it for their baby's photography.
Whatever a client's vision, we are happy to deliver! Here is a review from a different client about our professsional baby photographer.
"We are beyond happy with Erika and The pod photography crew. I contacted them to see if anyone would be able to photograph my newborn daughter and Erika reached out to me within the same day, plus they were very accommodating. They were very gentle, sweet, and kind with my daughter, husband, and I, which made us feel very comfortable. We felt like we were at home. Erika captured so many great moments that will forever be remembered through her amazing work, photography. Thank you Pod photography, we couldn't repay you with everything you did for us that day. We will definitely return." Stephanie L. via Yelp
Whatever your vision is – give us a call! Our experienced team photographs 2-3 babies per day and are experts in infant posing, safety and we are know exactly how to get your child to smile! We have many clients from Santa Monica, CA area. Also visit us online at our website