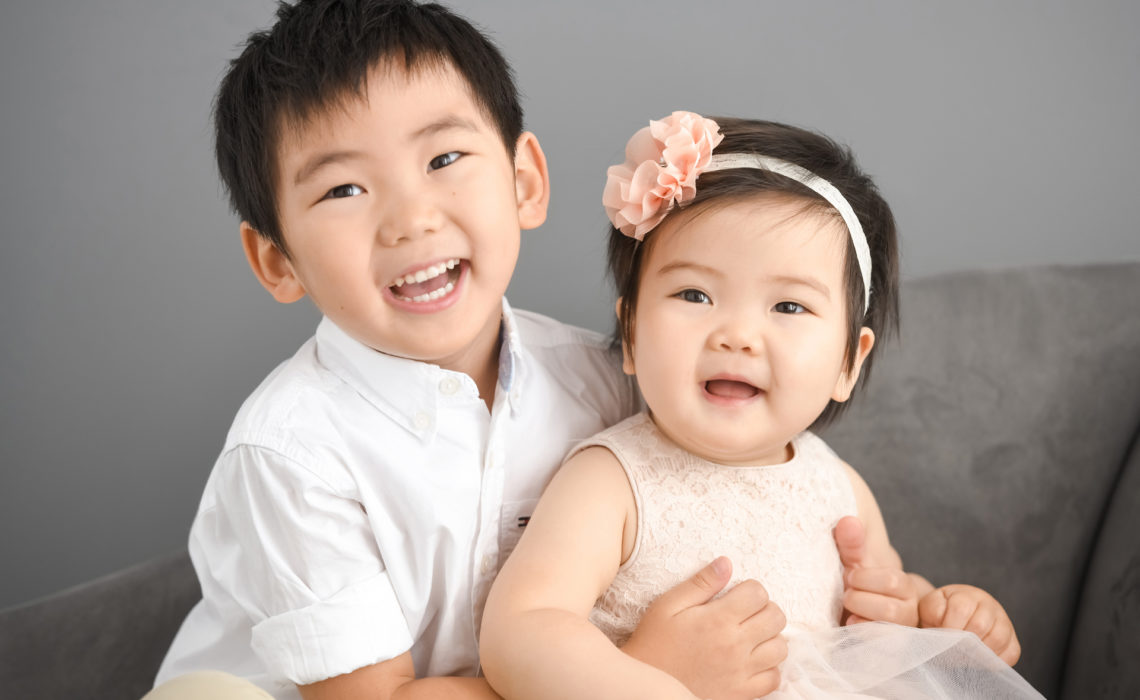 Pasadena Children's Portrait Photography
Often times, we here at The Pod Photography love to go ALL OUT for a Pasadena children's portrait photography session.  But sometimes, it's nice to just keep it simple.  Because not everyone wants to have a super bright, colorful, overly-styled, themed portrait hanging in their living room.  And in this case, Mom and Dad wanted something ultra-simple and minimalist.
Matching your Portraits to your Home Decor
We knew that this family had a simply styled home with lots of white walls.  So when it came down to styling for this Pasadena children's portrait photography session, we wanted a neutral color that would still stand out against their walls.  We went with a soft gray background.  Then we dressed the kids in white and lighter tones like khaki and blush pink.
Dressing for a Pasadena Children's Portrait Photography Session
When it comes to planning outfits for your Pasadena children's portrait photography session, think coordinating versus matching.  The days of everyone (both girls and boys) wearing a white button down and denim pants are over.  What little girl is going to look cute in a white button down?
When I help a family style for their portrait session, I always tell them a few things:
Coordinate with color TONES.  You don't even have to be wearing the same color.  Try mixing together two or three different colors – as long as they are the same tone you are good!  Think soft pastel blues, greens, pinks, lavenders, mints, etc.
 Avoid highly contrasting clothing.  If one person is wearing black, don't have someone else in white.  The difference will be very stark and when looking at the pictures, very distracting from what's actually happening in the photos.  If you are someone that likes contrast and wants something bold, try using colors opposite each other on the color wheel.  Just keep the tone rule in mind.  If you have a bold orange or coral, pair it with a bold blue versus a soft, pastel blue.
Stay away from small and/or busy patterns.  Small patterns like plaid or close-together polka dots can look really busy in photos and have a tendency to "buzz" in your images.  If you'd like to do a pattern, think mom in a floral dress or patterns with bigger chunks of detail versus a small, repetitive pattern.
Give us a call at 310-391-4500 to set up a consultation with your photographer and begin planning your child's photo shoot!  Be sure to follow us on our Blog, Facebook, Instagram and Google+ to see what we've been up to, or explore our YouTube page for more!