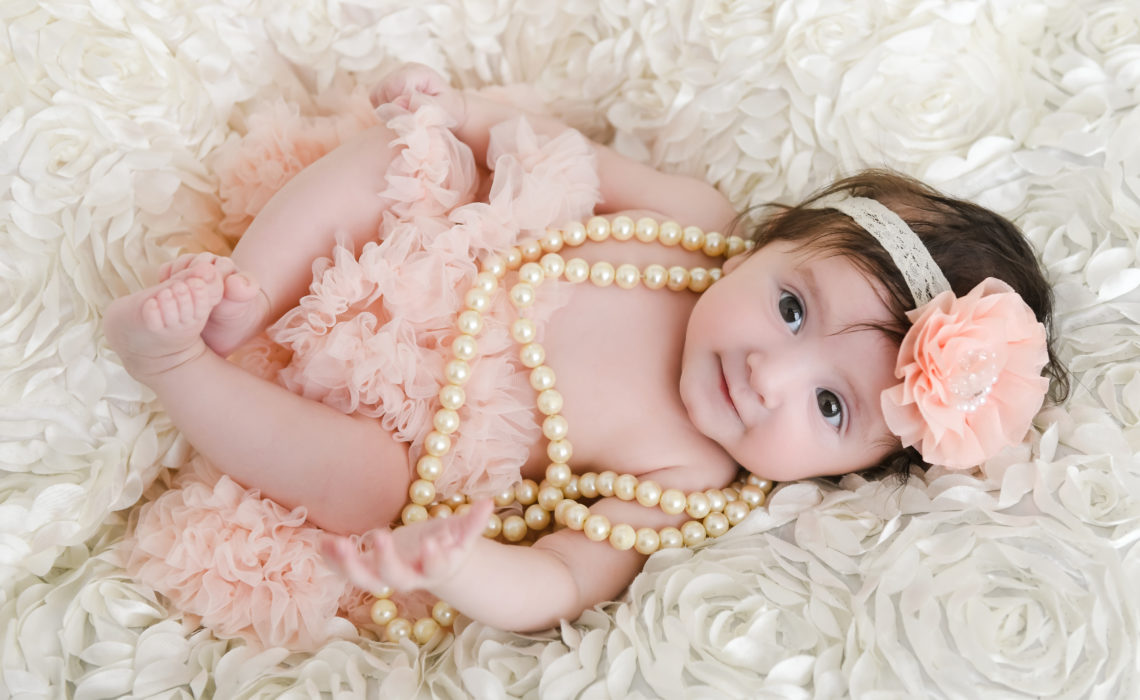 There are so many wonderful milestones to celebrate within your baby's first year of life! Of course, the first opportunity for professional Studio City baby portraits is at the newborn phase. And the word "newborn" can represent a wide range of ages to parents. However, in the photography world, the newborn window is actually a very short time frame of ten days old. And in some cases, up to fourteen days old, depending on the baby's birth date.
The second phase we photographers recommend is the three to four month phase.
At our near Studio City baby portraits studio, we tend to photograph more four month old babies. This age is perfect to capture your baby's strong muscle development! Working on tummy time, it's cute to see babies lifting up their little heads and showing off! The adorable photos below are of a four month old little girl:
And then there is the six to seven month phase.
At this age, babies are so cute sitting up on their own and working on those little tummy muscles! This is one of our favorite ages to document. It's kind of the phase where babies aren't quite as mobile, and so capturing their Studio City baby portraits is a little bit easier! Plus, they have a lot of fun for these sessions as well! Pro tip: this is teething age! So, before your photoshoot, it can be helpful to give your baby a little bit of baby pain killer or some kind of gum soothing.
For one year photos, it's time to go all out!
This it certainly something to celebrate! You've made it through an entire year! So much has changed in your life, and in your baby's life, I mean WOW. The one year milestone is a big one, and probably one of the most fun photoshoots from the year. A lot of people like to incorporate the party themes and design custom sessions with us, which make these really unique and fun.
Learn more about our fabulous sessions by checking out our Baby Milestones Packages on our website. Give us a call at our Studio City baby portraits studio at 310-391-4500 to set up your consultation.
Follow us on our Blog, Facebook and Instagram to see what we've been up to, or explore our YouTube and Pinterest Boards for more inspiration!