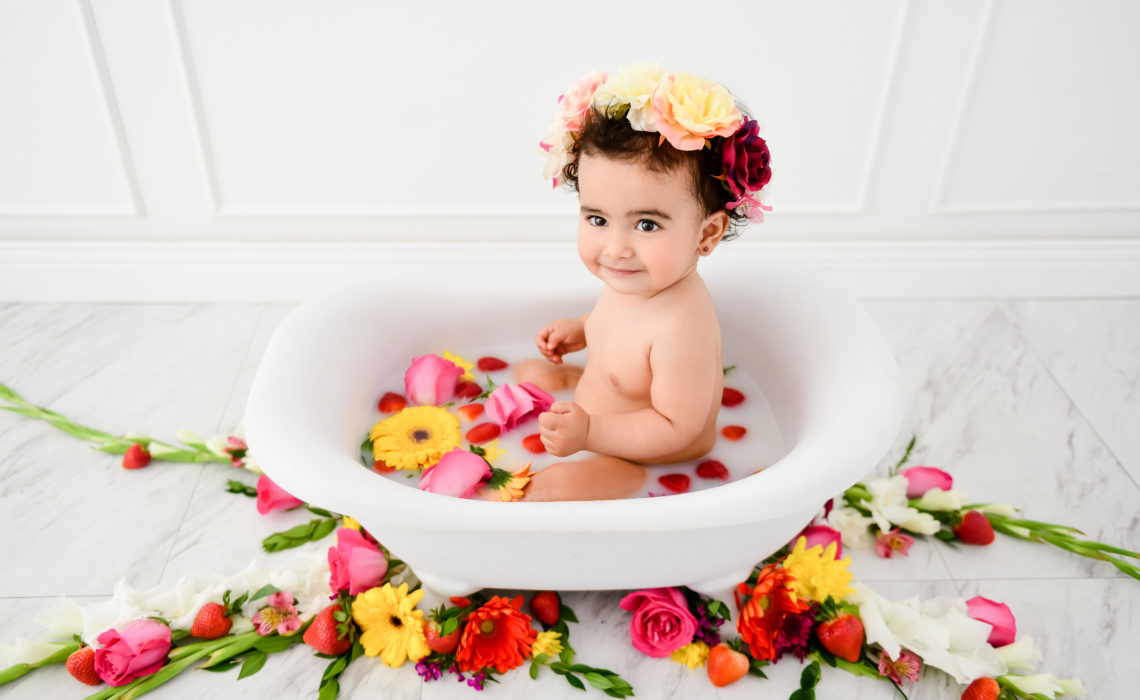 Frida Kahlo Inspired First Birthday Session
Okay, can we talk about how gorgeous this baby girl is!? Seriously, I know we love all of our babies here, but this girl is just… ugh, so beautiful!! We didn't even realize when we were planning the shoot, but the inspiration came to us right in the middle of the session! Turns out, this was a Frida Kahlo first birthday session!
I usually start talking about the cake smash first, but instead, we're going to jump right into the part we're obsessing over. This little one year old's milk bath. Mom knew she wanted bold colors and strawberries. We picked up gorgeous, vibrant flowers for her and the color contrast against the white was so beautiful! The pops of red in the strawberries just added even more depth to this Frida Kahlo first birthday session. And yes, the styling itself is stunning. But this baby girl is what absolutely MADE the shot. Her glowing skin, dark hair and distinguished brows were the perfect match to the colors and light of the set. Ah! Okay, time to share with you all – just look at her!!
See what we mean?? Beautiful little babe!
Now, moving backward to the beginning of her shoot – this first birthday girl has some serious style – and taste! And though the bath portion was more of a Frida Kahlo first birthday session, the cake smash part was amazing too.
Gosh, this rivals in cuteness! The first half of this little lady's one year photo session, we had another adorable theme. Breakfast at Tiffany's Cake Smash! She rocked this adorable sequins tutu romper we have here, and of course a little silver crown. The color contrast of the black against the Tiffany Blue background was gorgeous. Take a look at some of our favorites:
Give us a call at 310-391-4500 to set up a consultation with your photographer. Be sure to follow us on our Blog, Facebook and Instagram to see what we've been up to, or explore our YouTube page for more!