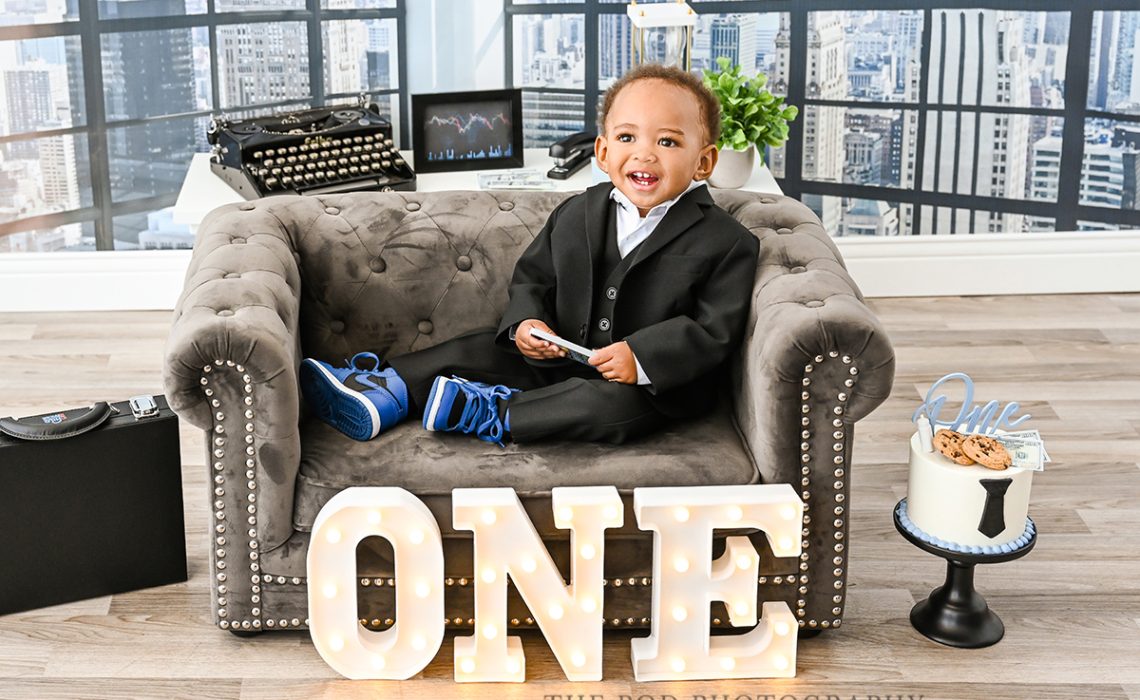 Turning one is such a momentous time in a baby's life! Most of your baby's change and development happens during the first year. What better way to document how your baby has grown than with a First Birthday Cake Smash and Splash Portrait Session with our best cake smash photographer here in our Culver City, California studios.
We can create a one-of-a-kind custom set design for your baby's first birthday celebration! We created two unique sets for this Cake Smash and Splash Portrait Session. For the mini birthday cake smash, it was all about getting down to business! Is this not the cutest boss you have ever seen? This baby boy was dressed to impress in a black suit and a pair of sunglasses to make him look super cool.
The backdrop was that of a city skyline, like right out of a scene from Wallstreet! It included a mini desk and a black briefcase. The mini birthday cake was perfect for this portrait session! Cookies and cash for "the boss."
The splash part of the portrait session was all about summer vibes! Starfish, seashells, and sand were part of this custom set design. And, of course, a cute mini bathtub with relaxing bubbles! He enjoyed his mini beachball!
Please feel free to follow us on our Facebook and Instagram pages, where we share images from all of our portrait sessions. You can also find us on Pinterest and YouTube for more portrait inspiration. Visit our website at ThePodPhoto.com for scheduling information and to book your Session Planning Appointment with our professional photographers.