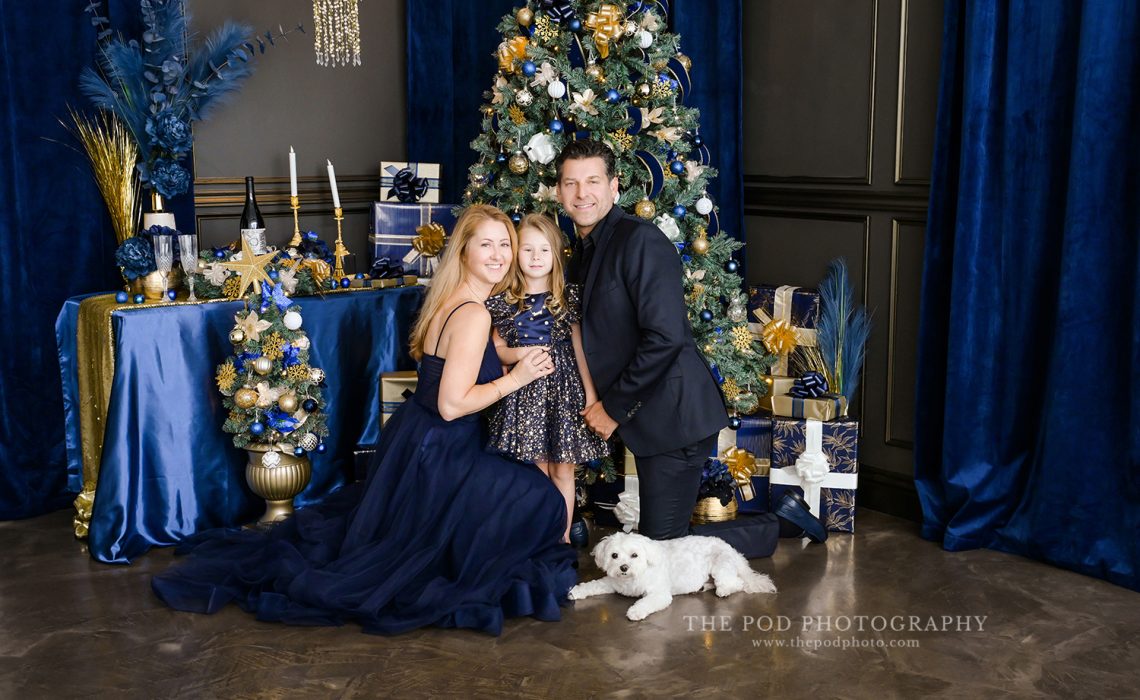 Holiday Family Mini Portrait Sessions are in full swing here at The Pod Photography in Los Angeles, California. It is hard to believe that the holiday season is nearly upon us. This year has gone by so fast. With that being said, our studio is starting to look a lot like the holidays. The time is here again where The Pod Photography is offering our Holiday Family Mini Portrait Session. Our luxury studio in Los Angeles, California, includes two holiday sets to choose from. Our Holiday Mini Portrait Sessions are limited, so be sure to visit ThePodPhoto.com and book today!
Holiday Family Mini Portrait Sessions Los Angeles
This year we are offering our limited edition Holiday Set, or you can choose our White Vanity set for a more timeless look in our Los Angeles, California studio.
The Limited Edition Holiday Set
The limited edition Holiday Set was created using a bold holiday color palette. We decided to go with a more nontraditional set this year using different colors other than red and green. Those colors include navy blue, gold, and white. We chose navy blue because it works and coordinates well with metallic colors, such as the gold used to accent the tree and other aspects of the set. You can't go wrong with gold accents and navy blue. They are stunning together. Combining cool and warm colors create a magical holiday scene. And the real tree provides a more realistic feel because you can smell the rustic scent on the set. The Holiday set is full of elegance and sophistication.
Family Outfits
One of our clients decided on a more sophisticated, glamorous approach for this Holiday Family Mini Portrait Session. The outfit choices were elegant, with mom dressing in a stunning navy blue gown with a sleek side split. Dad chose to wear a dark coordinating sportscoat and shirt with dark pants. The outfit of choice for their little one was navy blue with gold star accents. Isn't she adorable? Of course, if you can't decide what to wear, then visit our "How To Dress" page.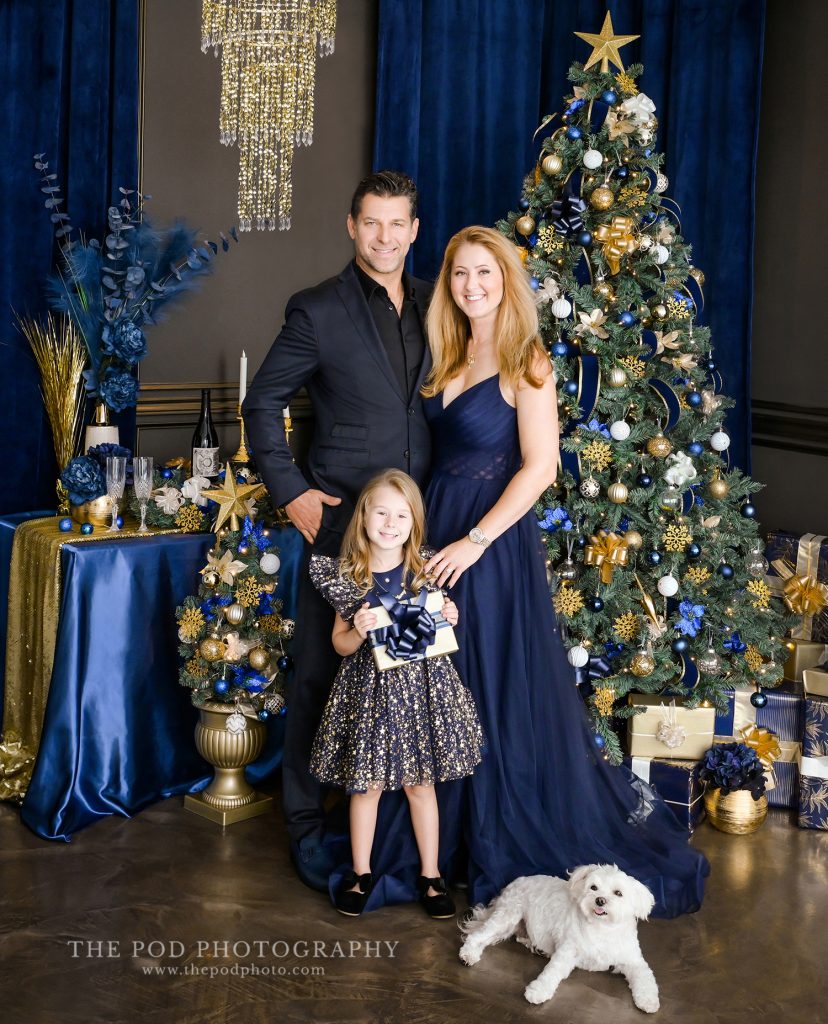 The family also decided to include their pet in one of the portraits, which you can do for your holiday portrait session. We also took a shot of mom and dad together.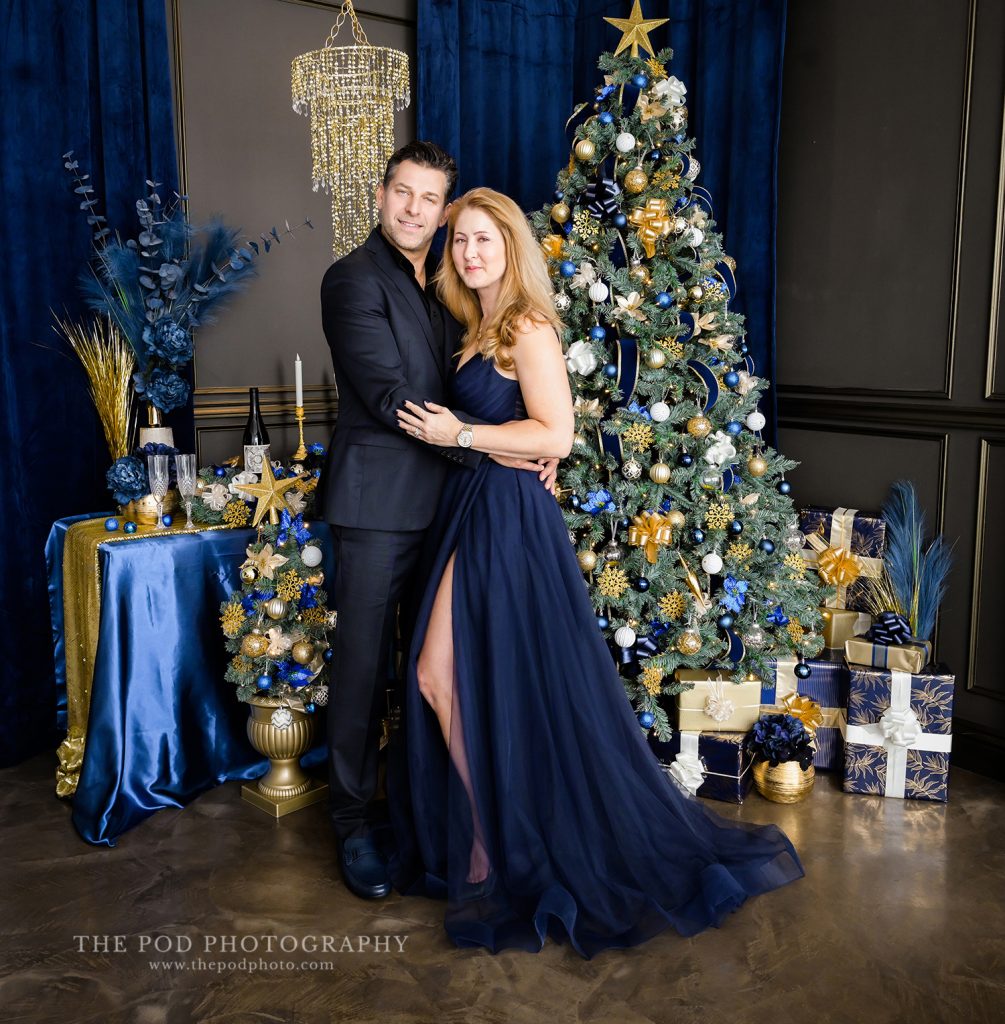 The photographer also took several shots of the daughter. They turned out amazing! Look at her beautiful smile.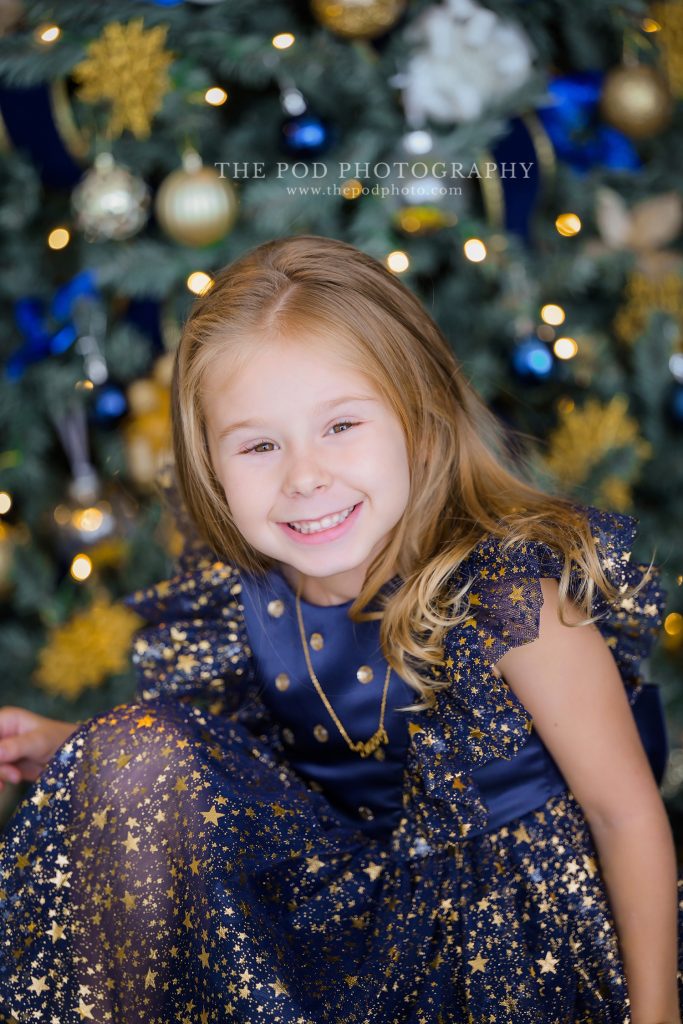 The White Vanity Set
The next set is an alternative background called our White Vanity set. If you love simple and more subtle portraits, this holiday set is for you. This set is simple, with just a white background. You can dress up or dress down; it's totally up to you! For this family portrait, they dressed up, and we sat the family on a settee sofa. We sat mom on the top of the settee for a more sophisticated look. The family wore different shades of blue, which was perfect for the White Vanity Holiday set.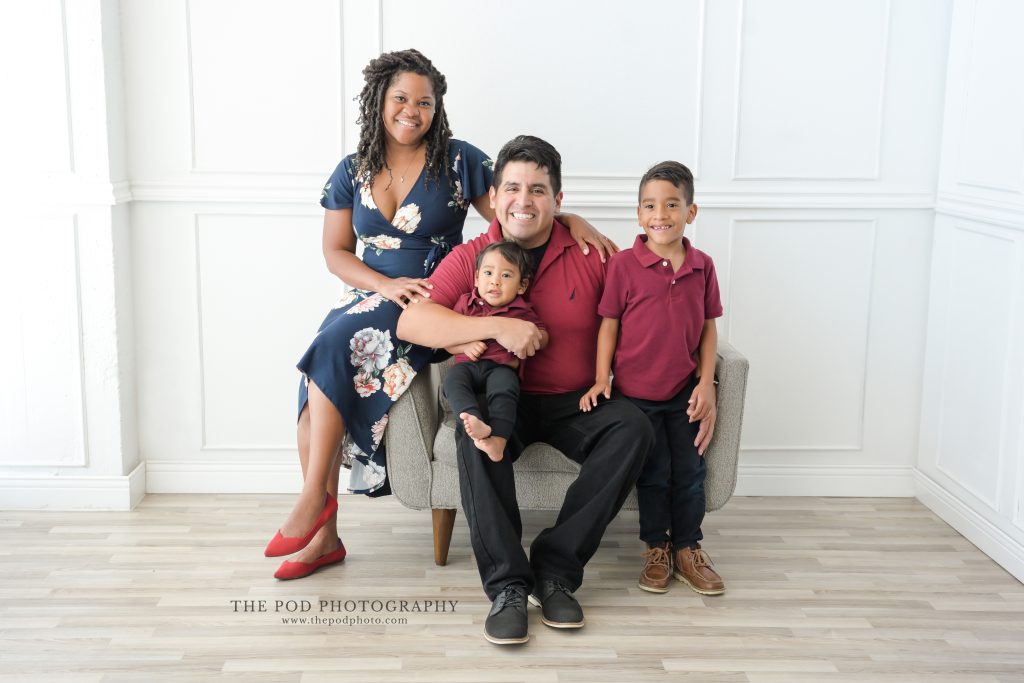 Not only do we offer portraits, but we also have other items you can purchase, such as Holiday cards, wall art, and albums, all of which make great gifts!
Head to ThePodPhoto.com to book and choose your Holiday Set today; spaces are limited! Holiday Mini Family Portrait Sessions are going on now through December 17, 2022. Be sure to reserve your spot early, as we fill up fast. Or, you can call us at 310-391-4500.
Please be sure to follow us on Facebook and Instagram for portrait inspiration and ideas. We also have a Pinterest page and a YouTube channel.