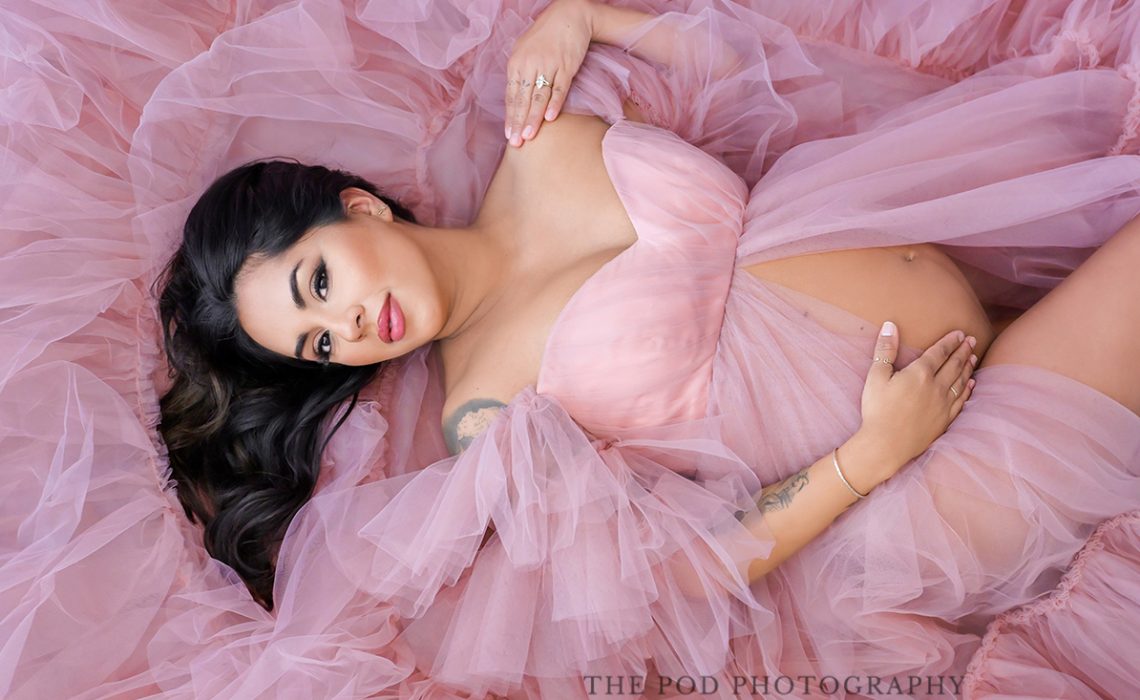 The experience of a maternity portrait session can be exhilarating and self-empowering. Our professional photographers here in our Manhattan Beach, California, location will pamper you and capture the essence of your pregnancy and how beautiful you are during this special time.
When you book your consultation, we meet with you to determine a few things before your session. We get to know you, what your interests are, and what you feel most comfortable wearing, and we discuss particular visions you may have for your session.
Pink Ruffled Gown
This Maternity Portrait Session included different looks, styles, and colors. The mom-to-be chose a long flowing pink gown with layered ruffles. This gown highlighted her baby bump beautifully. She looks absolutely stunning. Sometimes simplicity can produce the perfect image.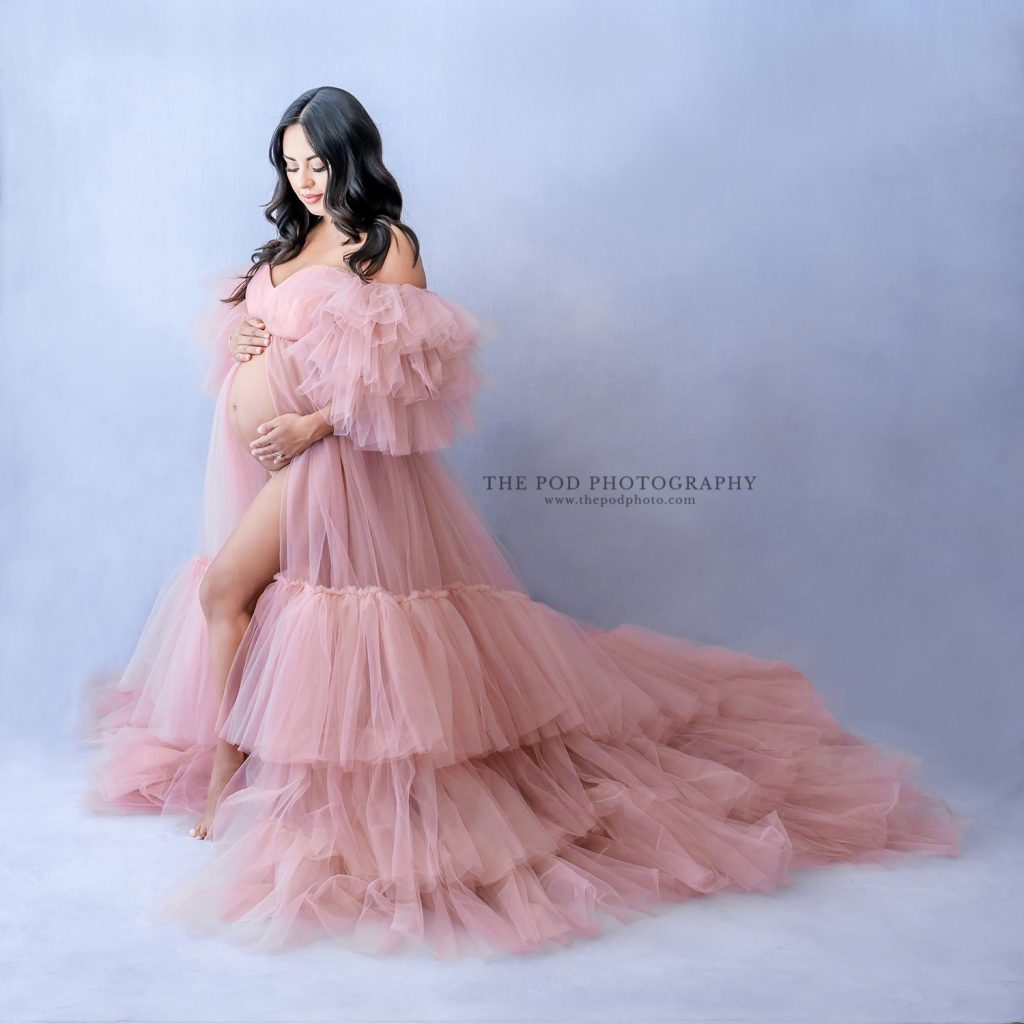 Color, Color, and More Color
This part of the maternity portrait session was full of eye-catching, bold island colors. This set design was created to have an island feel, with a blue backdrop and gorgeous florals! Mom chose a stunning long skirt with flowers and a coordinating bralette. To add to the island feel, she decided on a headband of bright, pink flowers, perfect for her beautiful, long dark hair. Mom looks like she belongs on a Hawaiian island, dancing in the sand.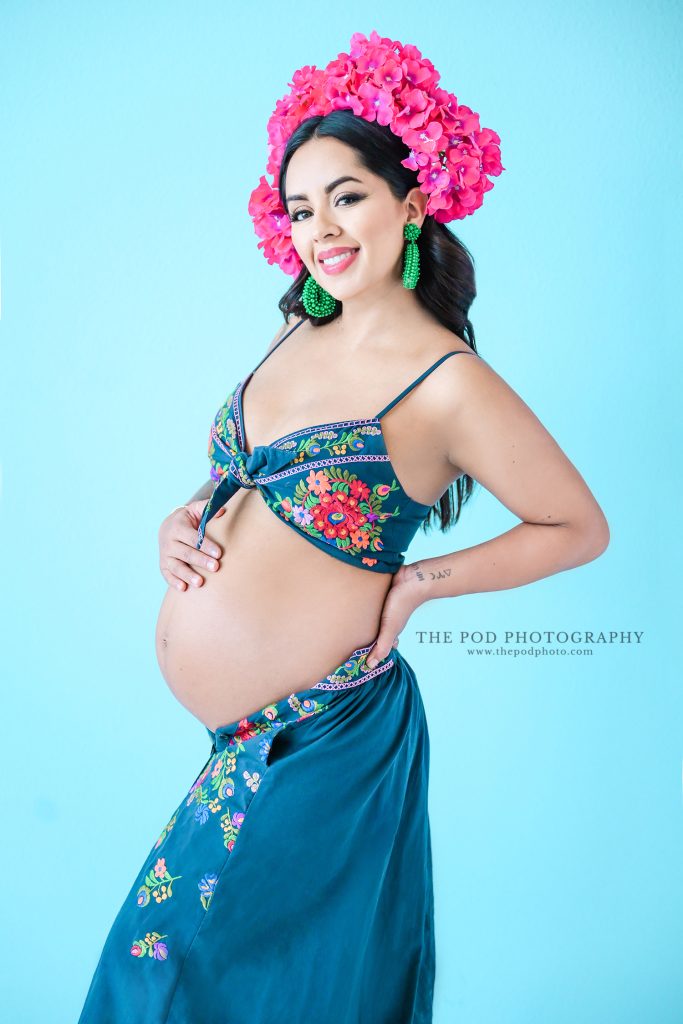 White Tulle Maternity Gown
Tulle material is a popular material for maternity gown creation. It is lightweight and has such an elegant look when used in a portrait. Layers can be added without causing the gown to look heavy or bulky. It flows smoothly and is comfortable. Mom chose a white tulle gown for this part of the session, and boy, was it a great choice. Her beautiful golden skin tone stole the show! The gown choice gave this portrait a romantic, dreamy look, outlining her baby bump perfectly.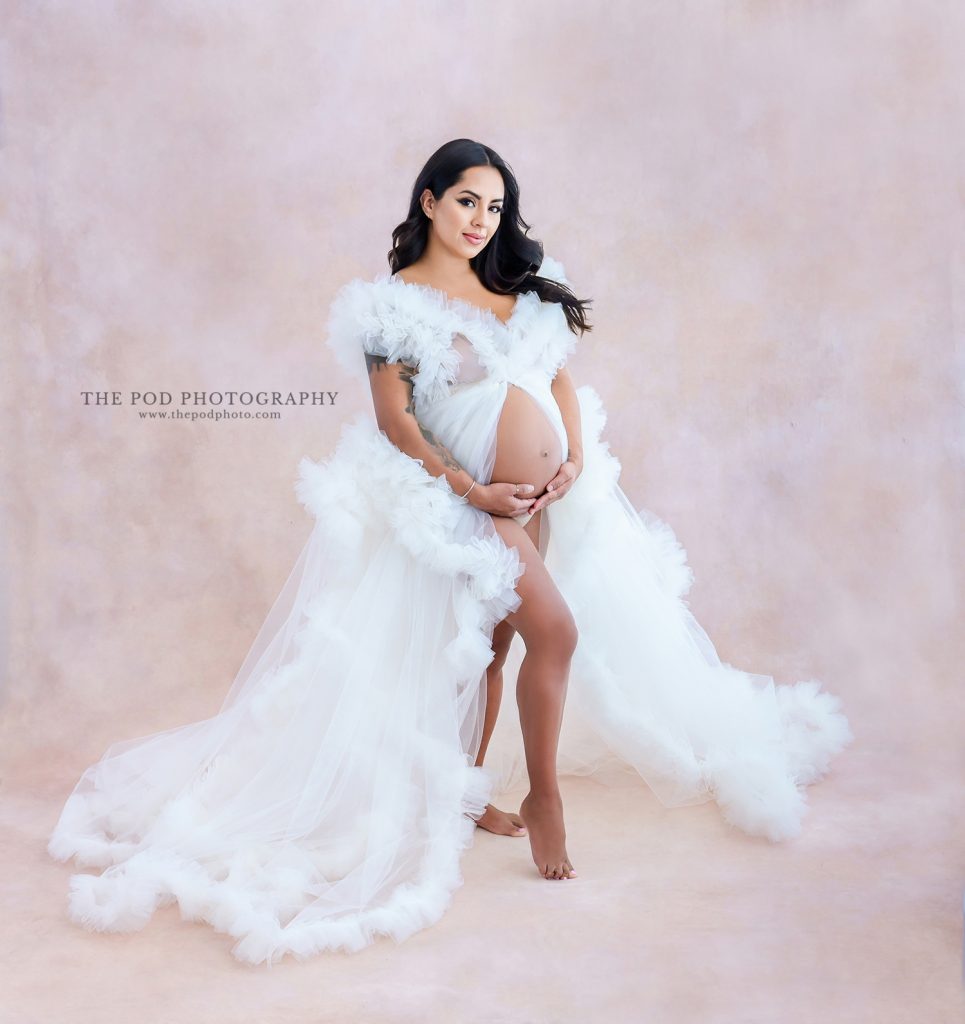 A More Powerful, Edgy Look
Here at The Pod Photography studio in Manhattan Beach, California, we usually do not recommend that our moms-to-be wear black. However, we know that there are mamas out there who feel powerful and sexy, even being pregnant. Many soon-to-be moms are confident and like to incorporate a little edginess into their maternity sessions. For this part of the session, mom wore an all-black outfit. To add the "edgy" feel, the black shirt was left open to show the beautiful laced black bra. We added a black hat for the second image, and did she rock it! Her confidence definitely showed in this photo!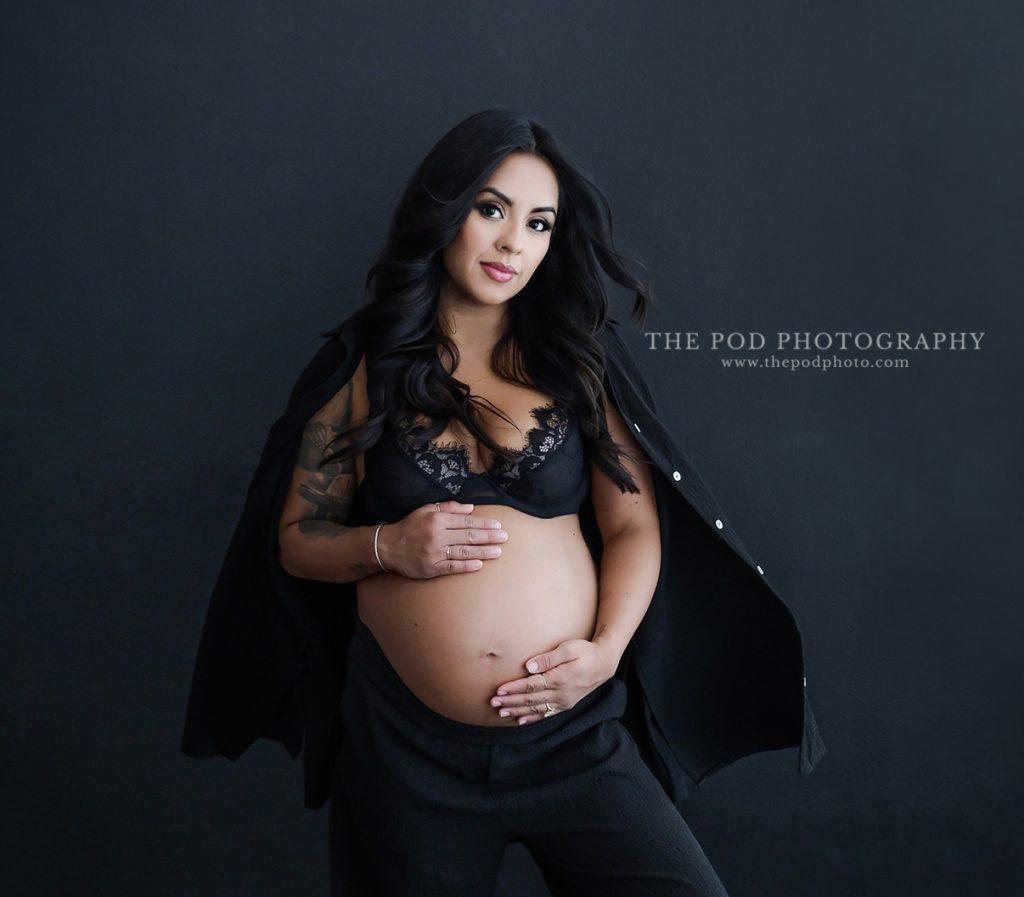 Let's Get Social
The Pod Photography uses social media to share its beautiful portraits with its followers. We have a Facebook page, as well as an Instagram page where we share portrait inspiration! Our YouTube channel shows behind-the-scenes footage and interviews with Erika, the founder, and owner of The Pod Photography. Follow our Pinterest page, create your own boards, and fill them with your vision and ideas for your maternity session. The luxury, modern studio services many areas of southern California. Those areas include Culver City, Los Angeles, Hollywood, and Santa Monica, as well as many other areas!
Like What You See?
If you are interested in documenting your pregnancy, you are in the right place. Our professional photographers are standing by to help you create and experience a maternity portrait session based on your vision. Don't have a vision? Then we are happy to get to know you and help you create a portrait session that is perfect for you. Visit our blog for ideas and inspiration! Contact us today at ThePodPhoto.com or call 310-391-4500. We can't wait to meet you!