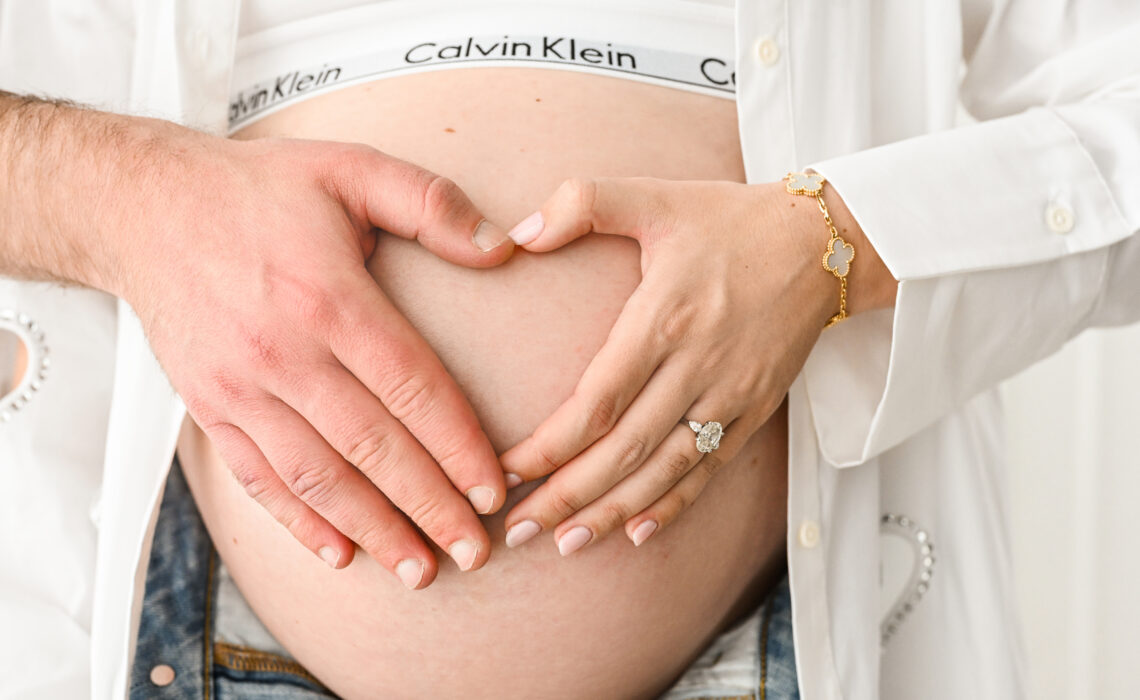 Are you a dog Mom and Dad expecting your first baby? What a beautiful time to celebrate your family of three becoming a family of four with a portrait session! At The Pod Photography, Calabasas, California, we love including pets in our maternity sessions. This Maternity Family and Pet Portrait Session was full of smiles and fun!
Including your previous fur baby in a Maternity Portrait Session to document the days of being a family of three is a great way to keep the memories and share them as your baby grows older. Your dog is becoming a big sister or brother, so making them feel included is so important.
This portrait session was all about comfort, like a lazy day at home.  The Mom-to-be was a ball of energy and absolutely adorable! Mom wore jeans and a white loose blouse with hearts, and Dad wore jeans and a white T-shirt.  The cute fur baby wore a bandana that announced he would soon be a big brother.
We all know how time flies. To keep your precious memories from fading, why not create a beautiful photo album or wall art with your portraits to display in your home? We have a variety of products to choose from!
If you're ready to book your Calabasas, California Maternity Family, and Pet Portrait Session, call us at 310-391-4500 or visit our website!  We are looking forward to having you in our studios.
And, for more portrait inspiration, please feel free to follow us on our Facebook and Instagram pages, where we share images from our portrait sessions. You can also find us on Pinterest and YouTube for more portrait inspiration. Visit our website at ThePodPhoto.com for scheduling information and portrait inspiration.