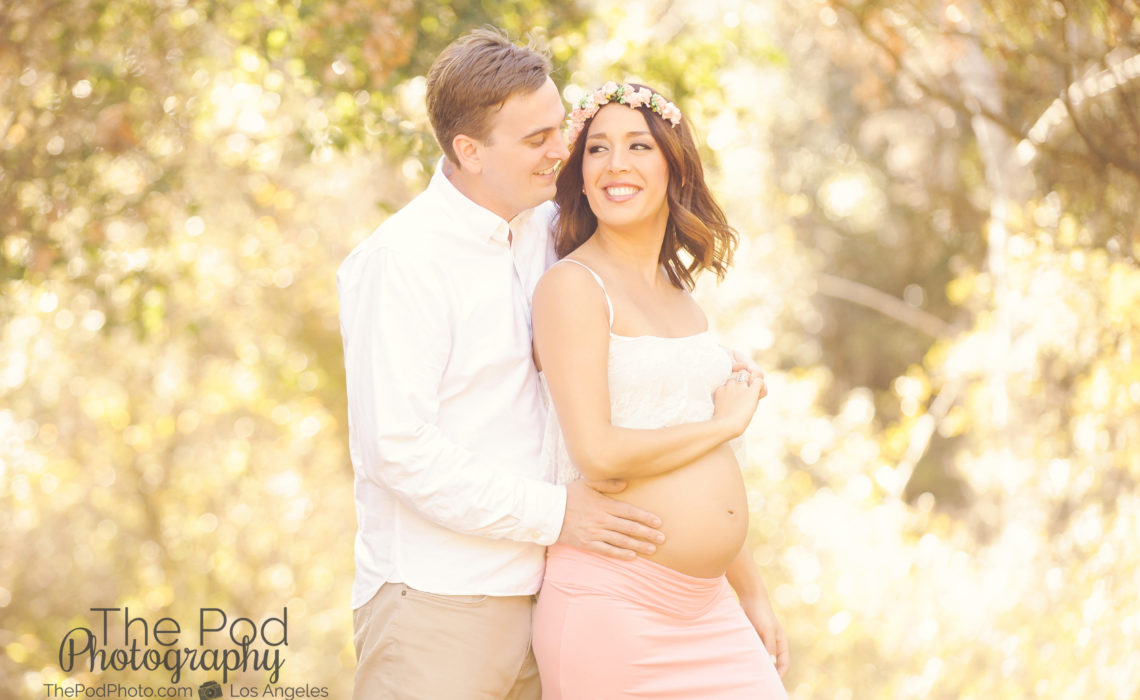 This hot mama-to-be has been such an inspiration to us at the studio! Not only is she gorgeous, but her style is just killer! When she pulled out that purple flower headband that matched her dress perfectly I was in awe. Ever since I have know this mama she has pulled off patterns, bright lipstick, high fashion tailoring and even yellow ombre hair in such a daring and cool way. So obviously, I took inspiration from her fashion forward maternity look and bought several flower headbands the next day, and we've been adding to our headband-collection since then! But more importantly, this is a couple I have known for several years now and they are dear personal friends. I've watched them turn into "real" grownups – from attending their wedding, to being new home owners and now the ultimate adult activity: having a baby! Thank you for being an inspiration and friend – We are so excited to meet baby G when she arrives in the next few weeks!
We captured this couple's pregnancy portraits at Temescal Gateway Park in Malibu, CA .
We love to shoot in Malibu and the Pacific Palisades! Give us a call at 310-391-4500 to chat about your maternity photos and take a look at our website to see more of our maternity photography!
Not only is this a perfect rustic photo shoot location, it is also an awesome place to hike. Here's what Hikes Peak has to say about it:
Temescal Canyon Loop offers a good workout along with ocean and canyon views. Temescal Gateway Park is situated just off Sunset Blvd in the Pacific Palisades, and this convenient urban location makes Temescal Canyon Loop a very popular hike. The basic dimensions of the loop is 2.6 miles with 1,000 feet of elevation gain, but the hike can be expanded to four miles or longer thanks to a variety of extensions. If the elevation seems too extreme, skip the Ridge Trail and enjoy a relaxing out-and-back along Canyon Trail instead, a level trail along the bottom of the canyon that makes up half of the loop.
To reach the main trailhead: Cross the string of parking lots at the base of Temescal Gateway Park. Just past the bathrooms and general store, take the mulch road to the left following signs for Ridge Trail. After a few hundred feet, turn up the stars on the left next to the mileage sign for Ridge Trail and begin the loop.
To avoid walking through so many parking lots: Head to the lot on the southwest end of Temescal Gateway Park along Sunset Boulevard. If you park along Sunset (for free) this lot is east to walk to. Behind a metal gate and a stone pillar, a wide dirt trail heads down to a metal flood control structure. A single track continues along the creek charting a course parallel to the park road to the base of Temescal Ridge Trail. This 0.4-mile trail adds a little more nature to the start of the hike.
From the four-way junction between Temescal Ridge Trail and Temescal Canyon Trail, head up the ridge and begin the 1,000 foot climb. After less than a quarter mile, the trail enters Topanga State Park where dogs are prohibited.