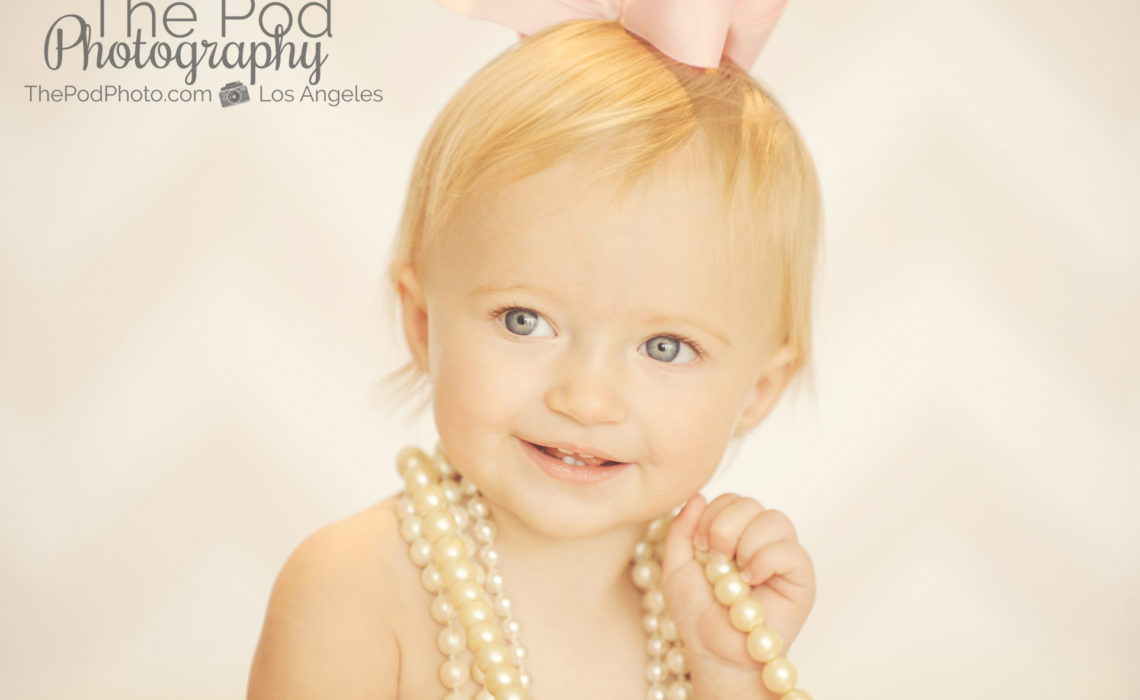 Getting ready for your little one's first birthday photo session?  Here are a few simple tips and tricks to ensure your little one has a blast during their cake smash!
---
1. When To Schedule
I always recommend scheduling your cake smash shoot around 10-11 months old. This way, you can have everything ready in time for the party such as your invitations, portraits to display at the party, or any party favors you would like to send home with your guests.
PodMom Tip: Our Birthday Cake Smash Session is all-inclusive with everything you'll need to celebrate in style!
2. Picking Your Outfit
You've Googled, you've Pinterested, you've done your Etsy browsing..and every baby is wearing a diaper cover and the same pointy birthday hat. Try switching it up a bit! Dress your little lady in a beautiful lace dress with a birthday crown, or your little man in some cool jeans with hip suspenders and a fedora. Whatever you choose, make sure you love it! And since it will be adorable, grab some photos pre-cake to document the cuteness.
PodMom Tip:  Not sure what outfit to purchase? We've got you covered! The studio is packed with all kinds of adorable outfits for your little one to smash his or her cake in. We'll help you plan every detail of your session for the perfect cake smash.
3. Choosing The Cake
One simple rule for cake: VANILLA! Honestly, the fewer colors used, the better. The reason for this is that when all those frosting colors smoosh together, it makes a yucky brown color (same with chocolate cake), and if you can imagine what brown stuff smeared all over your baby's gorgeous skin looks like… well… we don't need to paint that picture- I'm sure you've had enough changing table episodes to know what I mean!
In addition to the vanilla rule, I also suggest getting a small cake. I've had parents bring in enormous cakes and it can be really intimidating for babies. Stick with a 6″ cake or smaller, and while your at it, pop it onto a cute little cake stand.
PodMom Tip:  You've got enough planning going into your baby's party already. Just let us know what your theme and color scheme is, and we'll order your cake for you. We partner with SusieCakes to design you the perfect Smash Cake that you're guaranteed to love!
4. Have a Practice Round
One-year-old babies aren't eating cake on a regular basis, so since they aren't used to having sugar, make sure you do a couple of trial rounds with them a week or so before your session and let them taste some sugar! This will get them used to the taste and texture of the cake and they'll be more excited and interested during the photo session.
5. What To Bring
-Make sure to bring a change of clothes for yourself- something that you don't mind getting frosting on! A lot of babies will end the session pretty messy (and sometimes upset). They just want mom to hold them.  🙂
-Cheerios, puffs, whatever small snack your little one enjoys. If they're not into the cake, we can hide these inside to get them excited and interested!
-Their favorite fuzzy blanket and some comfort toys. After cleaning up this little cake smasher, bundle them up and give them some love- they have been working hard!
PodMom Tip: After the cake is demolished (or barely touched depending on the baby), we'll run a warm sink-bath for your little one. Organic baby body wash and fresh towels will be ready and close by!
---
First birthdays are so special- what better way to celebrate this milestone than with beautiful portraits? We see cake smashers from all over Los Angeles, but especially near Culver City (where our studio is located) and surrounding areas such as Mar Vista, Marina Del Rey, Santa Monica, Brentwood, Westwood and Beverly Hills.