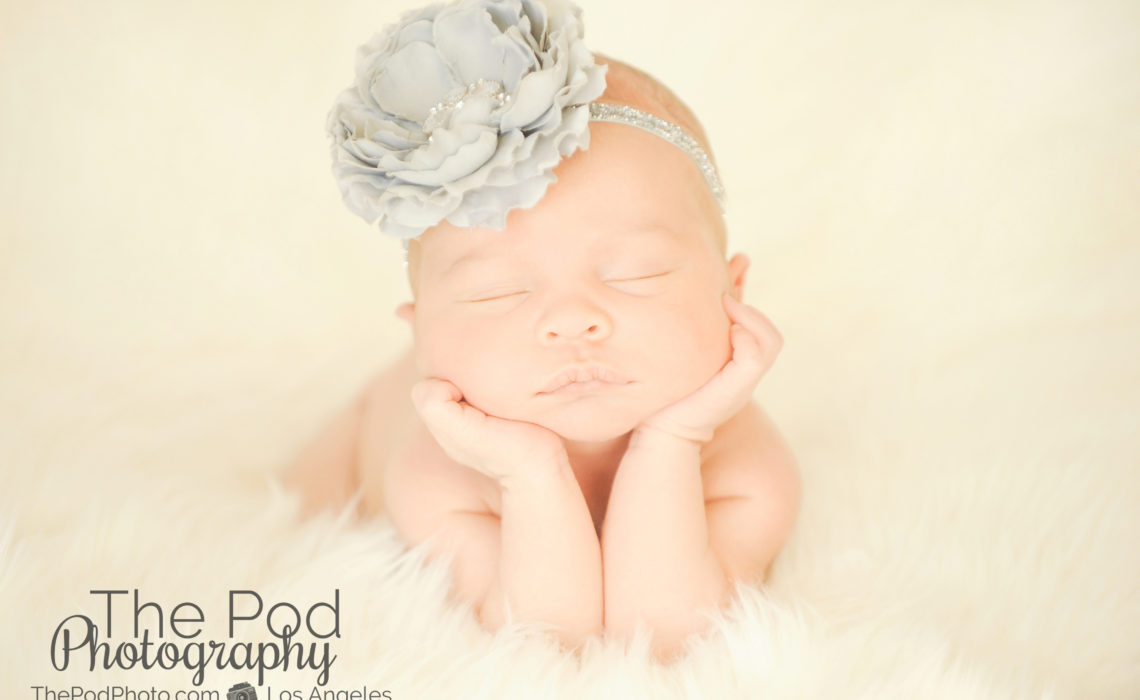 Every baby is cute, but some babies are just soooo cute! This little lady's sweet features and gorgeous full lips are the things that got us just ooing and aahing over this sweet girl's newborn photo session.
We have been doing some fun new things here at the studio recently, and two of those things are part of this shoot. The first is our new "bed" set that I felt inspired to create. We bought a cute little twin size bed and then dressed it with a snow fox throw and mix of shaggy cream colored pillows and more snow fox. As with every set we create, I scoured the internet to find exactly the right snow fox and shag. Textures are really important design elements in photographs and help to add dimension, so the fur had to be be just the right softness, spikiness… and of course comfy for our clients! All of us girls threaten that one day we will take a nap on that bed because it is honestly so amazingly fluffy and comfortable. We put the bed right up against our East facing windows and the resulting glow and reverse lighting is perfect for those soft, dreamy newborn baby family photos.
The second thing that has been inspiring us the past month or so are out "stat" boxes for infant photos. A little known fact about Leah – our kids and family photographer – is that she has incredible handwriting. She came up with the amazing idea to write all of the baby's info: their name, birthday, weight, length and sometimes the time of birth all on our little chalkboard box. Clients are loving these photos and the images have made for some beautiful album covers and birth announcements!
We are always coming up with new, innovative ideas to continue pushing the envelope and create spectacular images. Each week we have meetings about the studio's style, client experience and what we can do better. Those meetings are generally followed by an Etsy, Moderne Child, Free People or other shopping trip since we are always buying newer and cooler props, backdrops, outfits, accessories and other unique items. On this weeks shopping list: flower headbands, flowy maternity dresses and sparkle headbands for moms.
The lovely family in this photo session lives in Santa Monica and they came to our studio for their newborn photo session.