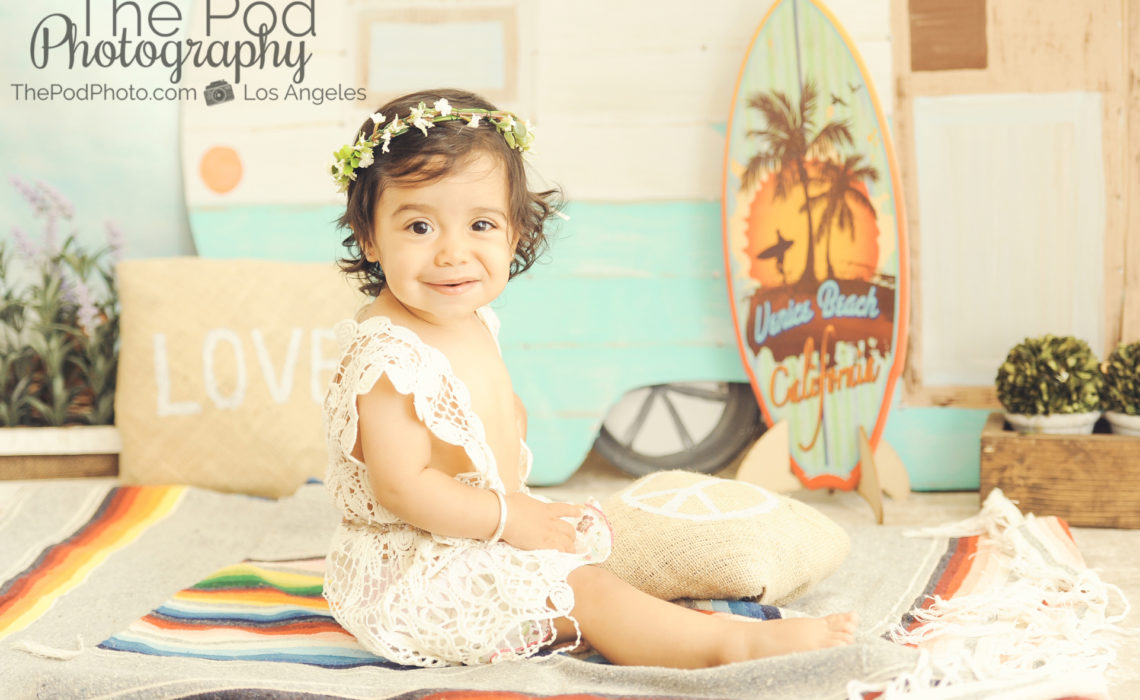 It is always such a treat to photograph somebody that you know. Especially when you know them from one world and you get to meet the other half of their world. You get to know who they are, what their life is all about, and see that loving relationship and connection they have with their family. In this particular case, we were honored when our Postman asked us to photograph him and his beautiful girls.
Let me tell you about our Postman. He's not just your regular guy who walks by and tosses some envelopes in your mailbox. Freddie is the happiest guy I know. Every single day, he walks into our studio with a bright smiling face – usually whistling or dancing – and will always (no matter the weather) talk about what an absolutely beautiful day it is (and how he can't wait to go surfing in it – rain or shine!) He always starts our day off with a smile, and that is something that I know all of us Pod Girls value. So of course, it was no surprise when we met his gorgeous wife, Marcia and their one-year-old daughter, Viviana, that they were both just as happy-go-lucky as Freddie. We absolutely fell in love with Vivana's big personality. We had been seeing photos and hearing all about her since she was born, but this little lady pulled out SO many smiles and silly expressions during her photo shoot!
When styling for their session, I knew that I wanted it to be special. Marcia was so excited about all of the little outfits and accessories that we have here at the studio to style Miss Viviana in, so we paired an adorable teal romper (how gorgeous is that color with her skin!?) with a rhinestone belt and sparkly silver tutu-crown from Love Crush Bowtique. Since we still wanted a little more sparkle, we also put together our gorgeous champagne sequins background with Viviana in a little pink tutu and pearls. You can really never go wrong with dressing a baby girl in tutus and pearls! For our final set, since we did sparkles and girly styling for mom, we wanted to make sure dad got something special. Being a local and an avid surfer, our Bohemian Summer Set – complete with a Venice Beach mini-surfboard – was the perfect set for dad. He absolutely loved it! But of course, we couldn't resist adding another touch of girly with our latest floral headband obsession. Miss Stevie Marie makes the most stunning flower crowns, and Viviana certainly rocked this one!
One of my favorite things about being the Kids & Family Photographer, is telling a story. Adding personal touches that showcase who your family is in this point in time is absolutely priceless. When planning for your next family portrait session, keep that in mind. What kinds of props or accessories can we subtly tie in to represent who you are, what you're about, and show the loving connection between you and your family?
Want to see more photos of gorgeous families like this?  Check out of Family and Babies galleries! Give us a call at 310-391-4500 to schedule your photo session and tell your family's unique story. We can't wait to meet you!