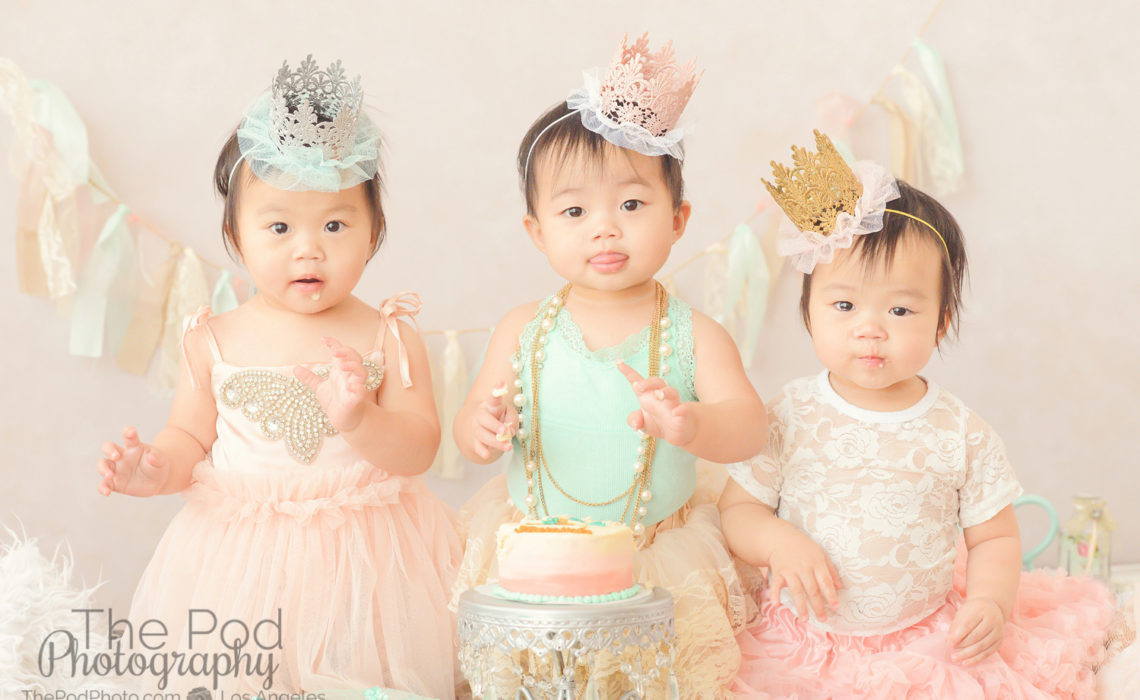 When photographing babies here at our Los Angeles portrait studio, patience is the name of the game!  And when it comes to photographing three little babies?  Well the trick is really just letting them run the show – or at least letting them think that they are running the show!  The truth is, whether you've got one baby or three babies, staying relaxed is key.
I think what made this triplet cake smash session so easy was that mom and dad already anticipated a lot of tears – especially knowing that their one-year-old girls weren't big on new people and that stranger anxiety was setting in for them.  But that didn't stop us!  With our rockstar team, plus mom, dad and their assistant, there were seven of us dancing, clapping, happy-and-you-know-it-ing, peek-a-boo-ing, blowing bubbles, being used as props, etc., and we didn't stop until we got the shots that we needed!  And even when we thought these little girls were totally done with us, Dad sacrificed his back, laid down on the floor, and piled all three girls onto his lap!  And it was the comfort of being connected to Dad that had us get the perfect shot that we were all working so hard for!
Take a look at some of our favorites from this sweet little first birthday cake smash session below:
Interested in having your little one photographed by our Los Angeles professional photographers?  Give us a call at 310-391-4500 to set up a consultation with your photographer and be sure to follow us on our Blog, Facebook, Instagram and Google+ to see what we've been up to, or explore our YouTube page for more!