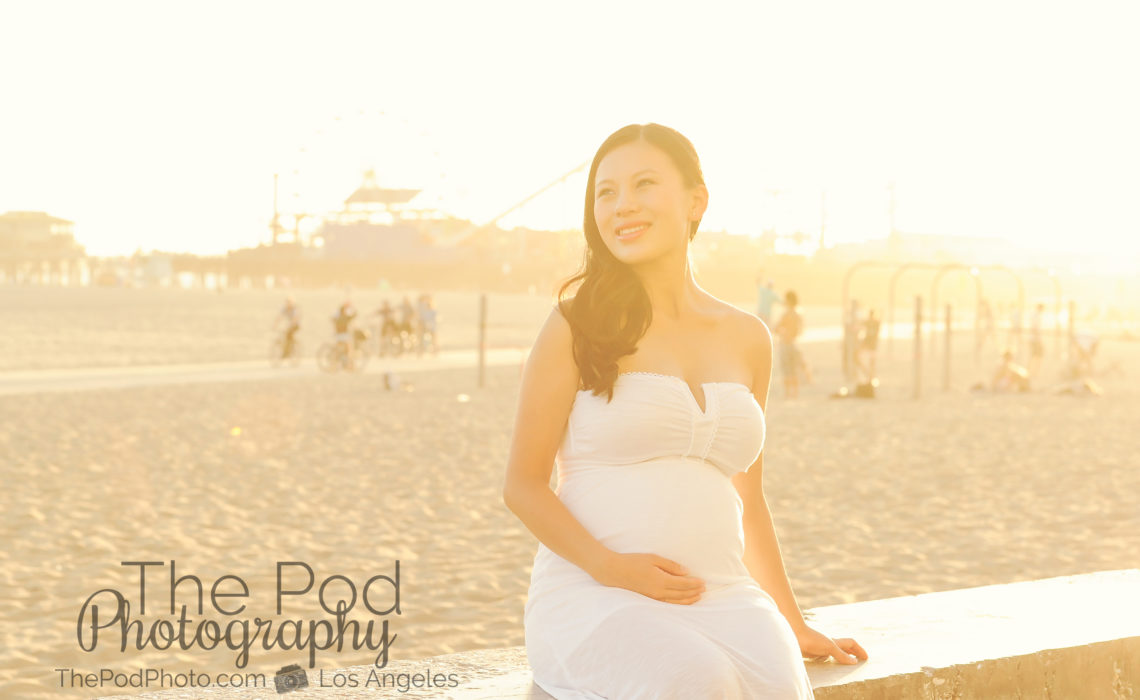 We have recently had the honor of capturing maternity and newborn photos for several international clients.  Last week we had a newborn from Russia, another newborn from Indonesia, a maternity client from Japan and then this lovely couple from China a few weeks ago. It is always fun bringing each client's unique vision to life for their photos – but it is even more fun when an international client wants something different than I am typically asked.
This young couple from China rented a super sweet apartment in Santa Monica right on the beach for the Summer.  They said that they wanted to enjoy their time before the baby arrives in a fun, relaxing environment while on vacation… how many of us think that, but wow how cool is it that they are actually doing it?!
When I first met with this couple we had to flush out a few cultural differences between Chinese photographers and what we do at our studio. They were expecting tons of outfit changes, spending a whole day shooting, extensive hair and makeup and then to get all of the digital files un-edited.
(Please indulge me on a short tangent about this growing problem of photographers being lazy and not editing their client's photos. Our studio philosophy is to only give our clients print-ready portraits with editing, cropping, colorizing and retouching included in the price of everything we sell. The idea that any photographer doesn't take the time to give their clients anything less than perfect is crazy to me! A good friend of mine got married last year and her photographer didn't even edit out the blinks from her photo selection – he only edited and colorized the 30 or so images he put on his blog and wanted for his website. This photographer is a supposed "celebrity" photographer who charged quite a pretty penny for his work – but I know photographers on all price levels are perpetuating this bad practice. It is the photographer's job to take the time to edit and do all the post production on images so that they are perfect, not the client's!)
So, back to this client's expectations: we hired a hair and makeup artist for her and decided on just three outfits for their in-studio and location photo shoot. It became clear to me the more I spoke to them that their top priority for their photos was that they be "fun and playful." This is that part where it was an interesting cultural education for me – there were props and funny facial expressions that they loved, but I still had a blast on this shoot – I really enjoyed getting to know and learning from them!
WOW isn't this mamma-to-be STUNNING! Check out more f our maternity photos on our website.
The Santa Monica Pier makes for such a vibrant, colorful backdrop. There are always a lot of tourist and other beach loving people close by during the photo shoot, and sometimes they even make it into the background… however that is part of the fun of taking pictures at this iconic Los Angeles beach location! View more of our maternity photography on our website.