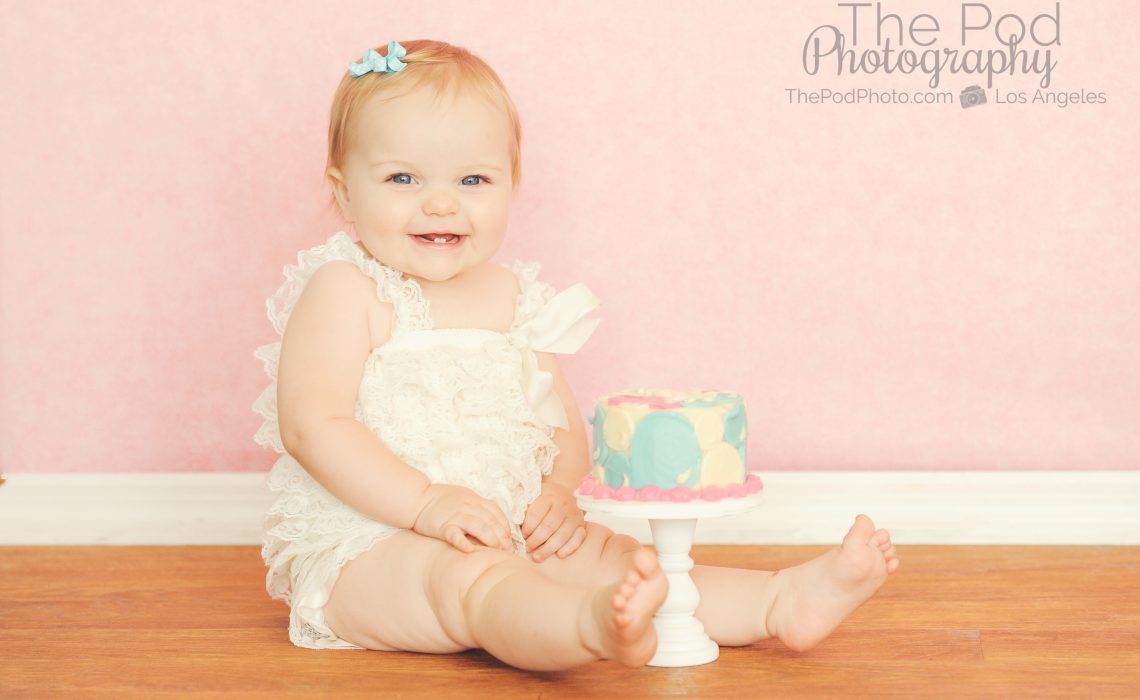 First birthday cake smash sessions are our absolute favorite around the studio! There's nothing like watching a little kiddo taste sugar for the first time, and to see if they actually like it.
About six months ago we partnered with SusieCakes for all of our smash cakes. We used to have clients bring their own before that… which didn't always go very well. Some clients would bring chocolate cakes – which looks like, um, well you know what when it's smeared all over a little babies face. And then there were the clients who had the baby's name written in red frosting – so when that was all over the baby's hands and face it looked like a horror scene! Also, one thing that people forget to consider when picking their smash cake is size. These little one year old are not like you or I – meaning the bigger the slice the better – they get intimidated by a sweet, gooey, giant cake plopped into their laps! Ever since switching exclusively to four inch SusieCakes cakes – miraculously the kids aren't freaked out by the cakes anymore. We honestly used to have so many children just burst out crying when we put a big cake into their laps because they were afraid of the cake – but no more 🙂
In addition to the size, we've also worked with Susicakes to come up with the best frosting colors and decoration that look good both on the cake as well as when it's all over a little baby's hands and face. We always customize each cake with the birthday colors ad theme so that the cakes are true one of a kind masterpieces.
This particular little lady's cake had blue bubbles plus white and pink to match her bubble themed birthday party. Check out more of our kids birthday photos on our website and give us a call at 310-391-4500 to start planning your photo shoot!
Our portrait studio services the Manhattan Beach area and specializes in kids photography, children's portraits, first birthday photos and cake smash portrait studio sessions all photographed by our baby and kids photographer Leah.