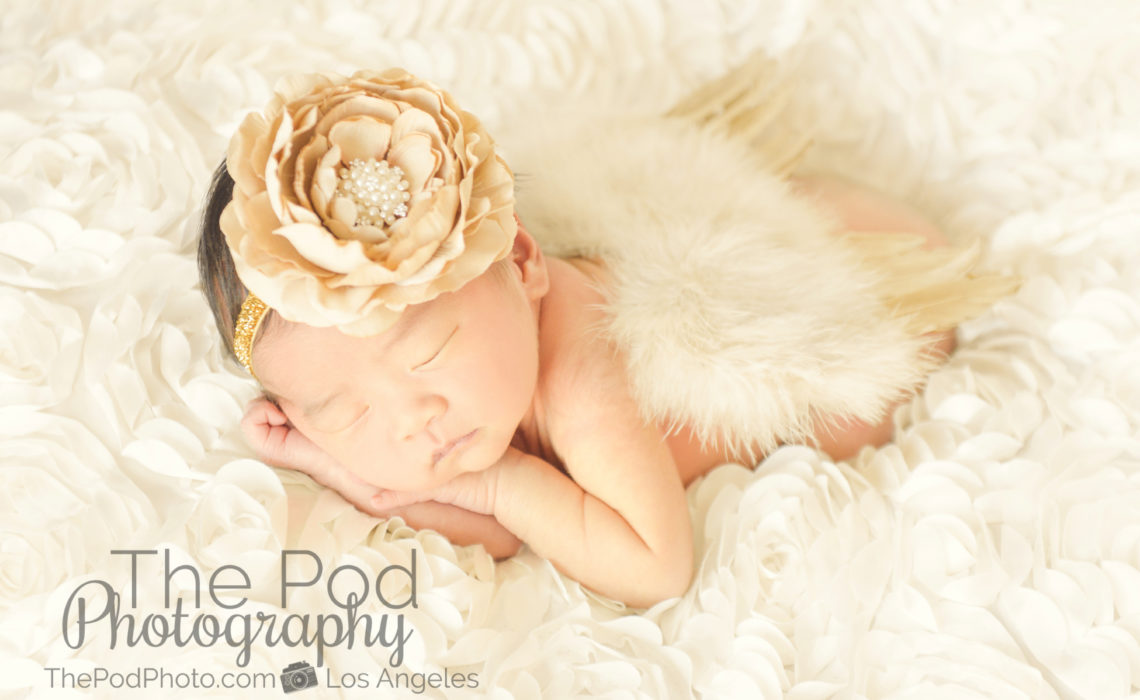 Girly textures are our specialty at our Los Angeles newborn baby portrait photography studio servicing Manhattan Beach! We are big fans of girly textures and elements – like floral fabrics and sequins – and love to use them in more neutral tones. You can be girly, without being bubble gum pink 🙂
Although for anyone other there trying to shop for your daughter, it does seem that almost anything cute for girls is always pink, pink, pink! Here's a funny thread on Mothering.com  with some recommendations on finding non-pink girl clothes for your new little baby. As the thread starter laments: "We're expecting a baby girl in April and I've just started looking around in stores and online for some things and found myself frequently nauseated by the pinkness. I'm fine with SOME pink, but I don't see why it has to be all pink, all the time." If it's gender neutral clothing you are after, check out this Huffington Post article.
But, back to our newborn! Textures can be either feminine or masculine, and we tend to use airier fabrics for girls and then more burlap, wool and shaggy textures for newborn boy photo shoots. The mama of this little cherub loved gold and cream with soft pinks thrown in for a little muted color pop. However, she three us for a loop when she said that she loves our grass set and wanted a girly, flowery setup on that more boldly colored set. The photos all flow beautifully together as a cohesive story of this little angel baby's newborn session – perfect for the gorgeous, custom, heirloom baby album Natalie, our designer, is creating for them!
Interested in our Manhttan Beach photography studio services for your new baby or infant? Give us a call at 310-391-4500 and visit us online!