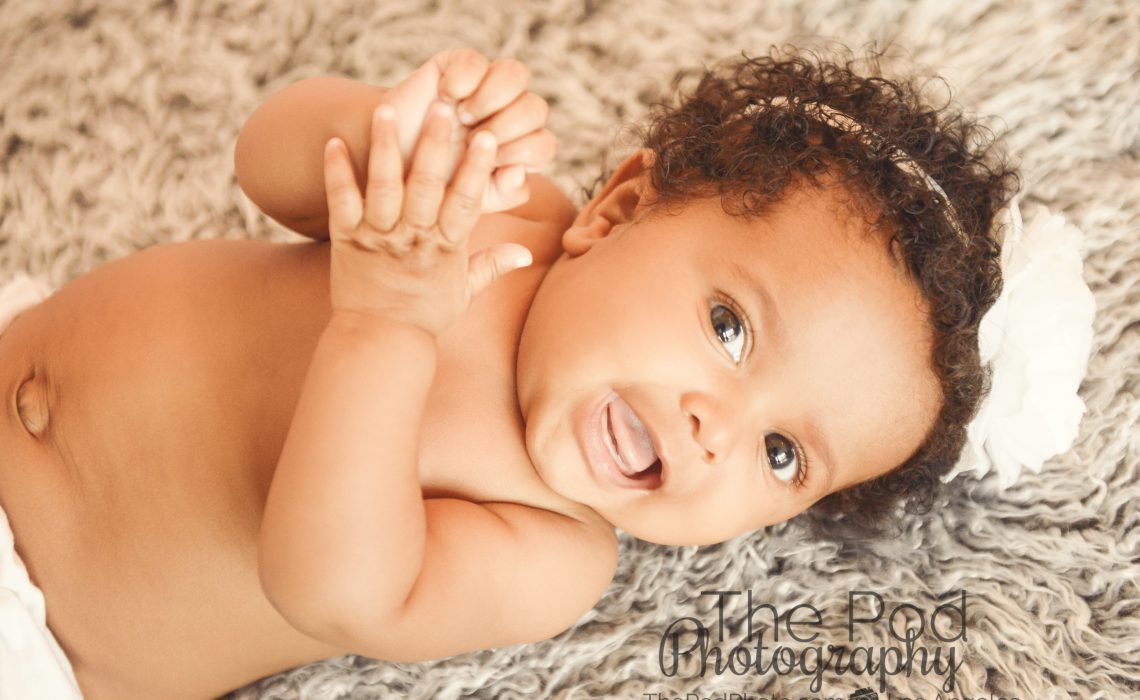 There's definitely a reason why we love four month old babies – and that's because they smile, smile, smile! This gorgeous baby girl came to our photo studio for her pictures and just knocked it out of the park with her happy expressions and oh-so-sweet-serious faces 🙂
Generally there are four milestone developmental stages to be captured during the first year of a baby's life: newborn (sleepy babies in cute snuggled up poses) four month (tummy time and expressions) seven months (sitting up and teething) then twelve months (standing and eating cake!)
People often ask me why I recommend capturing a baby's portraits at four months instead of three and the reason is their development. Babies at three months are just getting comfortable on tummy time, and they are starting to be able to see things a little further away. That means that when photographed at three months they do pretty well on tummy time – but they do get frustrated after a little while. However, a four month old baby who is a pro at tummy time  will giggle and smile the entire time instead of fussing.
According to WebMD "Those innate reflexes — such as the startle reflex that your baby displayed during the first couple of months — should be fading or gone by now. You've probably also noticed that baby's neck strength is improving. When you hold him upright, you should see very little or even no head wobbling. Three-month-old babies also should have enough upper-body strength to support their head and chest with their arms while lying on their stomach and enough lower body strength to stretch out their legs and kick.
As you watch your baby, you should see some early signs of hand-eye coordination. Your baby's hands can open and shut, come together, swipe at colorful dangling toys, briefly grab a toy or rattle, and go straight into the mouth."
The best thing about four month old babies is that they think every sound you make is hilarious, crack up at funny faces and they are just so interested in games and peek-a-boo!
"Your 3-month-old's hearing and vision are improving. Babies this age turn their heads and smile at the sound of their parents' voices, and they love listening to all kinds of music.
Your baby will still prefer to look at brightly colored toys. That's because sharp contrasts are easier to see. Faces are absolutely fascinating to 3-month-old babies. Look at him and he will stare back into your eyes. Your infant will also gaze intently at his own reflection in a crib mirror."
We absolutely adore photographing babies at our studio that services Manhattah Beach. Give us a call at 310-391-4500 and take a look at our website for more info!