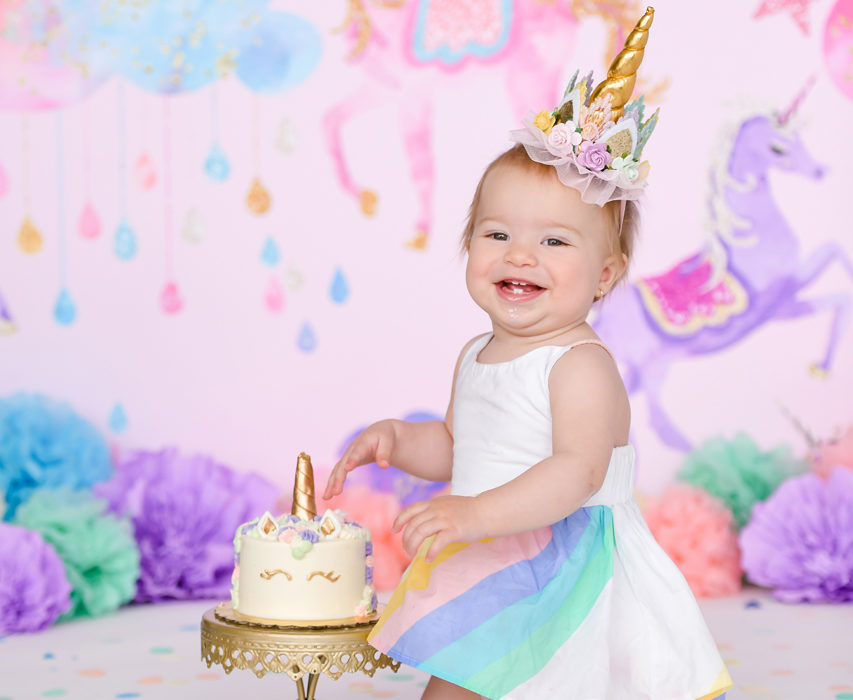 Boho Baby Unicorn
Everything about this Los Angeles photoshoot was beautiful! With a boho baby unicorn theme, we knew we'd fall in love with the styling! And we absolutely did!
Classic
To begin with, we wanted something really sweet and classic for this little girl – with a touch of boho style! Our coral and white tassle romper was perfect paired with a floral crown. And with her outfit being more along the lines of the bohemian vibe, we had the set stay simple. The white room setup with wainscoting and faux marble floor kept the look fresh and modern!
Whimsical
Cake Smash time! Since we had done something a little more timeless for set number one, it was time to have some fun with color! We dressed this boho baby unicorn in our custom-tailored rainbow dress. Because, what says unicorn better than rainbows!? From Etsy, we got a Love Crush Crowns unicorn crown for this birthday girl. The perfect fit for her Top Tier Treats unicorn smash cake (the best bakery in Los Angeles by the way)! The background, of course, was our classic pink, purple, mint and gold unicorn backdrop. With confetti and pom poms, all the colors came together beautifully. We LOVE how it turned out!
Beautiful
And for her final act! Bath time! After the mess of the smash cake, it was time to bring a little simplicity back to this boho baby unicorn Los Angeles first birthday portrait session. But this time – with a pop of color! Yes, vibrant spring and summer flowers – and even some fruit slices keeping the whole look fresh, fresh, fresh! With this baby girl being all smiles on her first two sets, we actually loved her more somber and serious expressions on this set. The overall mood of this scene was just stunning!
Book Your Session!
Do you have a little one turning one soon? Are you thinking of a boho baby unicorn theme for her first birthday party? Whatever your theme, let us bring your vision to life! Call our Los Angeles portrait studio at 310-391-4500 and speak with your photographer! We'll begin planning all of the outrageously fun details of your session and start designing your custom cake smash today!
Be sure to follow us on our Blog, Facebook and Instagram to see what we've been up to, or explore our YouTube page for more! We can't wait to hear from you!