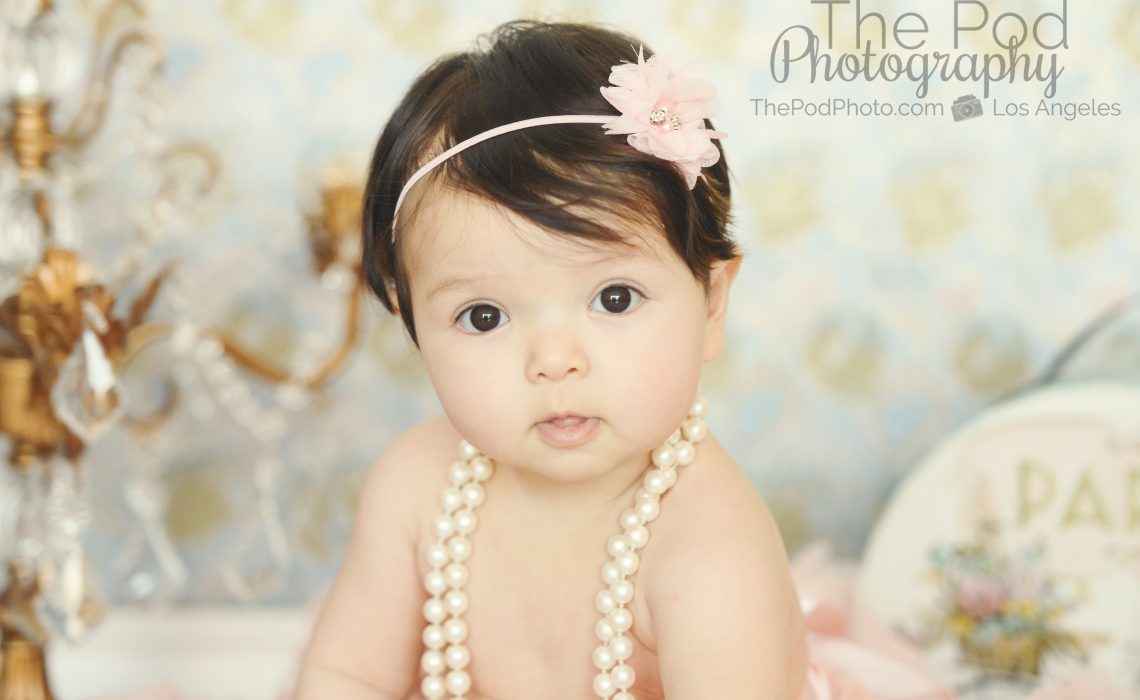 Sweet Baby Kaitlyn was such a little doll and an absolute JOY to photograph. Not only is she at our favorite little age (seven months), but her personality is just so darn charming! We couldn't get enough of her! One thing I absolutely loved about this session was just how playful it was. To balance out both Mom and Dad's tastes, we put together three amazing sets for her.
For Dad: Something fun and playful – not too girly!  Though he was still open to a little lace romper and splash of girly color, Dad went crazy for our whimsical Hot Air Balloon Set and this darling little aviator hat on her.
For Mom: Of course, most mommas want something sparkly, ruffly and girly! So for Kaitlyn's next little look, we busted out our timeless little Paris Set. Bringing in soft pinks and blues with splashes of gold, this feminine little set was the perfect match to Kaitlyn'g sweet disposition.
For All: (And oh my goodness, this is my FAVORITE!) Mom and Dad both wanted something appropriate for Springtime, and so our little Cherry Blossom Set was amazingly perfect for this sweet girl! Seriously though, how gorgeous is this close-up of her?!
Be sure to visit our website to see more cute little sets that we custom-design for each session!
Love our Hot Air Balloon Set? Call us today at 310-391-4500 to book your session, as this set is a limited edition set and is only available through May! Take a look at our blog to see more kiddos on the set.
Our Venice Beach portrait studio is the perfect place to document your little one's big milestones. We can't wait to meet you!