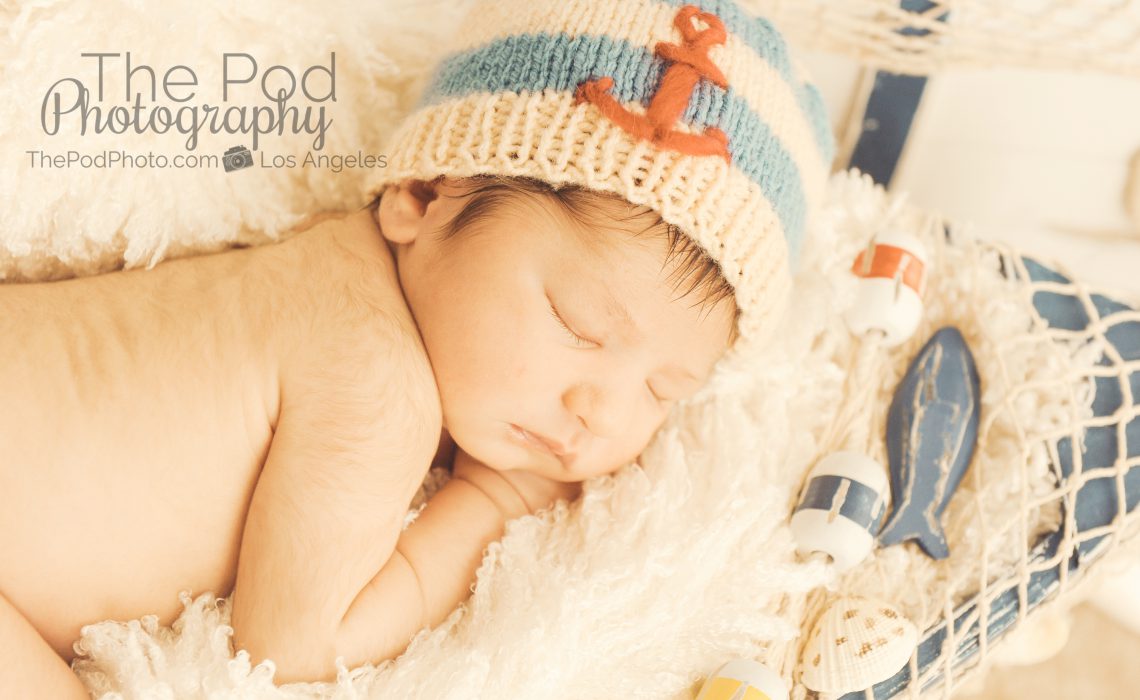 Posting this little guy's newborn photos is a bit overdue – but his images are so cute that I couldn't resist sharing them 🙂
This Brentwood family wanted their Southern California, beachy lifestyle reflected in baby Jonah's 7 day old newborn session. We get the request for nautical and beachy styling pretty often – and there are three main groups of people who request that type of styling.
The first group are those clients who are transplants to Los Angeles. As people who have moved here and chosen the laid-back (ish!) lifestyle, they really value it and want that philosophy reflected in their pictures.
The second type of person who requests California props are temporary visitors.  Many of our clients are here working on a contract basis and know that their stay is a set number of years. They love to have their photos reflect the location of the baby's birth since they know their stay is just temporary.  Oddly enough, we also get a lot of people who came to the US for the sole purpose of giving birth. I've been too shy to ask any of these clients why they've chosen to do so: but at least once per month we are hired by a client who came a month before giving birth (and often hires us for maternity photos) and stays for two months after the baby is born.  These clients in particular love to showcase where the baby was born in their newborn images. I once had a lovely family visiting from Japan who asked that I put a photo of myself and my bio in the back of the album we created for them so that the baby could one-day read it, learn a little more about me and possibly look me up!
The third type of client who requests beachy and boat props is – obviously – one who enjoys surfing or boating. Being in Los Angeles and our studio so close to the beach, we get lots of dads who get their 6am surf runs in before dawning a suit and hitting their corporate gig!
Check out our website and give us a call at 310-391-4500 to start planning your family's baby photos!