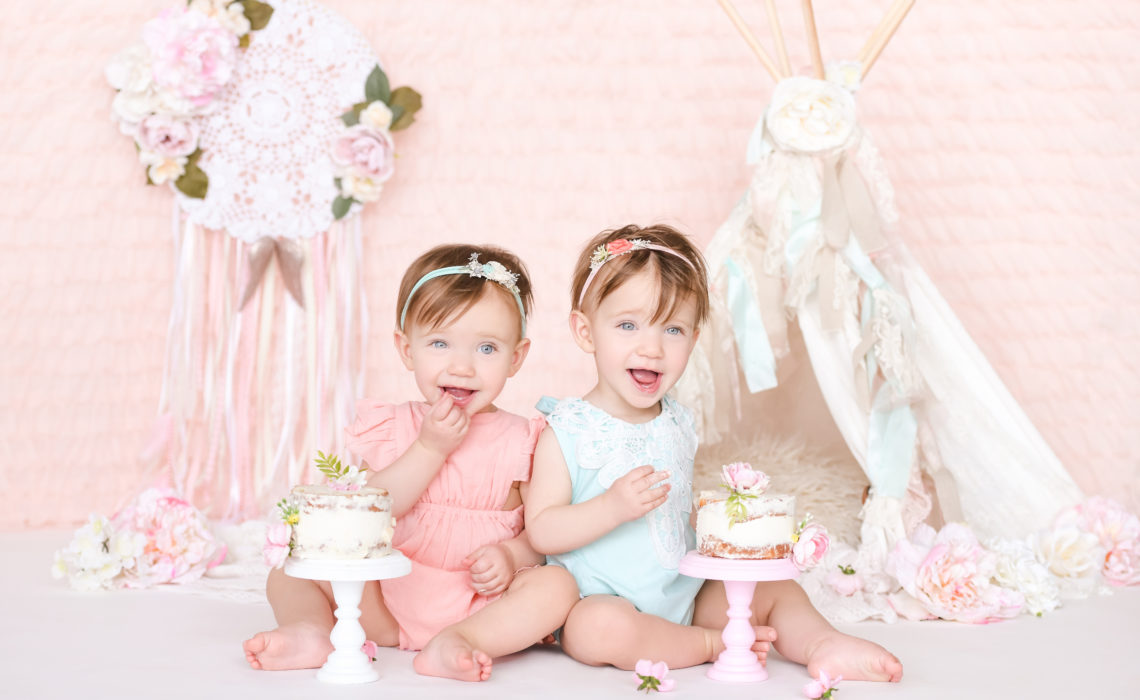 We always have such a blast with first birthday cake smash photography, but this time, we got double the fun! From the moment we met these little girls' mama, we knew the session was going to be gorgeous! This boho chic mama wanted everything soft, feminine and bohemian. So, with that said, we began our planning for this twin cake smash Santa Monica!
Variety of Outfits
It started with the outfits. Here at our twin cake smash Santa Monica studio, we have a variety of adorable outfits in all different colors, styles and sizes. We picked a soft pink and minty blue as the base colors of our theme.
Personalized Smash Cakes
From there, it was the cakes. For most twin cake smash Santa Monica photo sessions, we give the babies one cake to fight over! But this time, we changed it up with two smash cakes! Our amazing bakery, Top Tier Treats, helped us create perfect little semi-naked cakes. Once they arrived to the studio, we decked them out with faux flowers and greenery and gave them each their own little smash cake stands. Top it all off with "Wild One" cake toppers (which mom loved since she said her girls are certainly wild!), and voila, perfect smash cakes for these twin girls!
Custom Set Design
Lastly, was the finalization of the gorgeous set. With our color scheme being blush, mint and white, we had a lot of options to work with. We opted for a ruffle textured blush background as the base. Then we added our tee-pee – which we actually found as a pet tee-pee to get the proper size for photo shoots! A lace ribbon banner draped along the edges of the tee-pee for a sweet, girly vibe! The other cool element we added was a very personal touch. I (Leah), actually made this dreamcatcher for Erika (owner of the studio) while she was pregnant with her little girl, Sunny! It hangs on the door of Sunny's bedroom, and Erika brought it in for the shoot to add that extra boho element. It was the perfect touch!
Here are a few of our favorite images from this "Wild One" twin cake smash Santa Monica:
Give us a call at 310-391-4500 to set up a consultation with your photographer and be sure to follow us on our Blog, Facebook, and Instagram to see what we've been up to, or explore our YouTube page for more!