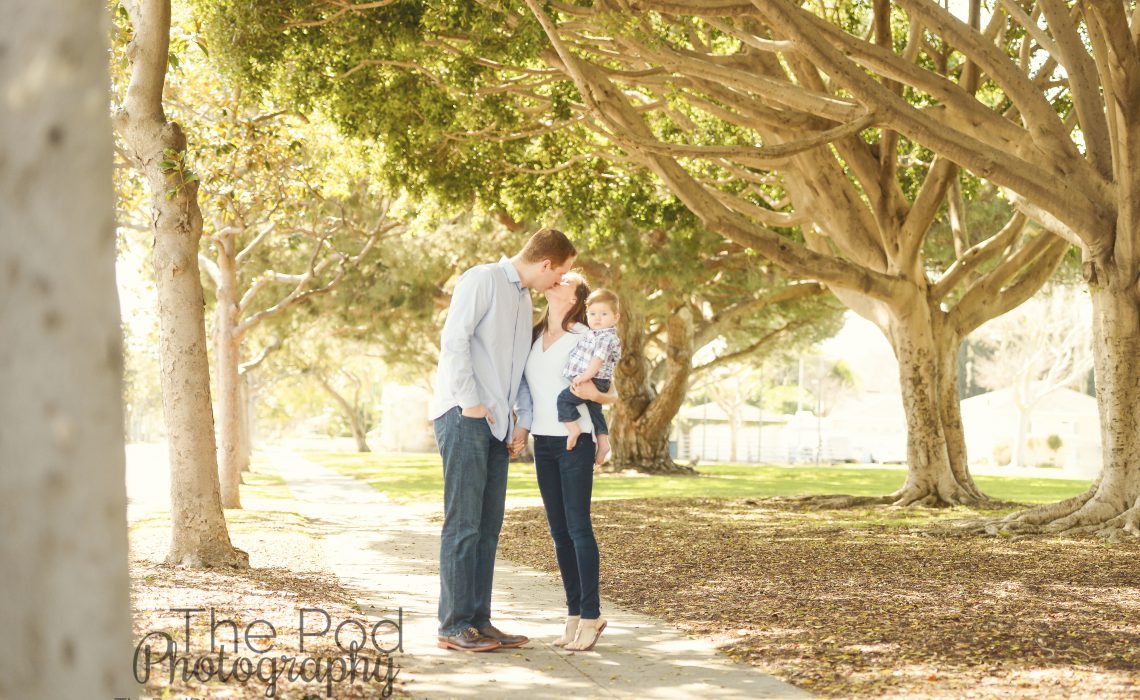 The great thing about living in Southern California and having a natural light studio, is that you can shoot pretty much ANY time and in ANY weather. I can only imagine what it must be like for other photographers who shoot only on location, and those rare days when we get rainy or cloudy weather – it must be a pain in the butt to reschedule those photo sessions!
I know because on very rare occasions, we'll have a location shoot lined up and get rained out. But in this case, for this gorgeous family below, it worked in our favor.
You see, I never recommend shooting both in studio AND on location for families with young babies. It just usually doesn't turn out – it's too much on the little ones and their attention span and energy just won't last long enough. But I made a special exception for this family because they LOVED the studio for all the fun sets with props and accessories, but Mom really really wanted her family photos outdoors.
We had a blast in the studio. Baby Connor rocked a few different sets for us, as well as some family photos. But just as we were wrapping it up in the studio and were ready to jump on over to the park, we look outside and it is POURING. Now, you can imagine that Mom was pretty bummed out. But, like I said, it totally worked out in our favor. Connor was already melting down (like I anticipated) and was pretty much done with us. On top of that, we ended up getting a phone call right at the same time that the shoot for the very next day had to reschedule. How perfect! Both Mom & Dad just happened to be available the very next day to finish up our shoot. AND the weather was sunny and perfect for us!
To make a long story short, if you have younger children, really take a look at if you prefer the look of studio or location. If you can't decide, be in communication with your photographer to see what you can work out – whether that means two different shoots, taking a break between sessions, or just working quickly to keep everyone's energy up!
Interested in capturing your family's portraits? Give us a call at 310-391-4500 to schedule your consultation at our Westwood portrait studio and meet your photographer!