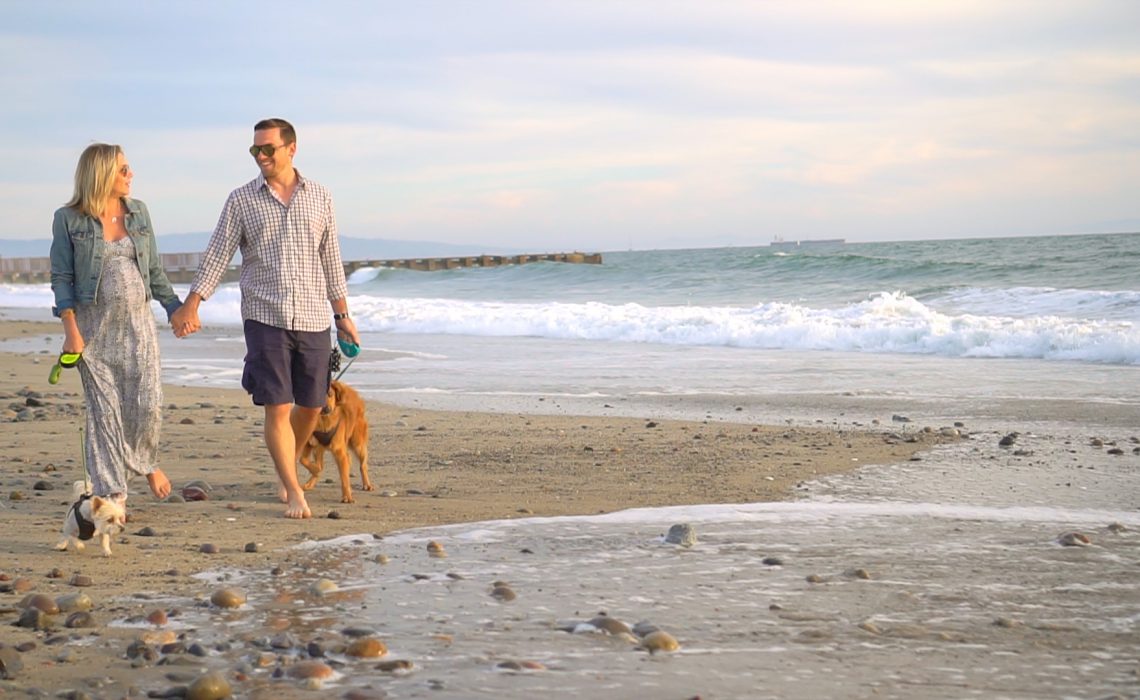 We recently launched The Pod Portrait Films and I am very excited to blog this beautiful couple's pregnancy film.
Before each "day in the life" documentary film that I create, I always sit down with each client to get to know them and start to figure out the best way to tell their unique story.
This particular husband and wife are expecting their first child, a little girl. When I asked them what story they wanted to capture, it became clear that the peace, calm and simplicity of their lives pre-baby was the story they wanted documented.
The story-line that we came up with together was their prefect Sunday – which was their favorite day to spend together. We started the session at the Brentwood (Los Angeles) Farmer's Market – where they shopped for Alyssa's favorite flower – sunflowers, and bought oranges and brussel sprouts, which are her current cravings.
I was having so much for walking and filming them that at one point they whispered "did you see Kim Kardashian, Kany and their daughter?!" Apparently, while I had them doing a walking shot, I totally captured Kim in the background without realizing it! If you look closely, Kim is in a green army jacket in the background when Alyssa turns and looks at camera. Anyhow, once I knew they were there I was terrified to pick up my camera and actually turned it in towards my body so they wouldn't thinking that I was filming them.  I had to practice lots of patience because we coincidentally ended up behind them in line when buying lemonade (another of Alyssa's pregnancy cravings!) and stood there waiting for at least 5 minutes. I'm not going to lie, it was fun having a star sighting!
After the market, it was back to their home where we filmed in the baby's nursery as well as some hanging out at the house. Because the light for the market was great in the morning and then we wanted to capture some shots at the beach at sunset – we took a few hour break in between shooting.
Right around golden hour, we met up at Playa del Rey Beach in Marina del Rey and had some fun running around with the dogs and playing in the ocean. For the very last shot of the day, I had them running towards the water with the dogs and a big wave came it that caught us all. We were all laughing our heads off since we were soaked to the knees… well the humans were – but the doggies were drenched! We took that as a sign that it was time to finish up, and I let them leave with their two sandy and wet doggies. Sorry guys – but I hope it was worth it!
We would love to create a family film of your life and capture a special day in your life! Visit us online at www.ThePodPortraits.com and give us a call at 310-391-4500!