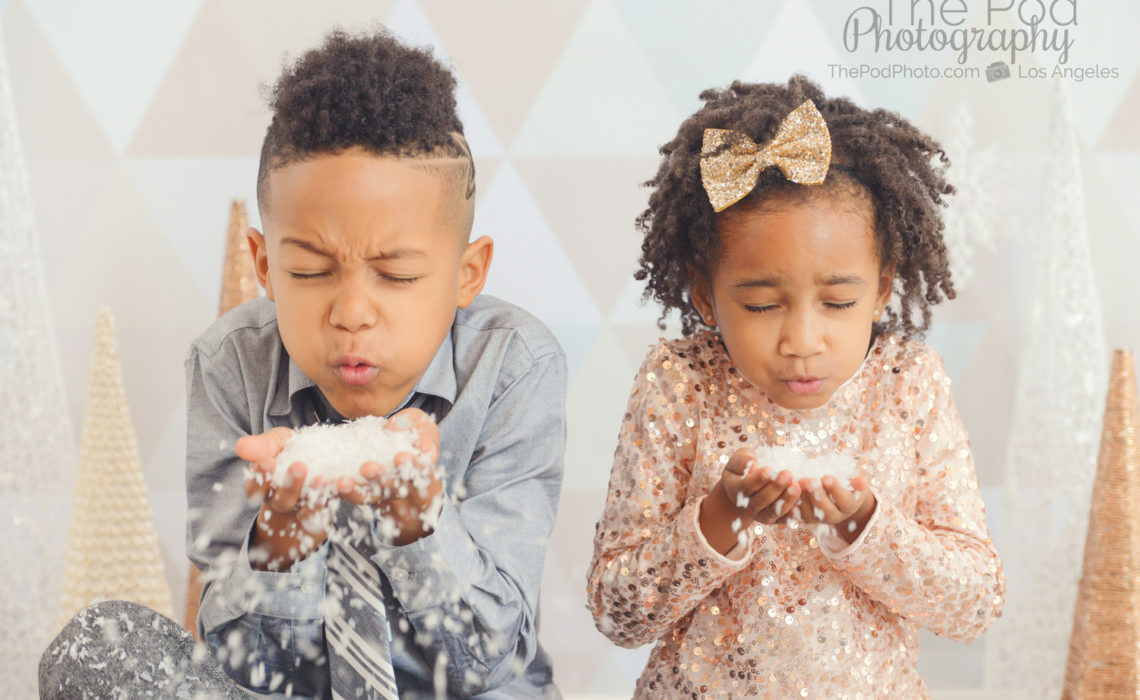 Tis' the season for sparkles, snow, and amazing holiday photos! These three kiddos came to visit us at our Santa Monica portrait studio and we had so much fun playing make-believe with the pretend snow and dancing in a winter wonderland! We loved that each one of the kids had a totally different personality and it shows in their portraits! Big brother JJ, age six, was Mr. Cool guy showing off his awesome hair-do, handsome tie and even posing with his hands in his pockets. Miss London, age three, was such a doll! We loved her sparkly dress and bowtie and and how sassy and sweet she was hamming it up for her pictures. And Baby Aerin, five-months-old, was a little more of a tough nut to crack! But once she unleashed those little smiles of hers, she had us melt! Especially in that little blush tutu and sparkle sequin top we dressed her in to match her big sister!
Take a look at some of our favorites from their Kids Photography Session below!
Our Santa Monica photography studio specializes in kids portraits, baby photography, newborn photo sessions, family photos, maternity shoots and first birthday cake smashes! Give us a call at 310-391-4500 to set up a consultation with your photographer and be sure to follow us on our Blog, Facebook, Instagram and Google+ to see what we've been up to, or explore out YouTube page and Pinterest Boards for more!