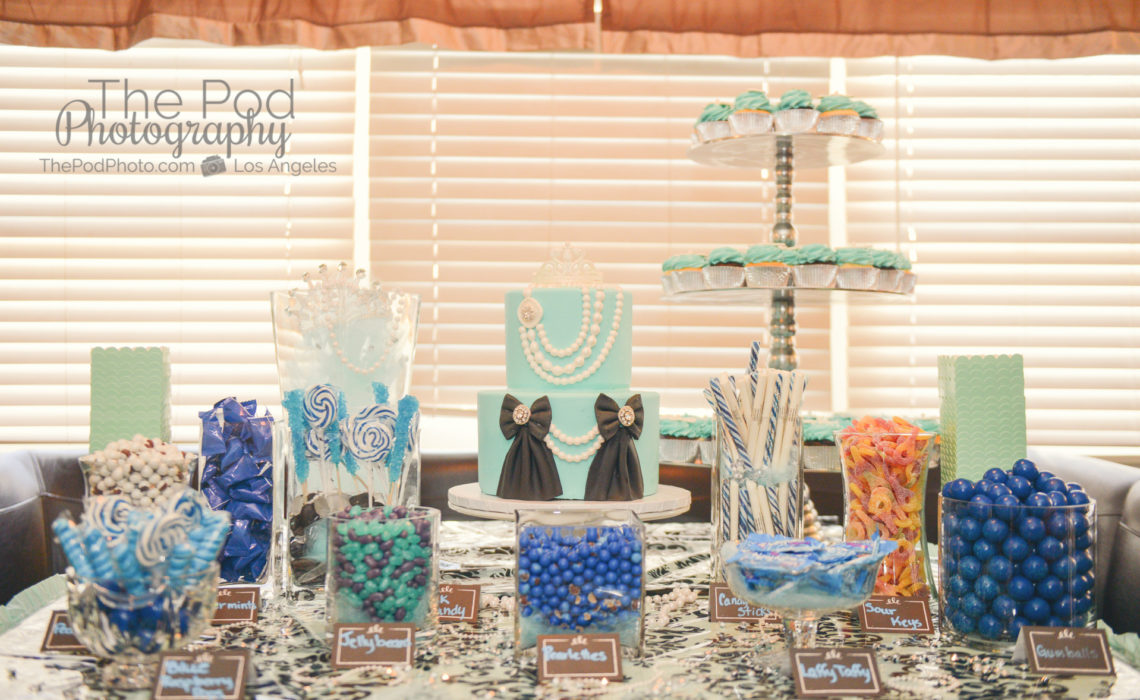 Breakfast at Tiffany's is one of those classic movies that will be just as delightful whether it is the tenth time you watched it or the very first. Us girls at The Pod absolutely love that movie and of course, that "Tiffany" blue. I bet you could imagine our excitement when Baby Noor's mom came to us with the idea of the theme being "Breakfast at Tiffany's" for her first birthday party! We had so much fun taking her professional cake smash photos here in our Los Angeles studio (take a look down below to see how well Baby Noor did smashing her cake), but we had more fun documenting her first birthday party in photos to help celebrate further.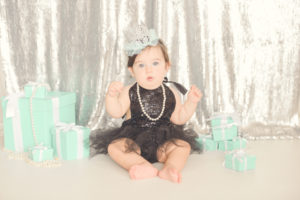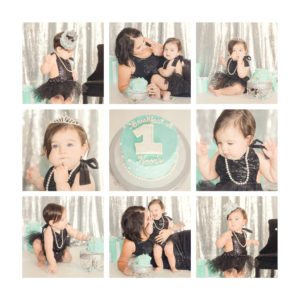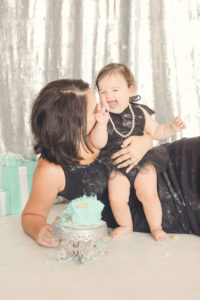 Located at the front door were black sunglasses, pearls and tiaras to welcome all the guests as they arrived. Pops of "Tiffany blue" filled the house as you entered it and even the movie star herself, well a cut-out cardboard version of herself, was present for photo-ops! Since this movie was the inspiration for the party theme, it was playing non-stop as guests mingled inside and outside as they pleased. My favorite event to take photos of was the bubble session. This was the first time I had experienced a "bubbleologist"so I was easily as amused as all the kiddos! I love that "bubbleology" is a new children's party craze. The kids have a great time seeing life-sized bubbles and their expressions are priceless to document on camera with wonder and discovery in their eyes! The best photos that came out were of the birthday girl having a blast with all the bubbles in her "little black dress."
Baby Noor had her own little "Tiffany's blue box" – her second birthday cake in her lifetime! She loved tasting all the sweet flavors as everyone she loved sang her happy birthday. Thanks to the birthday girl and an awesome party, all the kiddos – and adults for that matter – had a blast! Is your little one turning a milestone age soon? Let us help you find the perfect theme for a Cake Smash Photo Session and your child's birthday party photography! We service all of Los Angeles including Studio City, Westlake Village, Westwood, Brentwood, Malibu, Santa Monica, Manhattan Beach and more. Call us at (310) 391-4500 or visit our website at www.ThePodPhoto.com to start planning your child's birthday party photography today!