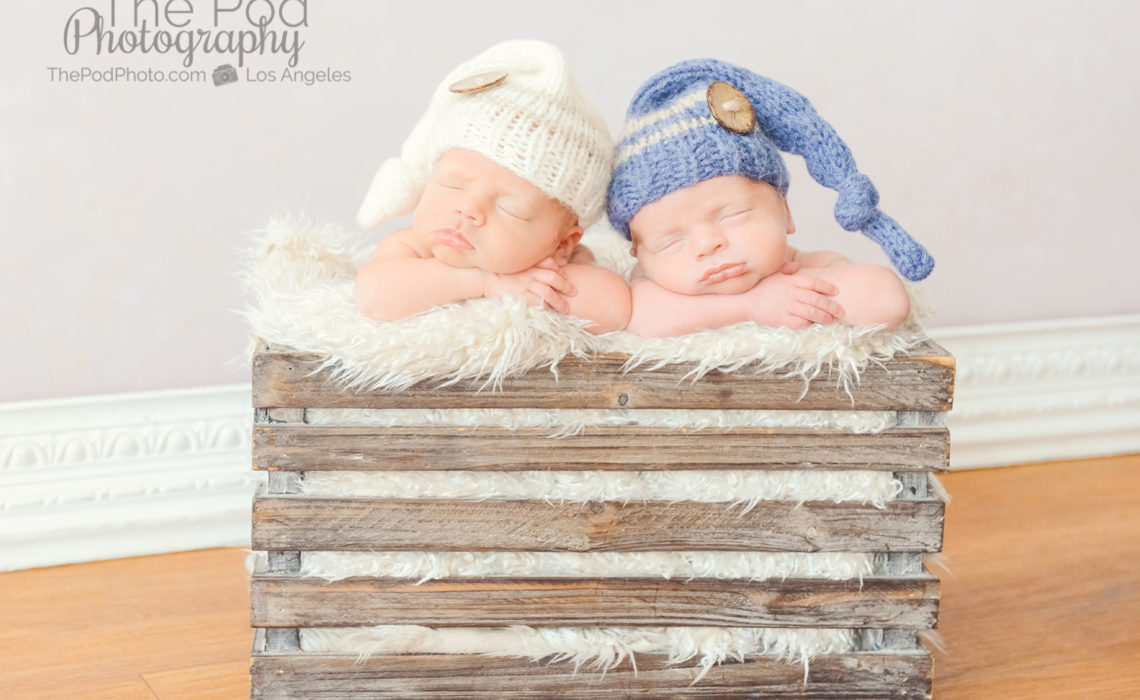 Newborn babies are always amazing to photograph, however when there are two it is even more special! Our Hermosa Beach newborn photographer, Erika, has been seeing a lot of "one boy and one girl" twins recently, so it was a special treat to have two baby boys at the studio for their newborn pictures!
When photographing twins, we always focus on making each child's images unique and make sure that the babies aren't getting the exact same sets. However, we have to also keep in mind that the pictures will be displayed as a series together either in an album or as wall art, so the images can't differ too vastly.
With these two infant twin boys we were actually inspired by Grandma – well, the blankets she knit at least! Grandma knit each of the boys their own snugly blanket, one in gray and the other in a bold blue. We used her lead to style the boys images, and had one baby's pictures always have gray accent colors while the other boy was in blue. This way, we kept a nice harmony throughout the sets and blankets we used, and then just brought in pops of color to differentiate each boy.
Believe it or not – these twins are actually numbers two and three in the family, and they have an older toddler brother. Brother was in exactly that "I don't want to sit still" phase so getting him to stay in one place for photos was a challenge! However, in the end the newborn babies were the stars and their portraits came out amazingly!
Our newborn photographer and photo studio services the Hermosa Beach and surrounding Los Angeles areas. Visit us online at www.thepodphoto.com and give us a calla t 310-391-4500 to chat about your baby's newborn pictures!