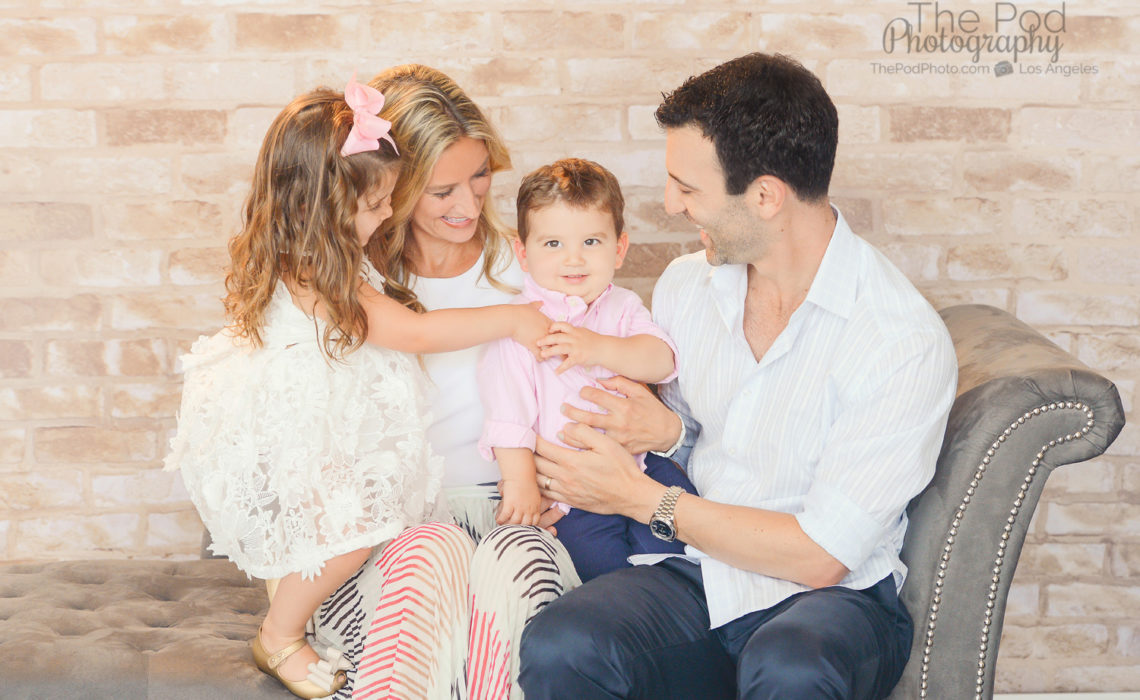 When it comes to coordinating outfits for a family portrait session, this family never fails!  We've known this gorgeous Malibu family since big sister was just seven months old and we have loved seeing them grow over the years – from baby pictures, to smashing first birthday cake, to another growing belly, baby portraits again, smashing again and amazing family portraits every step of the way!
A lot of families we see need a lot of coaching around what to wear – which we absolutely love doing!  But this hot momma always knows exactly what she wants and always coordinates her outfits with the rest of the family so beautifully!  We loved the patterned pants that she selected with the open-back top, and a matching open-back dress for her daughter – so sassy!  Father and son had matching little button downs and we love a little boy who's not afraid to wear pink!  Plus it coordinated ridiculously perfectly with big sister's pink hair bow.
We also loved seeing how much each of the kiddos looked like their mommy and daddy too.  Next to dad, baby brother definitely looked just like his papa!
And this sweet little lady definitely takes after her momma!  We just love this photo with both of them with their little head tilts!  So darn cute!!
Our Malibu portrait studio loves capturing special moments of families, siblings, mommy and me portraits, daddy and me photos, and all of those big, special milestones!  Feel free to give us a call at 310-391-4500 to set up a consultation with your Malibu photographer and be sure to follow us on our Blog, Facebook, Instagram and Google+ to see what we've been up to, or explore our YouTube page for more!