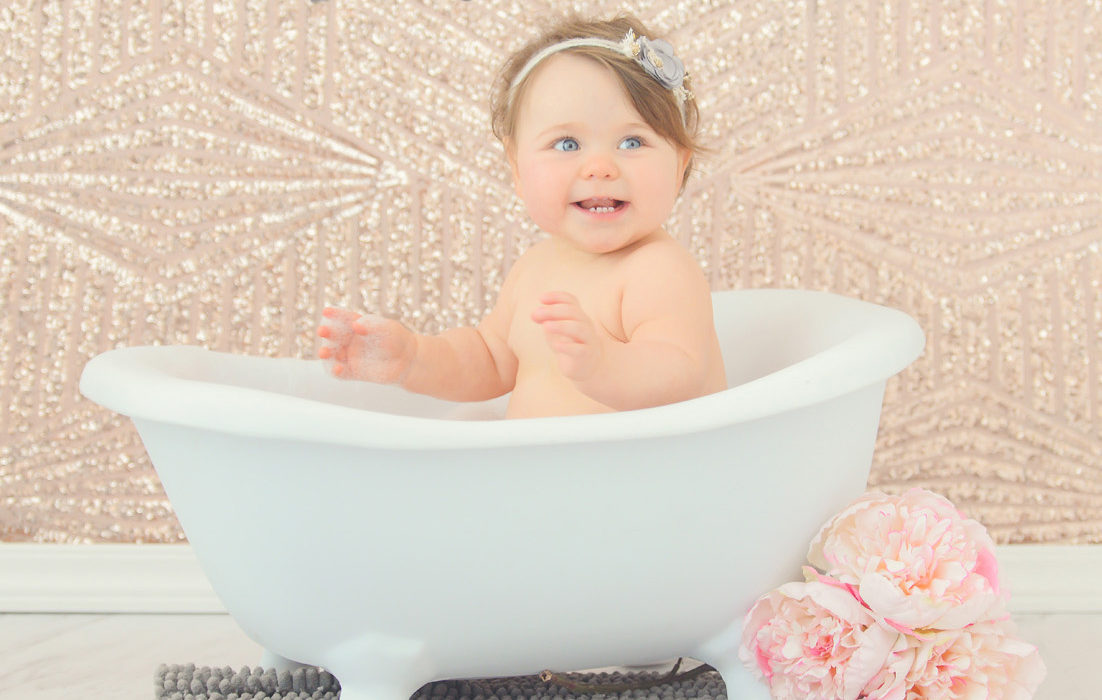 It's Stella's First Birthday!
Pink and sparkles and blush and gold, crowns and pearls and tutus and rolls!  This perfect little chunk-a-monk princess was so darn cute for her first birthday photo session at our Encino photo studio!  We absolutely fell in love with this little girl's sweet disposition and contagious personality during her smash and splash photo shoot.
Most first birthday sessions include two looks:
The Cake Smash
The Splash
One-year-old babies have pretty short attention spans, so we shoot very quickly here at our Encino portrait studio to ensure we get all those smiles before nap time!  But this sweet girl's momma had an extra dress and adorable 1920s inspired headband that we just HAD to use.  In these cases, we spend just a few minutes before getting messy with cake to document one more look.  And for Miss Stella, I'm so glad that we did!
For her Splash portion of the session, we brought back that same stylized set and tied in the same blush, white and gray colors.  With her fair skin tone, this little girl looked so precious – especially with that little dimple butt of hers!  Gosh, there is just nothing cuter than a little naked baby butt!
First Birthday Photo Tips:
The fewer outfit changes the better.  As I mentioned, attention spans are SHORT!  Try changing the set or background before putting baby through an outfit change.  Just like we did with the gray background a pink balloon.  It's a totally different look, but she is still wearing the same outfit as her gold sequins cake setup.
Have everything setup before you begin.  With backgrounds and sets ready before you start your first birthday photoshoot, it makes it much easier to move from set to set – again, avoiding any downtime that baby could get bored!
Practice makes perfect!  Here at out Encino first birthday studio, we always recommend having a "trial run" cake smash at home.  Just grab a small cupcake from the market – something with frosting!  Let your little one feel the messy cake and gooey frosting in their fingers.  This gets the familiar with the experience that they will have on the day of the shoot.
Give us a call at 310-391-4500 to set up a consultation with your photographer and be sure to follow us on our Blog, Facebook, Instagram and Google+ to see what we've been up to, or explore our YouTube page for more!