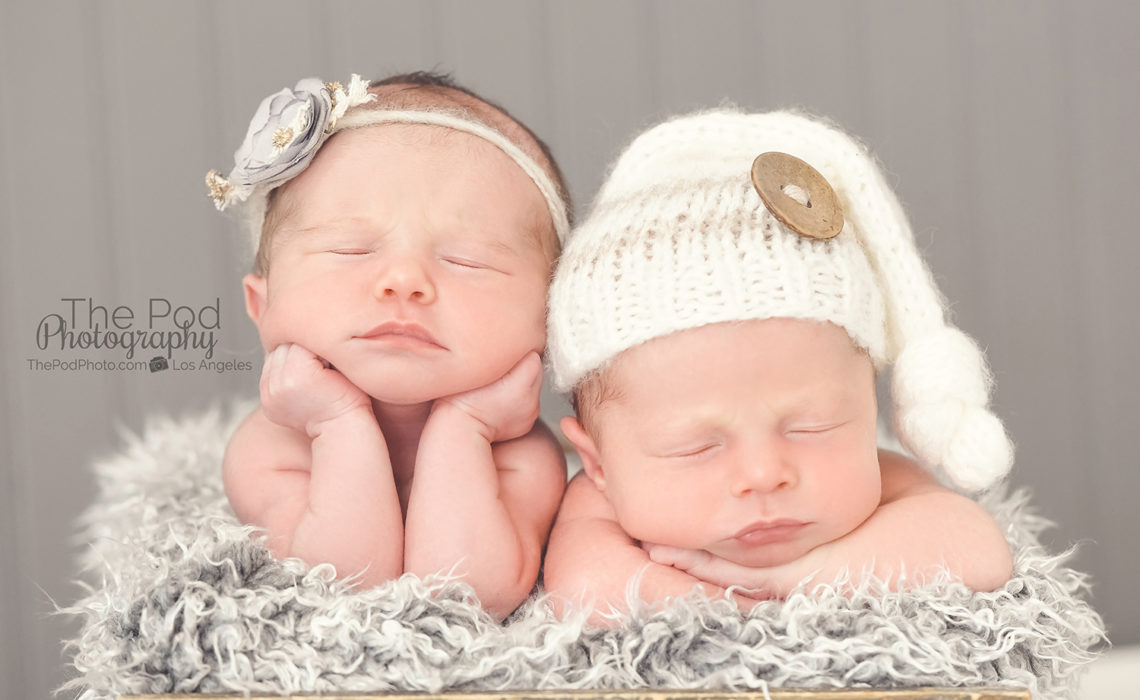 Photographing newborn babies is a treat in itself, but when we have twin babies our day is extra special! As professional newborn photographers, it is our joy to capture amazing pictures of these precious new bundles. Our studio services clients from the Pasadena, Ca area as well as the surrounding Los Angeles city.
The styling we created for these newborn clients was clean, minimalist and timeless. Mom wanted some gender specific colors like blues and pinks, but overall wanted the babies' skin to be the highlight with a more neutral color pallet. Another thing we worked on during the photo shoot was giving each baby a matching image to their sibling. We set up matching baskets on different sets, made sure to capture open eyes headshots in a similar crop, as well as similarly posed full body photos.
Understandably, mom's priority were pictures of the two babies together.  Those iconic twins hugging one another photos are absolutely adorable, and we made sure to get at least one of those for the family. Our favorite photo, however, was of the two babies in the chalkboard stat box sleeping side-by-side. We were even lucky enough to have one infant sleepy enough to get a head hold image on that set!
Whether our team at our Pasadena newborn photography studio are capturing images of one, two or even three babies – we love to custom design the pictures specifically for each client. Many expecting moms who have hired us for their newborn photography come to our studio about a month before they are due to pick out the colors, outfits and other styling for their baby's pictures. It's at this time that we love to get to know them, learn about any fun themes or other ideas they have and then implement them the day of their photo session.
If you are looking for the best photography studio for your newborn's pictures – give us a call at 310-391-4500. We have specialized in baby portraits for over a decade and our team are highly experienced in both newborn posing and safety.  If you would like to view our newborn baby portfolio, check out our website www.thepodphoto.com