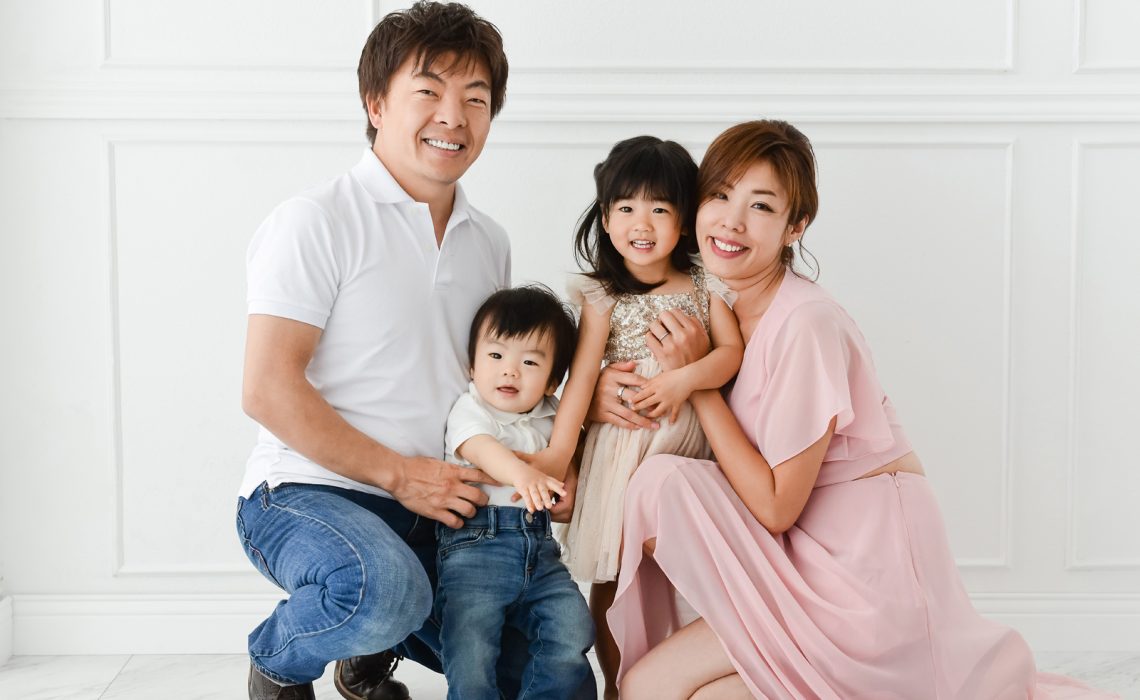 In this Clothing Guide for Family Portraits you will find several ways to dress for a photoshoot, and really, anything goes! With a bit of guidance, it's easy to have everyone in the family coordinate beautifully without looking cheesy or unnatural!
Here are some things to consider…
Will These Photos Be Displayed In Your Home?
If you're planning to hang these photos throughout your house, it is definitely worth thinking about what colors will look best with the style of your home. For example, bold primary colored outfits might not fit with the light and airy beach house vibe of your living room. In that case, you might want to opt for a more pastel color palette of light blues and off whites to compliment your decor.
Dress as if You're All Going to the Same Place
Maybe everyone is in something a little light and casual but still feeling semi-dressed up, like how we might dress for a brunch or baby shower. Or maybe we're really formal, like going to a wedding, or better yet, The Grammys! Think about how would you match your date. Maybe everyone is super casual, like having a picnic at the park and will want to be comfortable wearing jeans and a simple top. Think more of a romantic picnic versus a day of rough-housing with the kids (we still want to look nice).
Allow for a little personality to shine through!
Does your daughter love wearing Chuck Taylors? Match her outfit to her favorite shoes. Does your son hate wearing jeans? Find him a pair of comfortable pants that fit your color scheme. Do you feel your best in your favorite leopard print sweater? Rock that leopard print and coordinate everyone's outfits around yours. These quicks and preferences are what make your family unique! There are so many ways to coordinate and dress it up a little while still hanging on to everyone's personality.
Wear What You Feel Best In!
My top advice is to wear something that you love to wear. Think about a color that flatters your skin tone, and an outfit that fits nicely. Clothes that fit on the tighter side are much more flattering than loose, baggy clothes. The baggier your clothes are, the larger you will look on camera! It all comes down to this simple truth: If you're uncomfortable in the outfit you're wearing, it's going to show in your photos.
Take a look at some of our favorite ways to dress for Family Photos below:
One Color: All White
One Color: Monochromatic/Same Color as Background
One Color: Different Shades (with Pattern & Personality Mixed In)
Neutral Base with One Color Pop
Two Color Pops
Multiple Colors in the Same Color Tone ( i.e. All Pastel/Light or All Bright/Bold)
One Person In Pattern (i.e. Mom in Floral Dress or Kid in a Fun Pattern – Everyone Else in Solid Colors)
Coordinating Styles and Color Tones, but Not "Matchy-Matchy"
Now that you've read through our Clothing Guide for family portraits, check out another blog post: Top 5 Ways to Prepare For Your Family Photo Session to get ready for your session.
Interested in booking a Family Portrait Session at our Los Angeles portrait studio? Give us a call at 310-391-4500 or you can visit our website for more information.
Follow us on our Blog, Facebook, Instagram and Google+ to see what we've been up to, or explore our YouTube and Pinterest Boards for more inspiration!