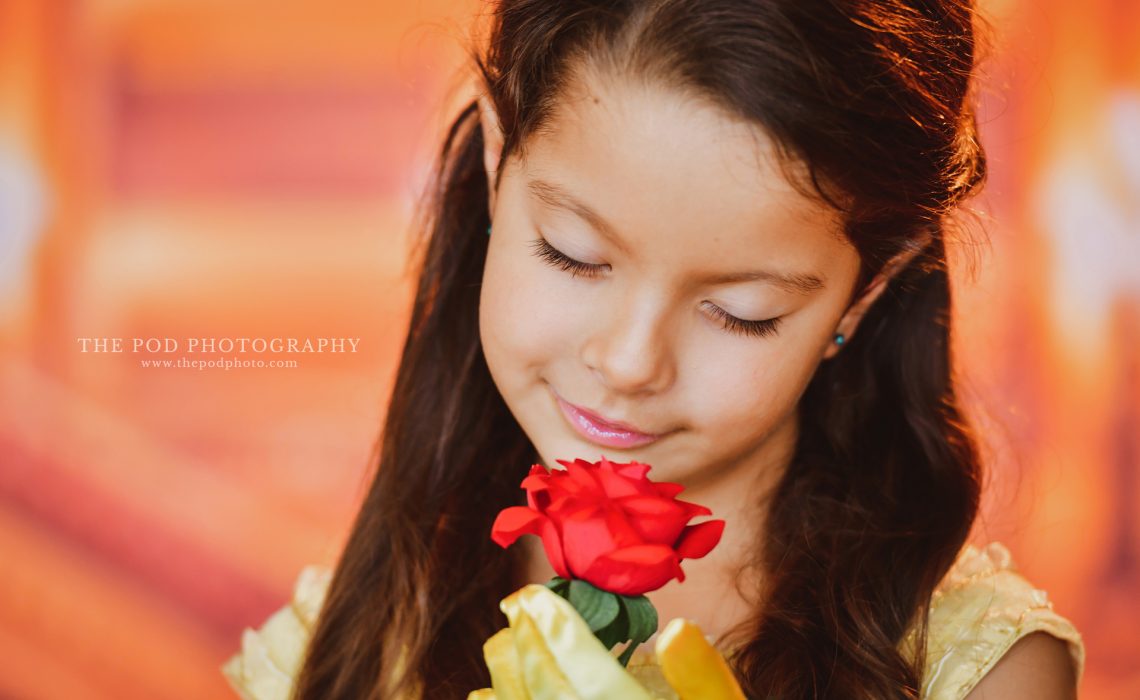 Calling all Princesses!
Our Beverly Hills Kids Photography studio will bring your kiddo's Disney dreams to life! Our speciality here at The Pod Photography, as always been bringing unique, custom visions to life through props, set design, outfits and portrait photography. Kids of all ages are OBSESSED with any and all things Disney these days. So naturally, as a Beverly Hills Kids Photography studio, we decided to take a stab at our own interpretation of Beauty and the Beast portraits for one of our favorite kids, Jasmine!
The Princess Experience
Every Princess needs the perfect outfit! For this Beverly Hills Kids Photography session, I wanted Jasmine's outfit to look just like the one in the film. A lovely pale yellow ball gown, with matching gloves and sweet kitten heels! After searching the internet, I ended up going with a classic Belle princess dress, kid sized yellow silk gloves and some adorable little gold heels accented with bows. Jasmine was so excited to wear her Belle outfit, and felt so special wearing heels and fancy gloves. Before we started shooting we curled her hair, touched her up with a bit of lip gloss (with Mom's permission of course!), and gave her the full Princess experience!
Once we landed on our Beauty and The Beast theme, the research began – And what fun research it was! I re-watched both the original Beaty and The Beast and the 2017 re-make to refresh my memory and get some visual inspiration. Rather than set the scene in a cartoon inspired way, I wanted to incorporate real props and settings that were reminiscent of the story and characters. My goal was to capture two scenes: the Ballroom scene, and the Library scene.
Setting The Scenes
For the Ballroom Scene, I found a beautiful castle interior background that would help recreate the moment when Belle walks down the steps in her ball gown. I wanted to keep this scene very simple and really focus on Jasmine in her beautiful dress. We had Jasmine pose and twirl on this backdrop, holding the enchanted rose, and signing her favorite Beauty and the Beast songs!
Next, was the Library scene. I wanted to include all of the main characters in the film by incorporating the real life objects they inhabited. I found a beautiful gold candelabra for Lumière, an antique clock for Cogsworth, an authentic feather duster for Fifi, and a lovely white and gold tea set for Mrs. Pots and Chip! Last, but not least, I found the perfect standing rose inside a glass case to tie in the enchanted rose from the films. The rest of the props came from around the studio as we crafted a dark and mysterious library scene. Jasmine loves reading books in her free time, so she was a natural when it came to embodying Belle in these portraits!
Interested in booking a Kids Portrait Session at our studio located near Beverly Hills? Call our studio at 310-391-4500 to set up a consultation with your photographer, or email us at [email protected]. Be sure to follow us on our Blog, Facebook, Instagram and Pinterest to see what we've been up to, or explore our YouTube page for more!