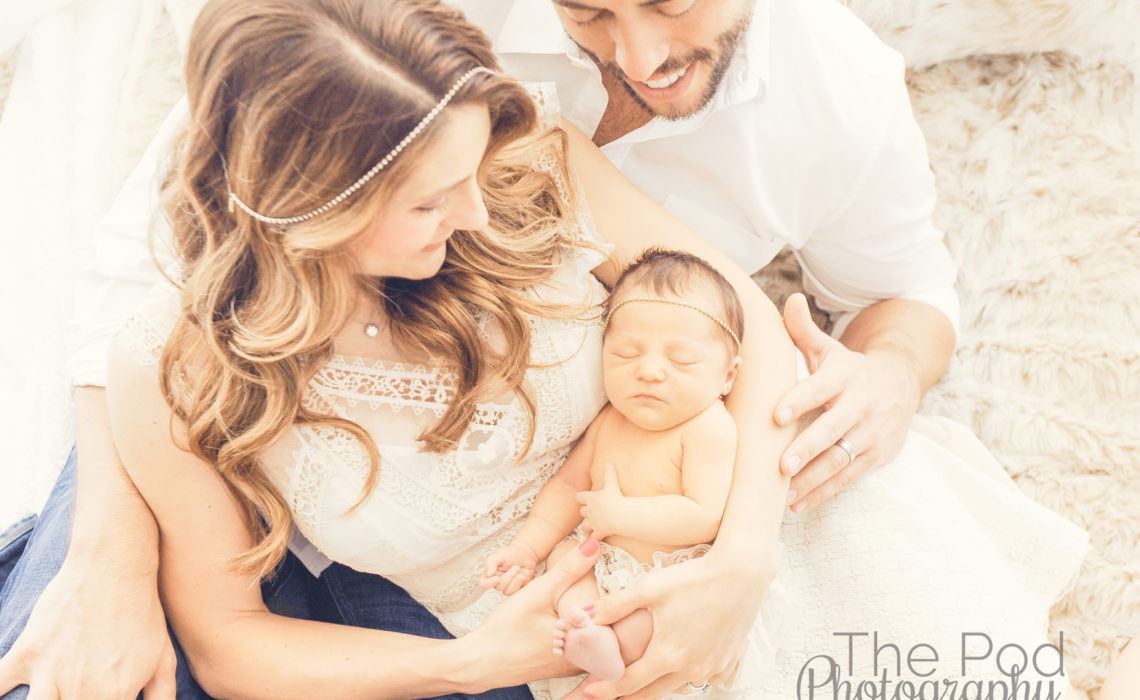 Anyone who takes a minute of time on our website knows that we girls at the Pod are fans of girly photos. However, we know that there are different levels of girliness, and each of our clients is unique. There's the style of girly which uses really bold pinks and purples with over the top big headbands, pearls and girly props. The style that we generally do here at the Los Angeles newborn studio is girly through the use of textures as opposed to the actual bold colors, since many of our clients give us the feedback that they want girly without the bright colors. Therefore, we use a lot of lace, sequin backgrounds, soft tutus and a variety of headbands in soft pinks, grays and whites so that they styling is in fact super girly, but it's just not as "in your face" as it could be.
This particular client wanted just that: girly textures and sets but in muted tones.  We chose one of our new hand-beaded laces in a gray shade to add a little sparkle, I love her little smiling close up wrapped in that lace 🙂  To continue the sparkle theme and create cohesive styling, we used a silver sequin backdrop for Reagan's stat box. We wanted to make sure that the photos look bright and fresh, so we used a lot of creams in her styling – she is such a sweet girl all snuggled up on the cream floral fabric! For family photos we continued the theme with the white window background and mom and dad in classic white outfits.
We hope you enjoy the sweet baby photos we captures of this little girl at our Los Angeles newborn photography studio! Give us a call at 310-391-4500 to chat about your baby's pictures!