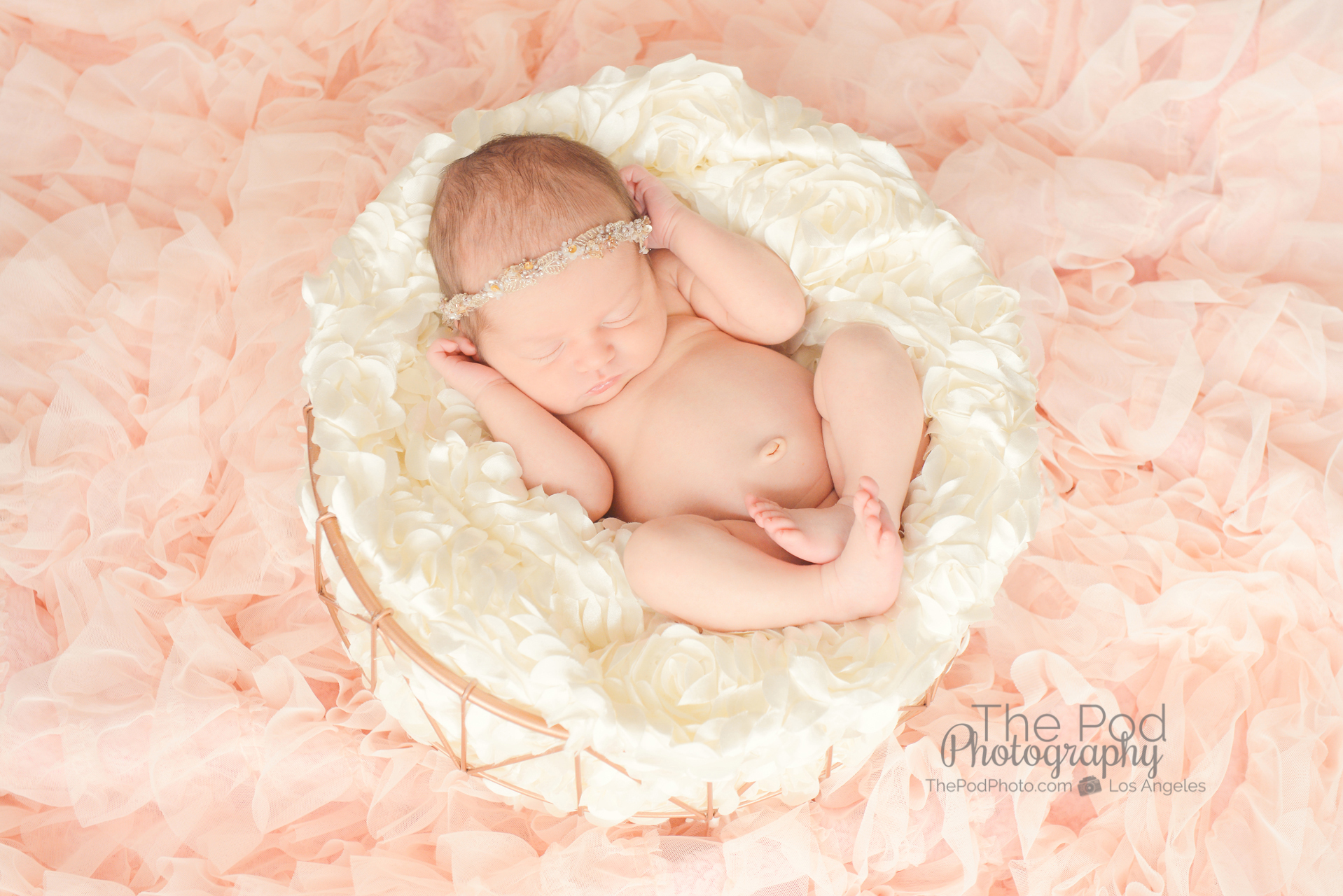 Who says that simple can't be beautiful?! Arguably, it is more difficult to make a simple photograph or newborn picture beautiful than one filled with props, colors and accessories.
This baby girl's newborn photography was a delight to plan. When I met with mom at our Los Angeles studio before the photo session she had some particular ideas, but the main idea was "simple and classic styling" for her daughter's portraits. She wanted the color theme to be soft pinks, ivory and pops of gold, and didn't want any over the top styling. When a client makes a request like their for their baby's photo shoot – I love to play with textures in the photos as opposed to props.
Take for example the image with the baby sleeping on her back in the rose gold basket, with the cream and peach fabrics. For this picture I selected a super soft frilly tulle fabric as the floor and paired it with an ivory rosette fabric to line the basket with. All in all very simple styling, but because the fabrics are rich in texture the resulting image is visually interesting (and super girly!) yet minimalist at the same time. As a professional photographer, playing with textured fabrics is my ultimate favorite thing to do when documenting  and capturing unique pictures of tiny little new babies.
The idea that I love that I can not take credit for is the flower wreath picture. Mom found this image while still pregnant and was obsessed with it! She had a vision for a particular swaddle fabric and then flowers laid out beautifully around the baby. As we do with more custom sets that we create for clients – we purchased the flowers the day before the shoot and Leah – our expert prop stylist – created the gorgeous flower arrangement for the wreath. The funny part is that Mom's vision was to have baby's breath as part of the wreath, and since it was important to her, it was important to us. The only problem is that we needed the flowers the Friday before -apparently- the number one weekend for Graduations in the year. Therefore, every flower shop we went to was filled with pre-made graduation bouquets which were filled with, you guessed it, baby's breath. No one had any baby's breath left over to purchase on its own and after 4-5 stores finally a lovely lady at a Whole Foods Market took pity on me and brought a bunch from the back to sell me. It was a little touch and go, but we are honored that we were able to bring this image to life for this new family – and we hope they cherish all of their images for years to come 🙂
We are a professional newborn baby photographer servicing Los Angeles, Santa Monica, Beverly Hills, Mar Vista, Manhattan Beach, Playa Vista, Pacific Palisades and the surrounding Southern California Area. Take a look at our website ThePodPhoto.com for more information about our Los Angeles newborn photography and call us at 310-391-4500 to plan your baby's pictures!